Outils de curation
Pictify : Le Pinterest du monde artistique. Article extrait du Réseau canadien d'information sur le patrimoine (04/09/2012) Récemment, un nouveau site Web de réseautage social, Pictify, a fait son apparition – avis aux musées : ceci s'adresse à vous!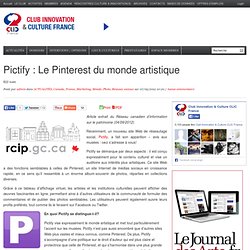 Pictify se démarque par deux aspects : il est conçu expressément pour le contenu culturel et vise un auditoire aux intérêts plus artistiques. Ce site Web a des fonctions semblables à celles de Pinterest, un site Internet de médias sociaux en croissance rapide, en ce sens qu'il ressemble à un énorme album‑souvenir de photos, réparties en collections diverses.
Grâce à ce tableau d'affichage virtuel, les artistes et les institutions culturelles peuvent afficher des œuvres fascinantes en ligne, permettant ainsi à d'autres utilisateurs de la communauté de formuler des commentaires et de publier des photos semblables. Pictify. Netvibes - Dashboard Everything. Thoora. | Kurat. Curate Content with Twitter and MyTweetMag. Welcome to Postpost! Lynkly - the world's news feed. Content Curation & Online Marketing Solution - Curata.
Eqentia, Content Aggregation, Curation and Re-publishing Platform for Competitive Intelligence, Custom Content and Curated Sites Applications. Daylife: Smart Web Publishing Solutions. Search Optimized Content & Aggregation for Publishers & Retailers. Search Optimized Content & Aggregation for Publishers & Retailers. Loud3r - Content Curation & Optimization for Publishers, Brands and You. Storyful. Shareist - Content Curation Platform. Instapaper: Save interesting web pages for reading later. My6Sense | Your Digital Intuition. Feedly. feed your mind.
Is feedly blocked?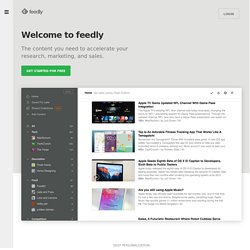 Feedly is not able to load. It is probably because one of your extensions is blocking it. If you run Adblock, HTTPSEverywhere, Awesome screenshot etc.. please make sure that feedly.com is white listed. Ask a question. StoryCrawler | Tracking and Curation of News, Blogs, and Social Media. Qrait. Diigo - Web Highlighter and Sticky Notes, Online Bookmarking and Annotation, Personal Learning Network.
Summify - Summary of Your Social News Feeds! Real-time Discovery Engine - YourVersion: Discover Your Version of the Web™ Trunk.ly | Home. Curation Station. Welcome To MySyndicaat :: NewsMastering that Works! Welcome to Amplify.com - The easiest way to clip, share and discuss things that interest you. Bundle and share web content easily. Paper.li – Be a publisher. Keepstream - Organize your tweets with curation. BlogBridge.
Home. Slashtag search. Fuel your fascination. Redux: videos, photos, music, and websites recommended by people who love the same stuff you do. Be The Curator of Your Favorite Topic! Create stories using social media - storify.com. Curated.by.
---