Wiki cities
Space Makers Agency
Spacemakers was formed in 2009, around a year long project to rethink a failing 1930s covered arcade in Brixton. The arcade had been going downhill for years, with twenty units sitting empty, and was slated for redevelopment: the owners planned to demolish half of it, and stick a ten-storey apartment block on top. After a successful community campaign to prevent this, Spacemakers were approached by Lambeth Council, to come up with a Plan B. We took the keys to the empty units, and designed a project to rebuild the social life of the market, by offering three months free rent to anyone with an idea for reusing one of the spaces.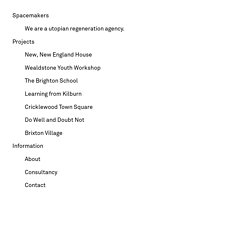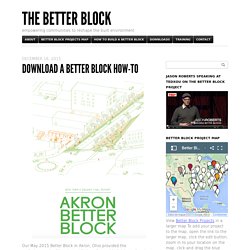 In cities across the nation, we're currently faced with a heated debate on growth and the need for improved infrastructure to facilitate "future development". Arguments on promoting regionalism vs. localism are a mainstay and bonds are passed to widen streets in communities to mitigate traffic flow with the hope of speculative tax revenue to one day pay for the long term costs of roads. I was struck by a recent mantra by groups opposed to making existing infrastructure more productive, dismissing urbanism and multi-modal transit options as a novelty or worse, a UN conspiracy labeled "Agenda 21″. One critic argued, "Just Fix the Streets" without understanding that there is no money available to do this…we're still paying for roads we built 20 years ago that promised future development that never came.
Ziudad: zumbidos con fuerza
Friday, October 4th, 2013 Accounts from all over the world are flowing in. This year we saw the first PARK(ing) Day in Johannesburg, South Africa and in Louisville, KY, PARK(ing) Day was extended into PARK(ing) Week!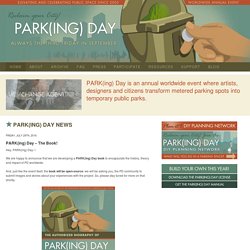 Web 3.0 y la trasformación del espacio (físico)
Cambio de paradigma. Se ha hablado y mucho sobre el fenómeno de la Web 2.0 y de sus consecuencias culturales y sociales. No creo que exagere al afirmar que ha sido uno de los grandes hitos de nuestra historia reciente y que sus consecuencias a todos los niveles (social, cultural, psicológico, etc.) han sido, están siendo y serán decisivos. En un mundo como el actual en el que se fomenta el ultra-individualismo, la web 2.0 ha resultado ser a la vez un revulsivo y un incentivo de esta tendencia.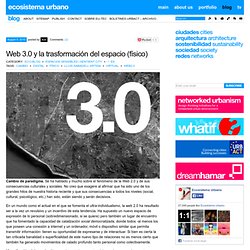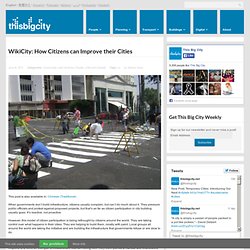 This post is also available in: Chinese (Traditional) When governments don't build infrastructure, citizens usually complain, but can't do much about it. They pressure public officials and protest against proposed projects, but that's as far as citizen participation in city building usually goes.
WikiCity – How Citizens can Improve their Cities
Ciclovía ciudadana
Mario symbols appear in bike lanes