Movilidad
Multimodalidad y nuevo puente en "La Glorieta Nacional" « godues. Multimodalidad y nuevo puente en "La Glorieta Nacional" Posted by godues on October 15, 2012 · Leave a Comment Mapas de La Dorada-Puerto Salgar y del tramo Villeta-El Korán de la Ruta del Sol.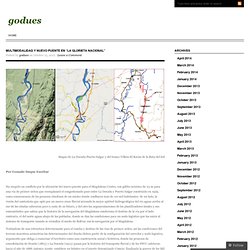 To Curb Driving, Cities Cut Down on Car Parking. Bit by bit, for the past 40 years, the city of Copenhagen has done something revolutionary: The Danish capital has reduced its parking supply.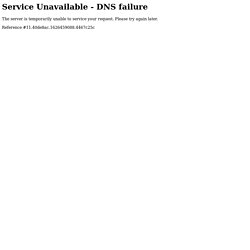 Cutting the total number of parking spaces by a small percentage each year stands in stark contrast to the more common pattern of cities adding more and more parking to accommodate private cars. But in a few pockets around the world, momentum is growing behind efforts to bump out large parking lots, curbside parking, and garages in favor of services and infrastructure for pedestrians, cyclists, and public transportation. "There's no demand for parking, per se," said parking policy expert Rachel Weinberger, assistant professor of city and regional planning at the University of Pennsylvania.
Www.nber.org/papers/w15376.pdf. Europe Stifles Drivers in Favor of Mass Transit and Walking. Christoph Bangert for The New York Times Pedestrians and trams are given priority treatment in Zurich.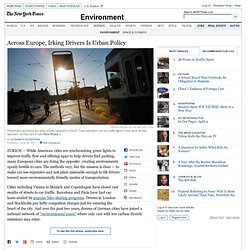 Tram operators can turn traffic lights in their favor as they approach, forcing cars to halt. More Photos » Cities including Vienna to Munich and Copenhagen have closed vast swaths of streets to car traffic. Subways would cost more and serve fewer, think tank says. Zoom Penny-pinching Mayor Rob Ford's subway plan would cost three times as much per kilometre to build as the four Metrolinx-funded light rail lines and attract only half as many riders, says a study released Wednesday by a sustainable-energy think tank.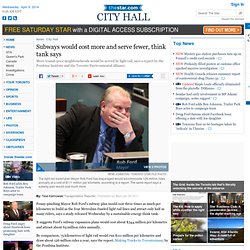 It suggests Ford's subway expansion plans would cost about $344 million per kilometre and attract about 65 million rides annually. Waze.com, una red social para evitar trancones - Noticias de Tecnología en Colombia y el Mundo. El servicio gratuito Waze llegó en octubre al país y ya cuenta con 25.000 usuarios.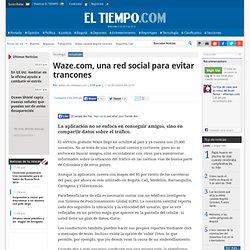 No se trata de una red social común y corriente, pues no se enfoca en buscar amigos, sino en colaborar con otros para mantenerse informados sobre la situación del tráfico en las caóticas vías de buena parte de Colombia y de otros países. Aunque la aplicación cuenta con mapas del 85 por ciento de las carreteras del país, por ahora es más utilizado en Bogotá, Cali, Medellín, Barranquilla, Cartagena y Villavicencio. Para beneficiarse de ella es necesario contar con un teléfono inteligente con Sistema de Posicionamiento Global (GPS). Free GPS Navigation with Turn by Turn - Waze | New Carsharing Association Aims to Reduce Car Ownership. FedEx Makes More Efficient Deliveries with Zero Emissions Electric Bikes August 30, 2010 Transit Agencies Need to Invest in Marketing: A Lesson from Los Angeles December 8, 2009 Walking and Biking Key to Reversing U.S.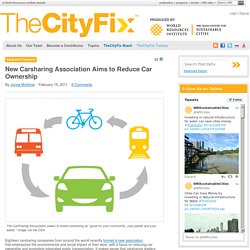 Childhood Obesity Epidemic July 20, 2010. Transport 2050: Commission outlines ambitious plan to increase mobility and reduce emissions. Brussels, 28 March 2011 Transport 2050: Commission outlines ambitious plan to increase mobility and reduce emissions The European Commission today adopted a comprehensive strategy (Transport 2050) for a competitive transport system that will increase mobility, remove major barriers in key areas and fuel growth and employment.
At the same time, the proposals will dramatically reduce Europe's dependence on imported oil and cut carbon emissions in transport by 60% by 2050. To achieve this will require a transformation in Europe's current transport system. By 2050, key goals will include: Capital looking to end gridlock in five years. By Wang Wei (China Daily) Updated: 2010-12-09 08:01 Beijing has drawn up an ambitious plan to solve its gridlock problem and get traffic moving again.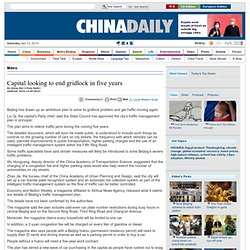 Liu Qi, the capital's Party chief, said the State Council has approved the city's traffic management plan in principle. The plan aims to relieve traffic jams during the coming five years. The detailed document, which will soon be made public, is understood to include such things as controls on the growing number of cars on city streets, the frequency with which vehicles can be used, planned improvements to public transportation, higher parking charges and the use of an intelligent traffic management system within the Fifth Ring Road. Berlin and other German cities tighten particulate emissions rules for road vehicles. Germans tighten road vehicle exhaust rules - Three German cities - Berlin, Cologne and Hanover - have introduced "environmental zones" to reduce fine particle emissions from traffic.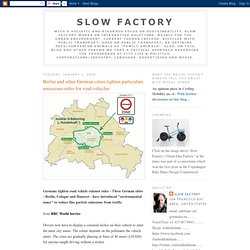 Drivers now have to display a coloured sticker on their vehicle to enter the inner city zones. The colour depends on the pollutants the vehicle emits. The cities are gradually phasing in fines of 40 euros (£29;$58) for anyone caught driving without a sticker. Other German cities - but not all - plan to have such zones later in 2008. Advierten que se debe dejar de usar el auto en las ciudades. La organización del Festival Internacional de Cine de Berlín, la Berlinale, anunció hoy el nombre de siete películas que participarán en la sección oficial, entre las que se encuentra el esperado documental en 3D Pina, el nuevo desafío del cineasta alemán Win Wenders sobre la vida de la fallecida coreógrafa Pina Bausch.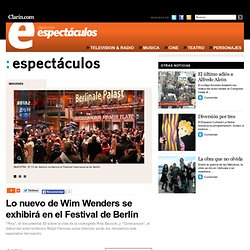 Estos largometrajes, dos se presentan fuera de concurso y seis serán estreno mundial, vienen a sumarse a la ya anunciada True grit, de los oscarizados Joel y Ethan Coen, que abrirá el próximo 10 de febrero la 61 edición de la muestra. Otro de los momentos esperados del festival será el debut del actor Ralph Fiennes con la adaptación de la obra Coriolanuse de William Shakespeare y que cuenta entre los principales actores con Gerard Butler, Vanessa Redgrave y Brian Cox, además del propio director. El arquitecto de las personas. Tags: BicicletasCities for PeopleCiudadesJan GehlUrbanismo "Sabemos más sobre el hábitat del oso panda que del ser humano". Jan Gehl está cansado de ver cómo la planificación urbana pasa por alto al ser humano. "Los arquitectos y los planificadores de ciudades viven desconectados de las personas.
Se proyectan enormes edificios que miran al cielo y se añaden más carriles para los coches, pero se olvidan completamente de lo que ocurre en el suelo. Ese espacio donde los humanos se mueven, viven e interactúan". How a planned highway can change a city, even if it never gets built. (1) - By Tom Vanderbilt. I-478 is a pretty remarkable road: It is, for one thing, the longest tunnel on the U.S.
Interstate Highway System. It's also the longest subaqueous facility. But I-478 conceals its charms; driving on it, there is nothing—not a single red, white, and blue shield—to tell you that you are doing so. Proyecto urbano: ciudades norteamericanas planean reemplazar autopistas por espacios recreativos. Vía 8664org. Propuesta para el waterfront de Louisville Solemos creer, y es efectivo, que una ciudad que quiere desarrollarse y crecer necesita autopistas: varias, rápidas y bien planificadas.
Pero en siete ciudades norteamericanas están pensando precisamente lo contrario: echar abajo las carreteras, en su mayoría costeras, para dejar lugar a la edificación de casas y la habilitación de zonas de recreación. El motivo principal es que es costoso mantener las autopistas, no se obtienen suficientes ganancias por su uso y se pueden vender los terrenos para el desarrollo inmobiliario. Después del salto, conoce en qué ciudades y cómo planean implementarse estos proyectos urbanos.
Long commutes cause obesity, neck pain, loneliness, divorce, stress, and insomnia. - By Annie Lowrey. This week, researchers at Umea University in Sweden released a startling finding: Couples in which one partner commutes for longer than 45 minutes are 40 percent likelier to divorce. The Swedes could not say why. Perhaps long-distance commuters tend to be poorer or less educated, both conditions that make divorce more common. Does Driving Cause Obesity?
The Checkup - Traffic noise boosts stroke risk. Can traffic noise be deadly? Well, not quite. But a new study indicates that chronic exposure to noise from cars and trucks can boost the risk for stroke, especially among the elderly. Mette Sørensen, senior researcher at the Institute of Cancer Epidemiology, Danish Cancer Society in Copenhagen, Denmark, and colleagues studied 51,485 people in the Copenhagen and Aarhus areas between 1993 and 1997. For every 10 decibels of noise, the stroke risk increased by 4 percent, they found. Autism: Proximity to freeways increases autism risk, study finds - latimes.com. Transport.
---