Cyclechic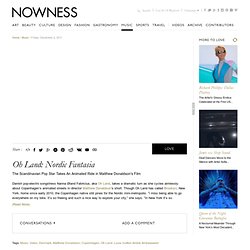 Oh Land: Nordic Fantasia
Danish pop-electro songstress Nanna Øland Fabricius, aka Oh Land, takes a dramatic turn as she cycles aimlessly about Copenhagen's animated streets in director Matthew Donaldson's short. Though Oh Land has called Brooklyn, New York, home since early 2010, the Copenhagen native still pines for the Nordic mini-metropolis. "I miss being able to go everywhere on my bike. It's so freeing and such a nice way to explore your city," she says. "In New York it's so dangerous, it's not the same experience." This fall, the knockout chanteuse—known for her whimsical vocals, fantastical lyrics and idiosyncratic dance moves—has been touring the United Kingdom, opening for Katy Perry and performing hits like "Wolf & I" and "White Nights" from her eponymous second album.
Lately, there has been some discussion in the comments about whether drivers display more courtesy when cyclists ride upright bicycles and dress in "regular" clothing. One reader wrote that "the uprightness [is] more visible and [the clothing] maybe less offensive to your average driver... The images generated revolve around Mary Poppins. Only a monster would do anything mean to Mary Poppins" (Christopher Fotos, December 10, 2010). Do you agree?
The Mary Poppins Effect?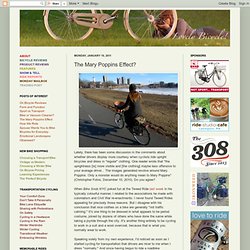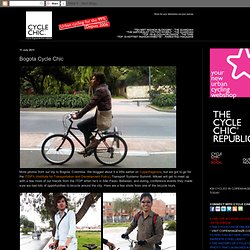 More photos from our trip to Bogotá, Colombia. We blogged about it a little earlier on Copenhagenize, but we got to go for the ITDP's (Institute for Transportation and Development Policy) Transport Systems Summit. Mikael will get to meet up with a few more of our friends from the ITDP when he's in São Paulo. Between, and during, conference events they made sure we had lots of opportunities to bicycle around the city. Here are a few shots from one of the bicycle tours.
Cycle Chic™ - The Original from Copenhagen.: Bogota Cycle Chic
COMMERCE STREET, Alex Williams, writer at the New York Times, and Joanna Goddard, writer and creator of A Cup of Jo, with their son, Toby for Downtownfrombehind. Alex and Joanna have one of those romantic New York stories. She liked his glasses, he liked her toothy grin, they met at the Oscars over a bowl of guacamole. First date and Alex opted for a movie. He spent the entire time wondering if Jo was into him.
downtownfrombehind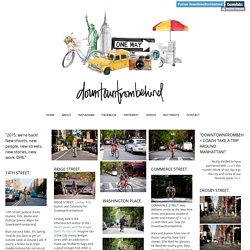 Cycle Style Auckland on Vimeo
Iconic bicycle designs through the ages – in pictures | Environment
Bicycle Paintings, by Taliah Lempert
There is no better way to celebrate warm weather than with a bike so we pulled together an assortment of this season's top commuters and cruisers, all well suited to riding to work or taking a casual spin through the park. Traitor Cycles' Luggernaut 3spd is the ideal bike for running around town. The beauty of a classically lugged track frame combined with a 3-speed internal hub gives this urban commuter a sleek look and the ability to tackle everything from city flats to rural hills.
Five Spring Bicycles
Bicycle Wine Rack
The Tweed Run on Vimeo
"I'm from Copenhagen and I bike every day." "I assume you are going to a New Year Eve's party, Yes. It's wonderful to use your bike when you go out because you don't have to think about drinking too much or catching the last bus. You always have your bike with you wherever you go.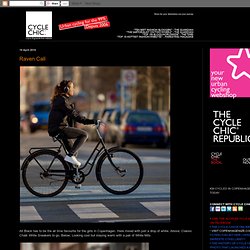 New York RideStyle Fashion Show 2011 on Vimeo