Roots
John Kirkby (bishop of Ely) John Kirkby (died 26 March 1290) was an English ecclesiastic and statesman.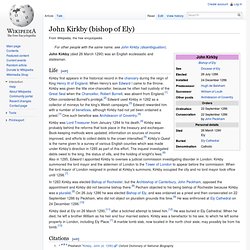 Kirkby first appears in the historical record in the chancery during the reign of King Henry III of England. When Henry's son Edward I came to the throne, Kirkby was given the title vice-chancellor, because he often had custody of the Great Seal when the Chancellor, Robert Burnell, was absent from England.[1] Often considered Burnell's protégé,[2] Edward used Kirkby in 1282 as a collector of moneys for the king's Welsh campaigns.[3] Edward rewarded him with a number of benefices, although Kirkby had not yet been ordained a priest.[1] One such benefice was Archdeacon of Coventry.[4] Kirkby was Lord Treasurer from January 1284 to his death.[4] Kirkby was probably behind the reforms that took place in the treasury and exchequer.
Great Seal of the Realm. An impression in wax of the Great Seal of the Realm (1953) History[edit] Edward the Confessor sometime before A.D. 1066 started using a "Great Seal" casting in wax of his own visage to signify that a document carried the force of his will.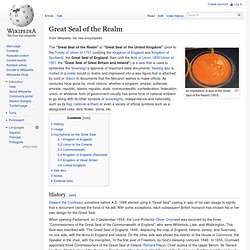 Ólchobar mac Cináeda. Ólchobar mac Cináeda (died 851) was King of Munster from 847 until his death.
He may be the "king of the Irish" who sent an embassy to Frankish Emperor Charles the Bald announcing a series of victories over Vikings in Ireland in 848. Origins[edit] Ólchobar was previously thought to have belonged to the Locha Léin branch of the Eóganachta, the kindred which dominated the kingship of Munster from the 6th to the late 10th centuries, whose lands lay around the Lakes of Killarney.[1] More recent research however has shown that he was more likely a member of the Eóganacht Áine branch of the dynasty. This branch, found in the east of modern County Limerick, was part of the inner circle of Eoganachta which had rotated the kingship of Munster since the 7th century. Cenn Fáelad hua Mugthigirn.
Cenn Fáelad hua Mugthigirn (died 872) was a King of Munster of the Eoganachta, the ruling dynasty of Munster.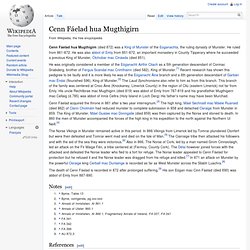 He ruled from 861-872. He was also abbot of Emly from 851-872, an important monastery in County Tipperary where he succeeded a previous King of Munster, Ólchobar mac Cináeda (died 851). He was originally considered a member of the Eóganacht Airthir Cliach as a 5th generation descendant of Cormac Sriabderg, brother of Fergus Scandal mac Crimthainn (died 582), King of Munster.[1] Recent research has shown this pedigree to be faulty and it is more likely he was of the Eóganacht Áine branch and a 6th generation descendant of Garbán mac Éndai (flourished 596), King of Munster.[2] The Laud Synchronisms also refer to him as from this branch.
List of kings of Munster. Munster about the year 900 Ancient and Mythological Kings of Munster[edit]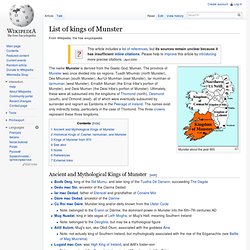 Eóganacht Áine. Kirkby-in-Furness. Coordinates: Kirkby-in-Furness is a village in the Furness area of Cumbria, England.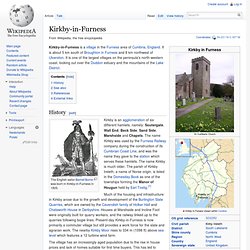 It is about 5 km south of Broughton in Furness and 8 km northwest of Ulverston. Digital Scriptorium. KIRBY-KERBY-L [Kirby] PASSENGER And IMMIGRATION LIST INDEX. Aran Islands. Map of Ireland, with the Aran Islands highlighted The Aran Islands, on the west coast of Ireland Location and access[edit] The approaches to the bay between the Aran Islands and the mainland are as follows: North Sound / An Súnda ó Thuaidh (more accurately Bealach Locha Lurgan) lies between Inishmore and Lettermullen, County Galway.Gregory's Sound / Súnda Ghríoghóra (formerly known as Bealach na h-Áite) lies between Inishmore and Inishmaan.Foul Sound / An Súnda Salach (formerly known as Bealach na Fearbhaighe) lies between Inishmaan and Inisheer.South Sound / An Súnda ó Dheas (formerly known as Bealach na Fínnise) lies between Inisheer and County Clare.Ferries operate to all 3 Islands from Rossaveal in Co.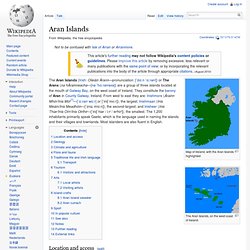 Galway (Year Round) and Doolin in Co.
---