ITIL
Un article de Wikipédia, l'encyclopédie libre. Pour l'article homonyme, voir Itil . ITIL ( Information Technology Infrastructure Library pour « Bibliothèque pour l'infrastructure des technologies de l'information ») est un ensemble d'ouvrages recensant les bonnes pratiques (« best practices ») du management du système d'information . Rédigée à l'origine par des experts de l'Office public britannique du Commerce ( OGC (en) ), la bibliothèque ITIL a fait intervenir à partir de sa version 3 des experts issus de plusieurs entreprises de services telles qu' Accenture , Ernst & Young , Hewlett-Packard , Deloitte , BearingPoint ou PriceWaterhouseCoopers . C'est un référentiel très large qui aborde les sujets suivants :
Information Technology Infrastructure Library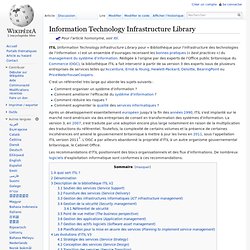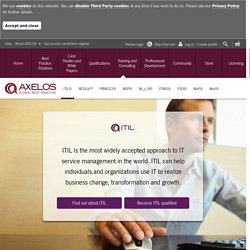 ITIL is the most widely accepted approach to IT service management in the world. ITIL provides a cohesive set of best practice, drawn from the public and private sectors internationally. IT Service Management (ITSM) derives enormous benefits from a best practice approach.