ITIL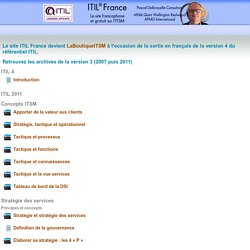 ITIL est une collection de livres qui recense, synthétise et détaille les meilleures pratiques applicables à tous types d'organisations fournissant des services (Service Unit ou unité de services) à une organisation d'affaires (Business Unit ou unité d'affaires). Quelles sont les différentes versions de ITIL ? L'informatique en BD : heurts et malheurs de la DSI Le site BDDSI.fr proposent des bandes dessinées sur la vie quotidienne des équipes informatiques et de ses responsables. Les bandes dessinées que je crée sur ce site sont des histoires vécues chez mes clients.
Un article de Wikipédia, l'encyclopédie libre. Pour l'article homonyme, voir Itil. ITIL (Information Technology Infrastructure Library pour « Bibliothèque pour l'infrastructure des technologies de l'information ») est un ensemble d'ouvrages recensant les bonnes pratiques (« best practices ») du management du système d'information. Rédigée à l'origine par des experts de l'Office public britannique du Commerce (OGC), la bibliothèque ITIL a fait intervenir à partir de sa version 3 des experts issus de plusieurs entreprises de services telles qu'Accenture, Ernst & Young, Hewlett-Packard, Deloitte, BearingPoint ou PriceWaterhouseCoopers. C'est un référentiel très large qui aborde les sujets suivants :
Information Technology Infrastructure Library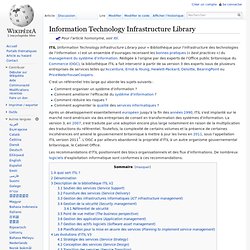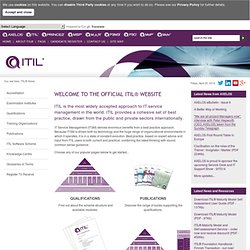 ITIL is the most widely accepted approach to IT service management in the world. ITIL provides a cohesive set of best practice, drawn from the public and private sectors internationally. IT Service Management (ITSM) derives enormous benefits from a best practice approach. Because ITSM is driven both by technology and the huge range of organizational environments in which it operates, it is in a state of constant evolution. Best practice, based on expert advice and input from ITIL users is both current and practical, combining the latest thinking with sound, common sense guidance.