AI
40 Must Learn Text Effect Tutorials in Illustrator. Tutorials January 31, 2011 The love of creating text effects has become a common ground for many designers and enthusiasts.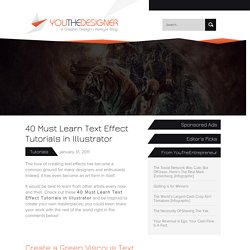 Indeed, it has even become an art form in itself. Articles - Texture. When working in Illustrator it's nice to add textures that weren't computer generated (like gradients or pattern fills).
Illustrations like the ones in this lightbox have that extra something, and when you see them, you can practically feel them under your fingers. While gradients have their place, they lack that 'handmade' feel and can limit the usefulness of your image. T-shirt graphics are a great example where gradients don't always work well with silk screening. Handmade textures are an ideal solution: they're unique, interesting, and print very well. Painting a Pinup Girl in Photoshop | Pencil Kings. Painting a Pin Up | 01 | Set Up your Selection Masks To get started with coloring a digital work – the first thing that you will need is either a scan or a photograph of a drawing that you've done.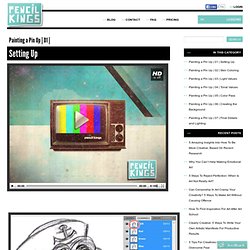 Create An Awesome Space Rocket in Illustrator. What?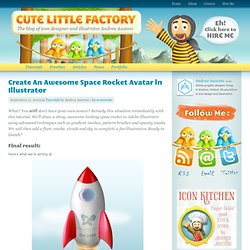 You still don't have your own avatar? Remedy this situation immediately with this tutorial. We'll draw a shiny, awesome-looking space rocket in Adobe Illustrator using advanced techniques such as gradient meshes, pattern brushes and opacity masks. We will then add a flare, smoke, clouds and sky to complete a fun illustration. Design with Swirls and Flourishes. It's very common these days to see swirls and flourishes within graphic design.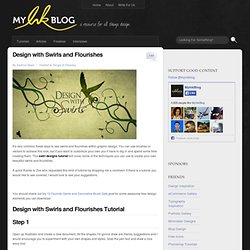 You can use brushes or vectors to achieve this look, but if you want to customize your own you'll have to dig in and spend some time creating them. This swirl designs tutorial will cover some of the techniques you can use to create your own beautiful swirls and flourishes. A quick thanks to Zoe who requested this kind of tutorial by dropping me a comment. If there is a tutorial you would like to see covered, I would love to see your suggestions. Retro car vectors. It's surprisingly easy to create a sharp, clean, attention-grabbing vector graphic based on a photograph, whether it's a pet, a person, a motorbike or a car.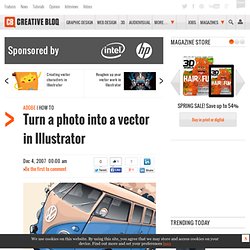 And because it's a vector graphic, you'll be able to resize it without any loss of quality. There are other benefits too. Vector-based images make for smaller files, and smaller files are easier for your computer to open, close and print out. The final Illustrator file from this tutorial is only 5MB, compared with 50MB for a 300dpi Photoshop file of the same dimensions. Because the vector image is an Illustrator file, it's easy for you to change the colours of the illustration if, for example, you want to use it again and again for different clients. How To Create a Stylish Skull Based Vector Illustration. The skull and crossed pistons mark is a popular adaption of the tradition skull and crossbones symbol and is commonly seen in motorcycle culture, amongst other.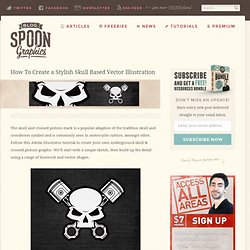 Follow this Adobe Illustrator tutorial to create your own underground skull & crossed pistons graphic. We'll start with a simple sketch, then build up the detail using a range of linework and vector shapes. Here's the graphic I've put together for this tutorial. The skull and pistons are both made up of simple linework, but with a couple of simple techniques they can really be brought to life.
---