Pizza
Breakfast Pizza: Great minds think alike. A few weeks ago, Baking Sheet writer and editor Susan Reid and I were discussing our latest projects.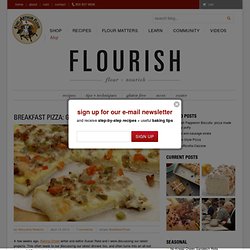 This often leads to our discussing our latest dinners too, and often turns into an all-out "You've GOT to try this!" Festival. I think Susan is one of the most creative cooks I've ever met and she has called me "devil woman" on several occasions for my contributions. On this day, however… …we were definitely in sync. Breakfast Pizza. 1) Roll or pat out your pizza dough to a 14" circle or 12" x 16" rectangle.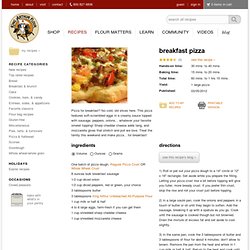 Set aside while you prepare the filling. Letting your pizza crust rise a bit before topping will give you fuller, more bready crust. If you prefer thin crust, skip the rise and roll your crust just before topping. 2) In a large sauté pan, cook the onions and peppers in a touch of butter or oil until they begin to soften.
Add the sausage, breaking it up with a spatula as you go. Pizza Stromboli with Spinach, Mushrooms, and Cheese. Josh loves pizza and is pretty good at making it.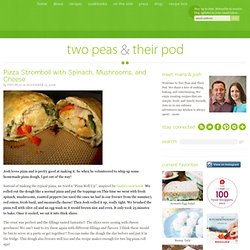 So when he volunteered to whip up some homemade pizza dough, I got out of the way! Instead of making the typical pizza, we tried a "Pizza Roll Up", inspired by Giada's new book. We rolled out the dough like a normal pizza and put the toppings on.This time we went with fresh spinach, mushrooms, roasted peppers (we used the ones we had in our freezer from the summer), red onion, fresh basil, and mozzarella cheese! Then Josh rolled it up, really tight. How to Make Pizza Without Dough | « LXRCUISINE - StumbleUpon. I was getting kind of sick of ordering delivery pizza (this happens at least 2-3 times a month).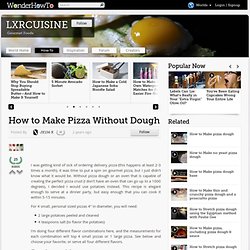 It was time to put a spin on gourmet pizza, but I just didn't know what it would be. Without pizza dough or an oven that is capable of creating the perfect pizza crust (I don't have an oven that can go up to a 1000 degrees), I decided I would use potatoes instead. This recipe is elegant enough to serve at a dinner party, but easy enough that you can cook it within 5-15 minutes. For 4 small, personal sized pizzas 4" in diameter, you will need: Jeff Varasano's NY Pizza Recipe. Jeff Varasano's Famous New York Pizza Recipe One of the 'Elite 8' Pizzerias in the US by Every Day with Rachael Ray Voted Best Pizza in Atlanta for 2012 by Jezebel Magazine And Many Other AwardsMain Restaurant Website Email me at Jeff@Varasanos.com.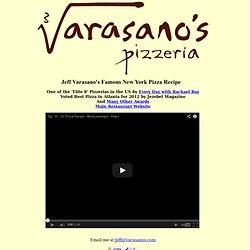 Best Pizza Dough Ever Recipe. I can make a mean pizza, but it took me a while to learn how.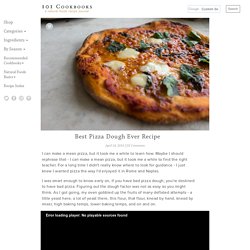 Maybe I should rephrase that - I can make a mean pizza, but it took me a while to find the right teacher. For a long time I didn't really know where to look for guidance - I just knew I wanted pizza the way I'd enjoyed it in Rome and Naples. I was smart enough to know early on, if you've got bad dough you are destined to have bad pizza. Figuring out the dough factor was not as easy as you might think.
As I got going, my oven gobbled up the fruits of many deflated attempts - a little yeast here, a lot of yeast there, this flour, that flour, knead by hand, knead by mixer, high baking temps, lower baking temps, and on and on. Uno's Pizzeria Recipe. Pizza Dough. Fogazzo's Complexity Pizza DoughTrue bread like taste and complexity As far as the ingredients go, this recipe is similar to the one for making Kaiser Rolls, a soft bread.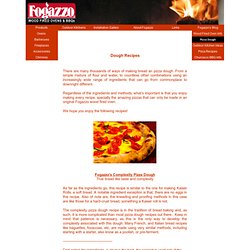 A notable ingredient exception is that, there are no eggs in this recipe. Also of note are, the kneading and proofing methods in this case are like those for a hard-crust bread, something a Kaiser roll is not. The complexity pizza dough recipe is in the tradition of bread baking and, as such, it is more complicated than most pizza dough recipes out there. Keep in mind that patience is necessary, as this is the only way to develop the complexity associated with this dough. Numero Uno (not Pizzeria Uno) Recipe. I know your request is over 1 1/2 years old, but I live in Los Angeles, and LOVE this pizza joint.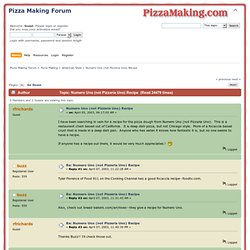 I just joined the group (Hi everyone!) And your post sent me a-Googling once again (been looking for this for years) - this time I may have found something! I had written a huge post about this (history, descriptions), but it all got wiped out when I had to register as a new user on pizzamaking.com before posting! So let me know if you need more info - it's late, and I'm not in the mood to retype it all!
---