Machining
Retracting Key Ring Corrals Chuck Key
How-To: Center Stock in a 4-Jaw Lathe Chuck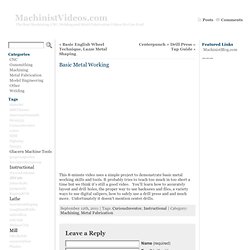 This 8-minute video uses a simple project to demonstrate basic metal working skills and tools. It probably tries to teach too much in too short a time but we think it's still a good video. You'll learn how to accurately layout and drill holes, the proper way to use hacksaws and files, a variety ways to use digital calipers, how to safely use a drill press and and much more. Unfortunately it doesn't mention center drills.
Basic Metal Working « MachinistVideos.com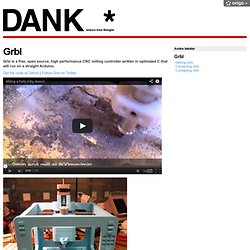 Grbl is a free, open source, high performance CNC milling controller written in optimized C that will run on a straight Arduino. Get the code at Github | Follow Grbl on Twitter MIT Center for Bits and Atoms designed a beautifyl snap fit CNC machine controlled by Grbl.
Dank
Extruder
Grinding Lathe Tools on a Belt Sander – For the New Guy | MachinistBlog.com
I'm a believer. As a new guy I totally sucked at grinding lathe tools. It's almost painful to admit how many stubby, misshapen, multi-faceted, overheated and just plain ugly lathe tools I made back then.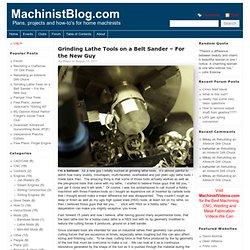 First complete job … completed I finished a little Air-app to stream complete jobs to the Grbl and render the result. This is the first "full scale test" running some 7000 lines of sample G-code I scrounged from this thread on CncForum. The Air-app feeds g-code to the microcontroller one line at a time, while the microcontroller generates the steps and feeds them back to be simulated in the Air-app.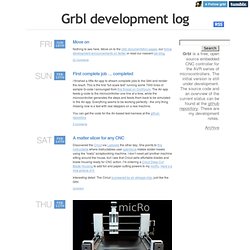 Grbl development log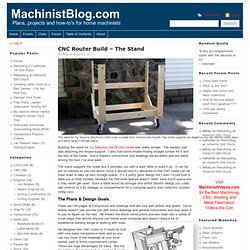 CNC Router Build – The Stand | MachinistBlog.com
The stand for my Solsylva 25x25-inch CNC router is made from 1x4-inch pine boards. Two of the supports are hinged so you can fold the router down so it takes up less storage space. Building the stand for my Solsylva 25×25 CNC router was pretty simple. The hardest part was attaching the hinged support. I also had some trouble finding straight lumber for it and the rest of the router.
Router Tool Holder by Rob
The Largest Machinist Community on the net! - View Single Post - Epoxy-Granite machine bases (was Polymer concrete frame?)
The Largest Machinist Community on the net! - View Single Post - So whats the Exopy Granite Mix?
Free Plans: David Kerzel's C02 Engine | MachinistBlog.com
Info/Images/47158Parts.pdf
images.harborfreight.com/manuals/47000-47999/47158.pdf