Davidkang
Relax. Your team's communication problems? We've got that.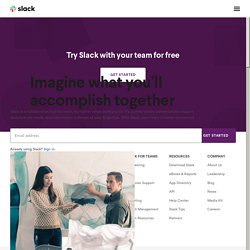 Storehouse: visual storytelling
Extremis Home | Extremis
Swivl
mo-bility
Apture is Joining Google! Since 2007, all of us here at Apture have worked hard to add new dimensions to the web. We've always believed that by transforming flat web pages into interactive multimedia experiences, we could enable readers to see, hear and truly experience the ideas on the page. After enhancing more than a billion pages with our products, we think now is the best time to expand our efforts with another team just down the road that shares our vision of making the web better. :) That's right -- we've been acquired by Google and will be joining the Chrome team to continue driving innovation and creating a better user experience on the web. The modern web is an amazing platform, so stay tuned for even more enhancements to your Chrome browsing experience. Sincerely, The Apture Team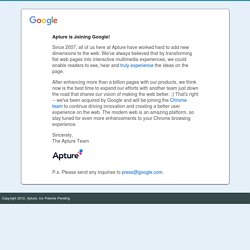 What is Dipity? Dipity is a free digital timeline website. Our mission is to organize the web's content by date and time. Users can create, share, embed and collaborate on interactive, visually engaging timelines that integrate video, audio, images, text, links, social media, location and timestamps.