Yahoo
Cars. 7 Ways to Score Free Stuff | Financially Fit. We've explored the world of freebies a couple times on Financially Fit from free vacations, to free yoga, to free cell phones.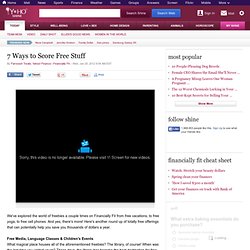 And yes, there's more! Here's another round up of totally free offerings that can potentially help you save you thousands of dollars a year. Beginner chess mistakes to avoid. Becoming a great chess player is a journey.
And as is the case with any truly great game, understanding the rules is just the first step. The second, we'd venture to say, is being able to identify, understand, and fix your mistakes. Bills-not-to-automate: Personal Finance News from Yahoo! Finance. Service providers are happy to give you the "convenience" of automated payments — primarily because it lets them reach into your wallet each and every month.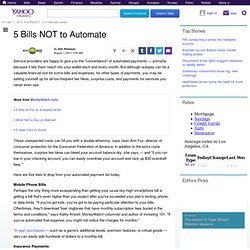 But although autopay can be a valuable financial tool for some bills and expenses, for other types of payments, you may be setting yourself up for all-too-frequent fee hikes, surprise costs, and payments for services you never even use. Those unexpected costs can hit you with a double whammy, says Jean Ann Fox, director of consumer protection for the Consumer Federation of America. In addition to the extra costs themselves, surprise fee hikes can bleed your account balance dry, she says — and "if you run low in your checking account, you can easily overdraw your account and rack up $35 overdraft fees.
" 30 Days to a Better Husband - Love + Sex on Shine. Man holding flowers towards someone.By Aaron Traister, REDBOOK.This month, Aaron Traister pledged to transform himself into the man his wife deserves: thoughtful, physically fit, and sexually patient.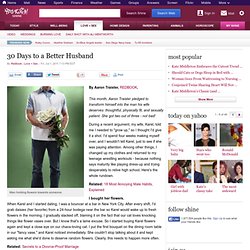 She got two out of three - not bad! During a recent argument, my wife, Karel, told me I needed to "grow up," so I thought I'd give it a shot. I'd spend four weeks making myself over, and I wouldn't tell Karel, just to see if she was paying attention. Among other things, I changed up my clothes and returned to my teenage wrestling workouts - because nothing says maturity like playing dress-up and trying desperately to relive high school. Here's the whole rundown. Top 9 national park beaches on Shine. This summer, cool off at these scenic spots to swim, float, and soak in the sun at the West's amazing national parks.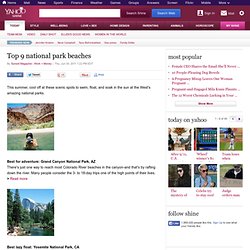 Best for adventure: Grand Canyon National Park, AZ There's just one way to reach most Colorado River beaches in the canyon-and that's by rafting down the river. Many people consider the 3- to 18-day trips one of the high points of their lives. > Read more Best lazy float: Yosemite National Park, CA With El Capitan and Half Dome towering above, the Merced River beaches in Yosemite Valley sometimes get forgotten. Which is a mistake, especially in summer, when valley temps sizzle and the river water is blissfully cool.
> Read more Best beachcombing: Olympic National Park, WA The easy hike to Shi Shi Beach is best made at low tide, when you encounter some of the best tidepools on Earth against the backdrop of towering sea stacks, Pacific waves, and the occasional kayaker. > Read more.
---