Portfolio Design
100+ Tips on Creating an Effective Online Portfolio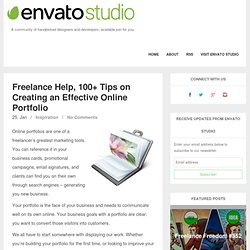 Online portfolios are one of a freelancer's greatest marketing tools. You can reference it in your business cards, promotional campaigns, email signatures, and clients can find you on their own through search engines – generating you new business. Your portfolio is the face of your business and needs to communicate well on its own online. Your business goals with a portfolio are clear: you want to convert those visitors into customers. We all have to start somewhere with displaying our work.
If you're a designer or photographer who wants to create a website to help you share your work online, then you need to check out these free portfolio website templates! I've found several portfolio website templates in a range of colours and styles, and they're all perfect for showcasing designs or photographs. Portfolio 3 This free portfolio website template features a wooden background, a dark colour scheme, cross-browser compatibility, and more. Portfolio 6 This free portfolio website template includes a blue colour scheme, an ocean inspired illustration, and more.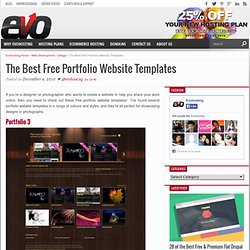 18 of the Best Free Portfolio Website Templates – UK Web Hosting – Uk Web Design Blog | Evohosting
Portfolio Design, Web Designer, Photographer, Graphic Artist Resources
Paspartout - Your free online portfolio - Product overview
10 Awesome Solutions for Creating Your Online Portfolio
Every design enthusiast want to have a sparkling online portfolio for showcasing his/her work, but there are few people who can build an awesome portfolio for themselves from scratch.