Portfolio Design
100+ Tips on Creating an Effective Online Portfolio
Online portfolios are one of a freelancer's greatest marketing tools.
If you're a designer or photographer who wants to create a website to help you share your work online, then you need to check out these free portfolio website templates!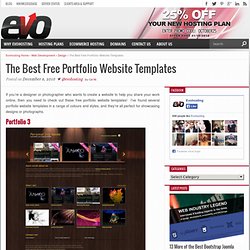 18 of the Best Free Portfolio Website Templates – UK Web Hosting – Uk Web Design Blog | Evohosting
Portfolio Design, Web Designer, Photographer, Graphic Artist Resources
Paspartout - Your free online portfolio - Product overview
10 Awesome Solutions for Creating Your Online Portfolio
Every design enthusiast want to have a sparkling online portfolio for showcasing his/her work, but there are few people who can build an awesome portfolio for themselves from scratch.