Portfolio Design
100+ Tips on Creating an Effective Online Portfolio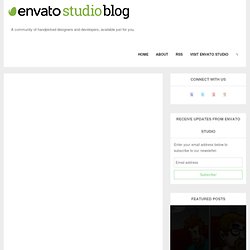 Online portfolios are one of a freelancer's greatest marketing tools. You can reference it in your business cards, promotional campaigns, email signatures, and clients can find you on their own through search engines – generating you new business. Your portfolio is the face of your business and needs to communicate well on its own online. Your business goals with a portfolio are clear: you want to convert those visitors into customers.
If you're a designer or photographer who wants to create a website to help you share your work online, then you need to check out these free portfolio website templates! I've found several portfolio website templates in a range of colours and styles, and they're all perfect for showcasing designs or photographs. Portfolio 3 This free portfolio website template features a wooden background, a dark colour scheme, cross-browser compatibility, and more. Portfolio 6 This free portfolio website template includes a blue colour scheme, an ocean inspired illustration, and more.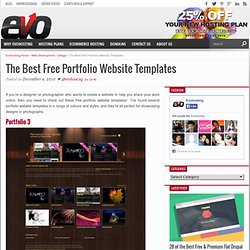 18 of the Best Free Portfolio Website Templates – UK Web Hosting – Uk Web Design Blog | Evohosting
Portfolio Design, Web Designer, Photographer, Graphic Artist Resources
Free free forever 5 projects 35 images 1 video Start using Free Plus €33 / year 10 projects 200 images 10 videos use your own domain name integrate statistics Try Plus for 10 days * Pro €66 / year most popular 20 projects 600 images 20 videos much more layout options upload your own fonts Try Pro for 10 days * Biz €99 / year unlimited projects unlimited images 50 videos add as many pages as you like top video processing priority Try Biz for 10 days * * You don't need a credit card for the 10 day trial on the subscription plans, there are no strings attached. So go ahead and pick one, we know you want to. Introduce me... So you are an artist or designer and need a great looking online portfolio? Paspartout provides all you need in a super easy to use package.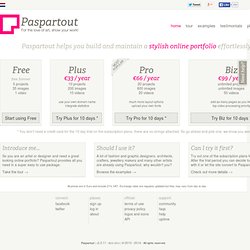 Paspartout - Your free online portfolio - Product overview
10 Awesome Solutions for Creating Your Online Portfolio
Every design enthusiast want to have a sparkling online portfolio for showcasing his/her work, but there are few people who can build an awesome portfolio for themselves from scratch. Fortunately there are many online services making portfolio creation process effortless. You just need to sign up before showing your creative work off to the whole world. In this article we have reviewed 10 best solutions for creating your online portfolio in matter of few minuets.