Photoshop Actions
Pimp Your Photo – Over 20 Awesome and Free Photoshop Actions. Today I want to share with you some of my favorite Photoshop actions.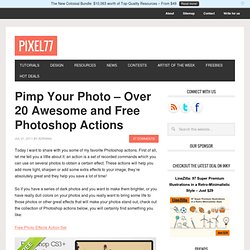 First of all, let me tell you a little about it: an action is a set of recorded commands which you can use on several photos to obtain a certain effect. These actions will help you add more light, sharpen or add some extra effects to your image, they're absolutely great and they help you save a lot of time! Free Orton Effect Action - One Click Dreamy Effect with the Orton Action for Photoshop and Photoshop Elements.
Download the Orton.atn file (right click and save target) This action creates an Orton Effect on your image to give it a dreamy quality.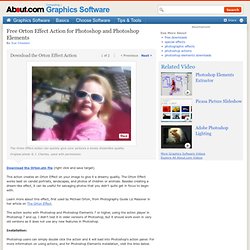 The Orton Effect works best on candid portraits, landscapes, and photos of children or animals. Besides creating a dream-like effect, it can be useful for salvaging photos that you didn't quite get in focus to begin with. Learn more about this effect, first used by Michael Orton, from Photography Guide Liz Masoner in her article on The Orton Effect. Photoshop Actions. By litchi23 January 24, 2008 13,179 Downloads This is an action that replicates the "orton effect".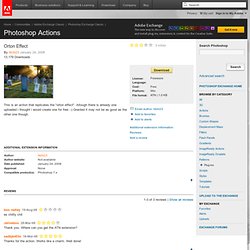 Altough there is already one uploaded i thought i would create one for free :-) Granted it may not be as good as the other one though. Additional extension information Reviews. Photo Glow by ~PockyPerson32. 162. by ~Sathoro on deviantART. Orton Effect PS Action by ~mk87 on deviantART. Free Action: Orton Effect with Contrast Kick! SOOC (Straight out of camera) Orton Effect I actually combined a few things I have picked up along the way to get this effect.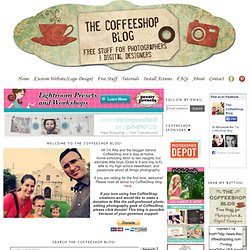 I use PS7 so this should work in PS7 and up. It might work in Elements, and please let me know if you find that it does. Redwall Photo Photoshop Actions! | Redwall Photo Chicago Music and Concert Photography. I've been wanting to do this for a while – share some of my editing shortcuts with fellow photographers!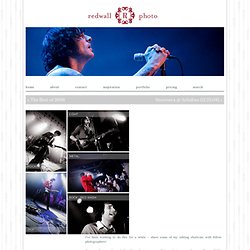 Concert photographers deal with such extreme conditions that many other readily available actions are often not applicable to concert photos. With that in mind, I tried to make these actions adjustable so that they work with different lighting conditions (but even with their flexibility, keep in mind that these actions still work best on properly exposed and white balanced photos). Also, I've used these actions on lots of non-concert photos, so non-concert photographers, feel free to download them too! Free Photoshop Actions. Rooster Tutorial - Photoshop CS5 - Automated Batch Actions. Photoshop Actions For Photography # 2. Posted by Hans in Design on July 2nd, 2011 with No Comments; Photoshop Action is a series of commands that can handle the repetitive tasks; quite simply, you can record your steps just like macros in Microsoft Word and Excel during a project, and then replay those steps back the next time you'd like to do the same thing.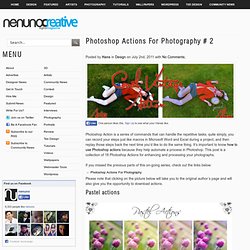 It's important to know how to use Photoshop actions because they help automate a process in Photoshop. This post is a collection of 18 Photoshop Actions for enhancing and processing your photographs. If you missed the previous parts of this on-going series, check out the links below: Photoshop Actions For Photography. Browsing Photoshop Actions on deviantART. 50 photoshop actions to enhance your photos. Subscribe by RSS or Email 50 photoshop actions to enhance your photos Posted In: Photoshop roundups, By WAD, 2 Comments advertisement Phototshop actions are pre-recorded tasks that you can save and use it anytime.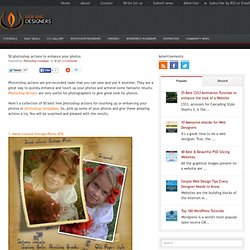 Www.thelightsrightstudio.com/tools/ActionBasics.pdf. 50 Fresh Sets of Free Photoshop Actions. Photoshop Actions can be an incredible time saving tool for designers and photographers.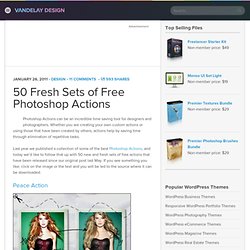 Whether you are creating your own custom actions or using those that have been created by others, actions help by saving time through elimination of repetitive tasks. Last year we published a collection of some of the best Photoshop Actions, and today we'd like to follow that up with 50 new and fresh sets of free actions that have been released since our original post last May. If you see something you like, click on the image or the text and you will be led to the source where it can be downloaded. Looking for hosting? 45 Amazing and Free Photoshop Actions. This post was originally published a few years ago, and many of the actions originally featured are no longer available.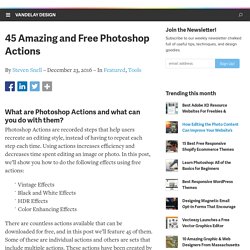 The post has been edited to remove the dead links and to improve the quality of the actions featured. Some of the actions originally included still remain, but you'll now find a better selection and better quality. Photoshop actions allow designers and photographers to automate common sequences for increased efficiency. If you do much work with photo editing you can certainly benefit from the time saved by having a good library of Photoshop actions. There are so many different types of actions that you can use from vintage effects, to black and white, to HDR and much more.
Ultimate Collection of Photoshop Brushes, Actions and Styles - Noupe Design Blog.
---