Photography
Visual Perception
Selling Images. How to write about your photographs | Conscientious Photography Magazine. I frequently run into being asked by photographers how they can become better at writing about their own work.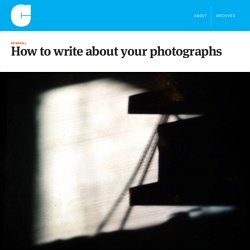 This is not an easy topic to talk about, certainly not without using specific examples. But I thought I'd do so anyway, in the hope that those who are interested in it might get something out of it. Before going into any of the details, I will have to make a disclaimer: I wrote a piece about statements before.
Mounting & Framing Images. Photo Printing. Bokeh. Photography Social Groups. Lightwriting Photography. Night Photography.
Wobble Photography. Timelapse Photography. S Digital Imaging Page - digital camera information, digital imaging, and digital photo manipulation directory. Image Conscious - Free Online Graphic and Web Design Tools. A comprehensive collection of free online tools and resources that virtually anyone can use to enhance their creative design projects either at work or home.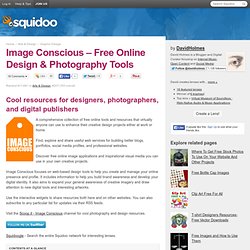 Find, explore and share useful web services for building better blogs, portfolios, social media profiles, and professional websites. Discover free online image applications and inspirational visual media you can use in your own creative projects. Image Conscious focuses on web-based design tools to help you create and manage your online presence and profile. It includes information to help you build brand awareness and develop your digital identity. It also aims to expand your general awareness of creative imagery and draw attention to new digital tools and interesting artworks.
Vintage Photography Adverts
IR Photography. Slit-Scan Photography. UV Photography. The Most Important Developments in Photography. In my last article I listed the three most important developments in photography.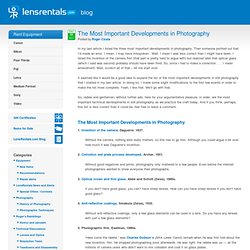 Then someone pointed out that I'd made an error. I mean, I may have misspoken. Wait, I mean I was less correct than I might have been. Photography Forums. Macro Photography. Photography News Aggregators. Digital Photography Tech. Photography Calculators. Photography. Lens and mounting of a large-format camera Photography has many uses for business, science, manufacturing (e.g. photolithography), art, recreational purposes, and mass communication.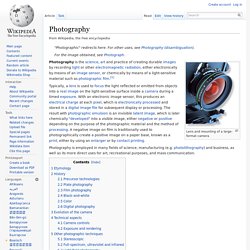 Etymology The word "photography" was created from the Greek roots φωτός (phōtos), genitive of φῶς (phōs), "light"[2] and γραφή (graphé) "representation by means of lines" or "drawing",[3] together meaning "drawing with light".[4] Several people may have coined the same new term from these roots independently.
Photography Blogs & Curation. Photography Equipment. Online Image Platforms. Photography Communities. Photography Genres & Styles. Photographers. Photography Magazines. Photography Legal Rights.
Stock Photography
Image Search Tools. Photographic Print Techniques. Photographic Composition. Photography Tips & Tutorials.
---