Business & Work Tools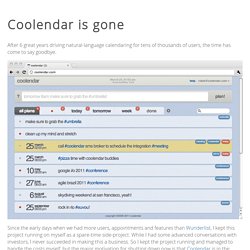 coolendar is not only calendar or task app: it's a whole new planning experience We believe it is time for a new level of planning software. Something simple that works for you, without the noise of handling a calendar or tasks app. why is this different?
SkillPages is the world's largest search engine for finding people with skills and expertise. Popular Skills: Gardener, Photographer, Accountant, Musician... Join over 22 million people already on SkillPages to... Find Peoplewith the skills and expertise you need in any location.