Elearning,
eLearning Weekly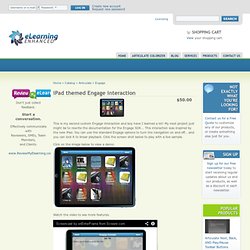 This is my second custom Engage interaction and boy have I learned a lot!
iPad themed Engage interaction | eLearning Enhanced
Designing Interactive Learning Environments - Formula D Interactive
LectureScribe
This website serves as the current distribution point for LectureScribe, a program for easily producing animated "whiteboard lectures" from a tablet PC or electronic whiteboard. LectureScribe is written by Brian C. Dean, an assistant professor of computer science at Clemson Univeristy. Audio Bug Alert: The latest versions of Adobe's Flash player managed to break the audio playback for LectureScribe-generated files (and also for several other prominent applications, e.g., Camtasia) by making playback sound garbled, with periodic squawks and other artifacts.