Elearning,
Design Comics :: Characters and Scenes for Storyboarding & Design. eLearning Weekly. iPad themed Engage interaction | eLearning Enhanced. This is my second custom Engage interaction and boy have I learned a lot!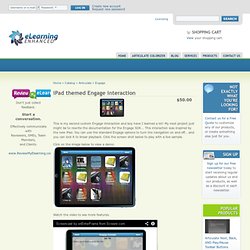 My next project just might be to rewrite the documentation for the Engage SDK... This interaction was inspired by the new iPad. You can use the standard Engage options to turn the navigation on and off... and you can lock it to linear playback. Designing Interactive Learning Environments - Formula D Interactive. LectureScribe. This website serves as the current distribution point for LectureScribe, a program for easily producing animated "whiteboard lectures" from a tablet PC or electronic whiteboard.
LectureScribe is written by Brian C. Dean, an assistant professor of computer science at Clemson Univeristy. Audio Bug Alert: The latest versions of Adobe's Flash player managed to break the audio playback for LectureScribe-generated files (and also for several other prominent applications, e.g., Camtasia) by making playback sound garbled, with periodic squawks and other artifacts.
---