Keystones
Lev Manovich. Lev Manovich is an author of books on new media theory, professor in Computer Science program at City University of New York, Graduate Center, U.S. and visiting professor European Graduate School in Saas-Fee, Switzerland.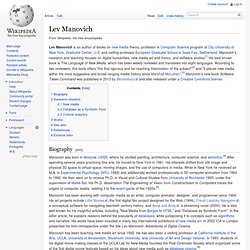 Manovich's research and teaching focuses on digital humanities, new media art and theory, and software studies[1] His best known book is The Language of New Media, which has been widely reviewed and translated into eight languages. According to two reviewers, this book offers "the first rigorous and far-reaching theorization of the subject"[2] and "it places new media within the most suggestive and broad ranging media history since Marshall McLuhan".[3] Manovich's new book Software Takes Command was published in 2013 by Bloomsbury and also released under a Creative Commons license.
Biography[edit] Biography of Ivan Sutherland. Ted Nelson. Biography[edit] Nelson is the son of Emmy Award-winning director Ralph Nelson and the Academy Award-winning actress Celeste Holm.[1] His parents' marriage was brief and he was mostly raised by his grandparents, first in Chicago and later in Greenwich Village.[2] Nelson earned a BA from Swarthmore College in 1959.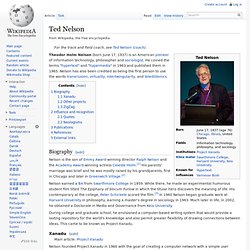 While there, he made an experimental humorous student film titled The Epiphany of Slocum Furlow in which the titular hero discovers the meaning of life. His contemporary at the college, Peter Schickele scored the film.[3] In 1960 Nelson began graduate work at Harvard University in philosophy, earning a master's degree in sociology in 1963. Manuel Castells. Manuel Castells (Spanish: Manuel Castells Oliván; born 1942) is a Spanish sociologist especially associated with research on the information society, communication and globalization.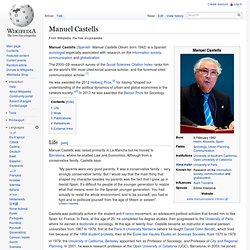 The 2000–09 research survey of the Social Sciences Citation Index ranks him as the world's fifth most-cited social science scholar, and the foremost-cited communication scholar.[1] He was awarded the 2012 Holberg Prize,[2] for having "shaped our understanding of the political dynamics of urban and global economies in the network society. Marshall McLuhan. Herbert Marshall McLuhan, CC (July 21, 1911 – December 31, 1980) was a Canadian philosopher of communication theory and a public intellectual.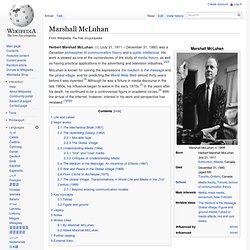 His work is viewed as one of the cornerstones of the study of media theory, as well as having practical applications in the advertising and television industries.[2][3] Life and career[edit] Herbert Marshall McLuhan was born in Edmonton, Alberta, to Elsie Naomi (née Hall) and Herbert Ernest McLuhan. His brother, Maurice, was born two years later.
---