Tools
Mobile Application Monitoring: Cloud Based App Monitoring
Tender Support — Plans & Pricing
The most powerful, yet lightest weight crash reporting solution for iOS and Android developers. | Crashlytics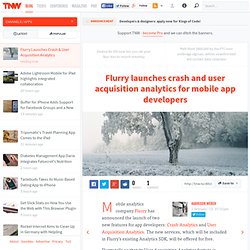 Flurry launches crash and user acquisition analytics for mobile app developers
Mobile analytics company Flurry has announced the launch of two new features for app developers: Crash Analytics and User Acquisition Analytics. The new services, which will be included in Flurry's existing Analytics SDK, will be offered for free. Flurry tells us that its User Acquisition Analytics feature is available immediately for all users, but Crash Analytics is only available for Android in beta (you must register for it), with an iOS counterpart launching "later this month."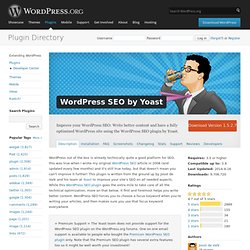 WordPress out of the box is already technically quite a good platform for SEO, this was true when I wrote my original WordPress SEO article in 2008 (and updated every few months) and it's still true today, but that doesn't mean you can't improve it further! This plugin is written from the ground up by Joost de Valk and his team at Yoast to improve your site's SEO on all needed aspects. While this WordPress SEO plugin goes the extra mile to take care of all the technical optimization, more on that below, it first and foremost helps you write better content. WordPress SEO forces you to choose a focus keyword when you're writing your articles, and then makes sure you use that focus keyword everywhere. Premium Support The Yoast team does not provide support for the WordPress SEO plugin on the WordPress.org forums.
"This is absolutely fantastic. I looked over recent Mars posts and the translations are going through — our audience is incredibly excited to see the messages in their native tongue — exactly what we wanted: to communicate as clearly and deeply as possible." – Jared Leto, Thirty Seconds To MarsRead more "Thanks to Transfluent, we have been able to localize Kiosked for 14 languages and translate our Twitter communication. We have found that even if people understand English, they are more receptive to messages in their own language.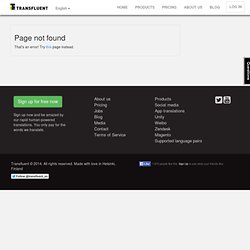 Transfluent
Description To turn PSD elements into images for the Web and for Apps, simply name your layer groups once and let Slicy do its magic. Bye bye, "Save for Web/Devices". Hello, boost in productivity and creativity!
Mac App Store - Slicy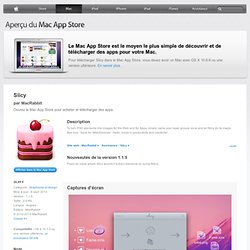 We love Heroku. It makes deployment so easy and quick. However, it can start to get pricey when you add additional dynos at $35 each a month. With a small amount of work, you can get a lot more out of your Heroku hosting whilst drastically improving the performance of your site. You might need to spend a little bit of cash on other services, but a lot less than if you simply moved the dyno slider up a few notches, and the result will be much better scalability. So how do we max out the performance of our Heroku apps?
6 Ways to get More Bang for your Heroku Buck While Making Your Rails Site Super Snappy · Storm Consultancy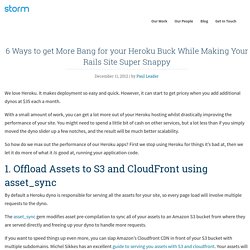 Tokens for Mac: App Store promo codes without the hassle
My Ultimate Developer and Power Users Tool List for Mac OS X (2012 Edition) — carpeaqua by Justin Williams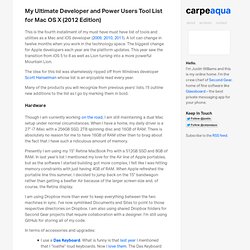 This is the fourth installment of my must have must have list of tools and utilities as a Mac and iOS developer (2009, 2010, 2011). A lot can change in twelve months when you work in the technology space. The biggest change for Apple developers each year are the platform updates. This year saw the transition from iOS 5 to 6 as well as Lion turning into a more powerful Mountain Lion. The idea for this list was shamelessly ripped off from Windows developer Scott Hanselman whose list is an enjoyable read every year. Many of the products you will recognize from previous years' lists.
Using `pg:transfer` to Migrate Postgres Databases Development of most applications takes place in several disparate environments with the most common pattern being dev-staging-production. While it's necessary for the source versions in each environment to differ it is quite useful to retain some level of data synchronicity between the environments (for example, to populate your local database with production data to diagnose a bug).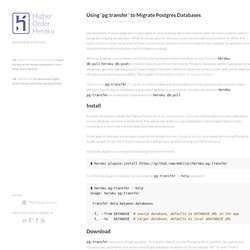 Using `heroku pg:transfer` to Migrate Postgres Databases
Expert Translation at Unbeatable Prices
Need Some Cache? Redis in Depth
Bio Chris Meadows blends the skills learned through his experience as a flight instructor, trained financial counselor, physics researcher, and software engineer to enable himself and others to pick up and make practical use of technologies in solving business challenges. He is currently a Senior Architect at Terenine Technologies in Chattanooga, TN. Code PaLOUsa is a two-day software development conference to be held March 16 and 17, 2012 at the Marriott Louisville in downtown Louisville, KY. The conference is designed to cover all aspects of software development regardless of technology stack.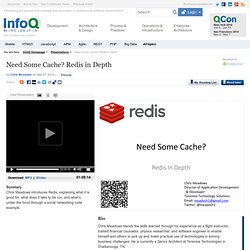 Meet the combo powering Hadoop at Etsy, Airbnb and Climate Corp. — Data | GigaOM
AFNetworking/AFNetworking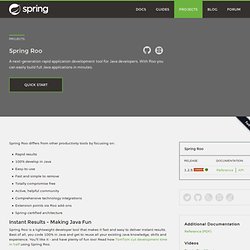 Spring Roo
Spring Roo differs from other productivity tools by focusing on: Rapid results100% develop in JavaEasy-to-useFast and simple to removeTotally compromise freeActive, helpful communityComprehensive technology integrationsExtension points via Roo add-onsSpring-certified architecture Instant Results - Making Java Fun Spring Roo is a lightweight developer tool that makes it fast and easy to deliver instant results. Best of all, you code 100% in Java and get to reuse all your existing Java knowledge, skills and experience. You'll like it - and have plenty of fun too!
austinthecoder/pinger
Track your iPhone, iPad and Mac app rankings with Appstatics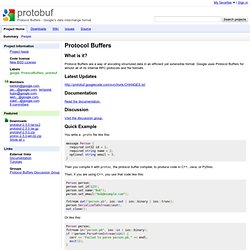 What is it? Protocol Buffers are a way of encoding structured data in an efficient yet extensible format. Google uses Protocol Buffers for almost all of its internal RPC protocols and file formats. Latest Updates
protobuf - Protocol Buffers - Google's data interchange format
Matthew Kubicina - Google Protocol Buffers vs. Apache Thrift
Been doing some research lately on cross-platform communication to enable systems built with different languages on different platforms to communicate. The first consideration in cross-platform communication is message format. The most common formats are XML and JSON. They are both easy to create and parse and widely supported via many frameworks for serialization in most major development platforms. As good as XML and JSON are, they are still quite heavy since they are essentially transmitted as strings across the wire. The can be a waste of memory and bandwidth for both the client and server, especially for internal communications.
RestKit
HockeyApp - Home
Mobile App Feedback | Atlassian JIRA Mobile Connect
JIRA Mobile Connect
JRuby 1.7.10 Released The JRuby community is pleased to announce the release of JRuby 1.7.10 JRuby 1.7.10 is our tenth update release since JRuby 1.7.0. The primary goal of 1.7 point releases is to fill out any missing compatibility issues with Ruby 1.9.3.
Home — JRuby.org
ERB
Quick Sequence Diagram Editor - Summary
iPad GUI PSD (Retina Display)
In 2008 we released our first iOS PSD. We continue to do it, not only because we find useful, but because we think a lot of other designers do too. In fact, over the past four years they've been downloaded millions of times. It's become our little thank you to an industry that has given us so much. We're really proud to be releasing our latest version today. It's based on iOS 5.1 and includes hundreds of retina assets available natively on the platform.