Tools
Mobile Application Monitoring: Cloud Based App Monitoring
Tender Support — Plans & Pricing
The most powerful, yet lightest weight crash reporting solution for iOS and Android developers. | Crashlytics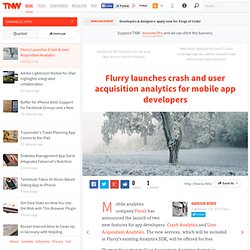 Flurry launches crash and user acquisition analytics for mobile app developers
1 February '13, 07:01pm Follow Mobile analytics company Flurry has announced the launch of two new features for app developers: Crash Analytics and User Acquisition Analytics.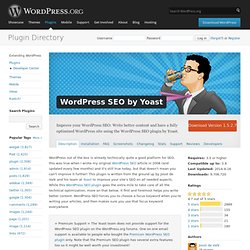 WordPress out of the box is already technically quite a good platform for SEO, this was true when I wrote my original WordPress SEO article in 2008 (and updated every few months) and it's still true today, but that doesn't mean you can't improve it further! This plugin is written from the ground up by Joost de Valk and his team at Yoast to improve your site's SEO on all needed aspects. While this WordPress SEO plugin goes the extra mile to take care of all the technical optimization, more on that below, it first and foremost helps you write better content. WordPress SEO forces you to choose a focus keyword when you're writing your articles, and then makes sure you use that focus keyword everywhere. Premium Support The Yoast team does not provide support for the WordPress SEO plugin on the WordPress.org forums.
Transfluent
Description To turn PSD elements into images for the Web and for Apps, simply name your layer groups once and let Slicy do its magic. Bye bye, "Save for Web/Devices". Hello, boost in productivity and creativity!
Mac App Store - Slicy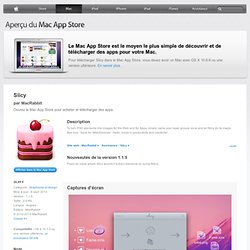 We love Heroku. It makes deployment so easy and quick. However, it can start to get pricey when you add additional dynos at $35 each a month. With a small amount of work, you can get a lot more out of your Heroku hosting whilst drastically improving the performance of your site. You might need to spend a little bit of cash on other services, but a lot less than if you simply moved the dyno slider up a few notches, and the result will be much better scalability. So how do we max out the performance of our Heroku apps?
6 Ways to get More Bang for your Heroku Buck While Making Your Rails Site Super Snappy · Storm Consultancy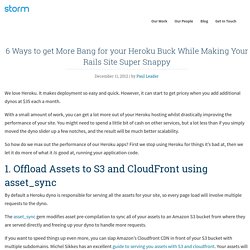 Tokens for Mac: App Store promo codes without the hassle
My Ultimate Developer and Power Users Tool List for Mac OS X (2012 Edition) — carpeaqua by Justin Williams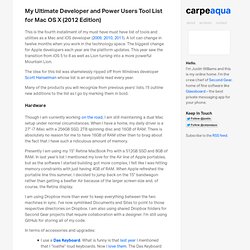 This is the fourth installment of my must have must have list of tools and utilities as a Mac and iOS developer (2009, 2010, 2011). A lot can change in twelve months when you work in the technology space. The biggest change for Apple developers each year are the platform updates. This year saw the transition from iOS 5 to 6 as well as Lion turning into a more powerful Mountain Lion. The idea for this list was shamelessly ripped off from Windows developer Scott Hanselman whose list is an enjoyable read every year. Many of the products you will recognize from previous years' lists.
Using `pg:transfer` to Migrate Postgres Databases Development of most applications takes place in several disparate environments with the most common pattern being dev-staging-production. While it's necessary for the source versions in each environment to differ it is quite useful to retain some level of data synchronicity between the environments (for example, to populate your local database with production data to diagnose a bug).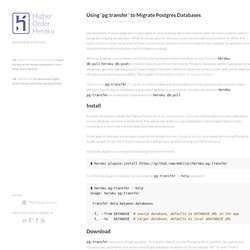 Using `heroku pg:transfer` to Migrate Postgres Databases
Our website translation and app localization technology lets translators work over 50% faster.We pass that saving to you. Get your translation done by expert translators, writing in their native languages.Enjoy our family approach to customer service Get Started – Risk Free Once you have an account, you can set up your translation projects.
Expert Translation at Unbeatable Prices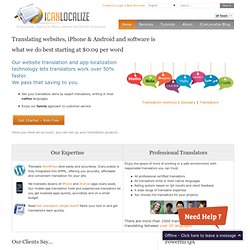 Need Some Cache? Redis in Depth
Bio Chris Meadows blends the skills learned through his experience as a flight instructor, trained financial counselor, physics researcher, and software engineer to enable himself and others to pick up and make practical use of technologies in solving business challenges. He is currently a Senior Architect at Terenine Technologies in Chattanooga, TN. Code PaLOUsa is a two-day software development conference to be held March 16 and 17, 2012 at the Marriott Louisville in downtown Louisville, KY. The conference is designed to cover all aspects of software development regardless of technology stack.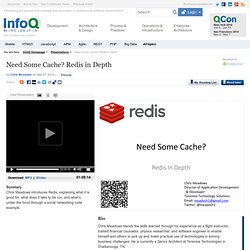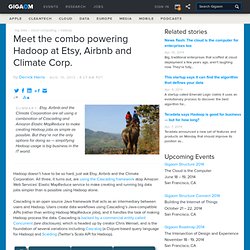 Meet the combo powering Hadoop at Etsy, Airbnb and Climate Corp. — Data | GigaOM
Hadoop doesn't have to be so hard, just ask Etsy, Airbnb and the Climate Corporation. All three, it turns out, are using the Cascading framework atop Amazon Web Services' Elastic MapReduce service to make creating and running big data jobs simpler than is possible using Hadoop alone. Cascading is an open source Java framework that acts as an intermediary between users and Hadoop. Users create data workflows using Cascading's Java-compatible APIs (rather than writing Hadoop MapReduce jobs), and it handles the task of making Hadoop process the data.
README.md AFNetworking is a delightful networking library for iOS and Mac OS X. It's built on top of the Foundation URL Loading System, extending the powerful high-level networking abstractions built into Cocoa. It has a modular architecture with well-designed, feature-rich APIs that are a joy to use. Perhaps the most important feature of all, however, is the amazing community of developers who use and contribute to AFNetworking every day.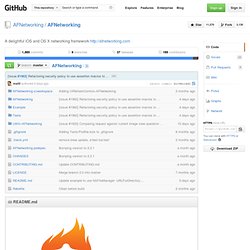 AFNetworking/AFNetworking
Play is based on a lightweight, stateless, web-friendly architecture. Built on Akka, Play provides predictable and minimal resource consumption (CPU, memory, threads) for highly-scalable applications. Developer friendly. Make your changes and simply hit refresh! All you need is a browser and a text editor.
Spring Roo
Spring Roo differs from other productivity tools by focusing on: Rapid results100% develop in JavaEasy-to-useFast and simple to removeTotally compromise freeActive, helpful communityComprehensive technology integrationsExtension points via Roo add-onsSpring-certified architecture Instant Results - Making Java Fun Spring Roo is a lightweight developer tool that makes it fast and easy to deliver instant results. Best of all, you code 100% in Java and get to reuse all your existing Java knowledge, skills and experience. You'll like it - and have plenty of fun too!
austinthecoder/pinger
README.md Pinger A web application that let's you schedule HTTP requests and setup alerts based on the responses. Why would I use it? Pinger is a good open source alternative for website monitoring.
Track your iPhone, iPad and Mac app rankings with Appstatics
Track & Analyze apps Appstatics is currently the best application performance tracking tool that is able to track any iPhone, iPad and Mac application from top 300 category listings of all countries. You can track any app with Appstatics. Either yours or competitor's apps. Find out how any promotion or marketing tactiques of those apps effect the appstore rankings by tracking their performances. Our popular section suggests the best ranked applications worldwide, presented by their release dates as this week, this month and all time.
Matthew Kubicina - Google Protocol Buffers vs. Apache Thrift
RestKit
HockeyApp - Home
Mobile App Feedback | Atlassian JIRA Mobile Connect
Home — JRuby.org
ERB
Quick Sequence Diagram Editor - Summary
iPad GUI PSD (Retina Display)