The Facebook phone
Facebook Is Secretly Building A Phone. Here's Why Facebook Is Secretly Building A Phone: It Needs To Be A Platform, Not Just A Service. Facebook's Secret Phone Is Using Android "For Sure" Facebook: We Are Not Building a Phone. Rumors surfaced earlier today that Facebook was building a mobile device based on Google's Android OS.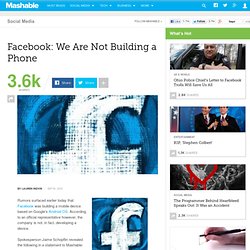 According to an official representative however, the company is not, in fact, developing a device. Spokesperson Jaime Schopflin revealed the following in a statement to Mashable: "The story, which originated in Techcrunch, is not accurate. Facebook Is Not Working On A Phone Just Like Google Wasn't Working On A Phone. In 2007, Google said it wasn't working on a Google Phone.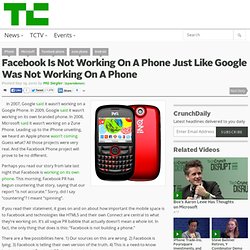 In 2009, Google said it wasn't working on its own branded phone. In 2008, Microsoft said it wasn't working on a Zune Phone. Leading up to the iPhone unveiling, we heard an Apple phone wasn't coming. Guess what? All those projects were very real. Anatomy Of A PR Spin (AKA How To Lie Like A Pro) How do you know when a Facebook PR person is lying?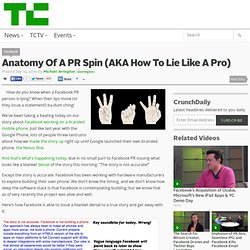 When their lips move (or they issue a statement!) Ba-dum ching! Tech press is full of it. Facebook doesn't need a device, this is what they need to do in mobile: By now you've seen the "Facebook is doing a phone" and "No we're not" headlines.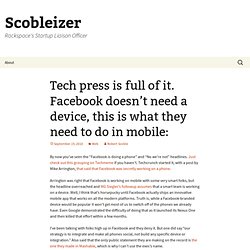 Just check out this grouping on Techmeme if you haven't. Techcrunch started it, with a post by Mike Arrington, that said that Facebook was secretly working on a phone. Arrington was right that Facebook is working on mobile with some very smart folks, but the headline overreached and MG Siegler's followup assumes that a smart team is working on a device. Well, I think that's horsepucky until Facebook actually ships an innovative mobile app that works on all the modern platforms. Facebook Said to Be Working on Phones With INQ for AT&T. Facebook Inc. is working with mobile-handset manufacturer INQ Mobile Ltd. on two smartphones that may be carried by AT&T Inc., according to three people familiar with the matter.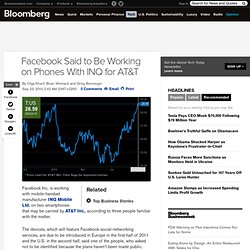 The devices, which will feature Facebook social-networking services, are due to be introduced in Europe in the first half of 2011 and the U.S. in the second half, said one of the people, who asked not to be identified because the plans haven't been made public. AT&T, the second-largest U.S. wireless service provider, is still considering whether to carry the devices and hasn't made a deal, another of the people said. Facebook, the world's most popular social network, is redoubling efforts to reach mobile users, many of whom access the site on smartphones. About a fourth of the company's more than 500 million users log on to Facebook from wireless devices. The phones also would present fresh competition to Apple Inc.'s iPhone and Research In Motion Ltd.'s BlackBerry.
Facebook Phone: All You Need To Know + New Details: Tech News « Of all the recent technology news, the one that's held most of my interest is the existence of the Facebook phone.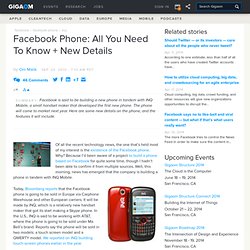 Why? Because I'd been aware of a project to build a phone based on Facebook for quite some time, though I hadn't been able to confirm it from multiple sources. Well, this morning, news has emerged that the company is building a phone in tandem with INQ Mobile. Today, Bloomberg reports that the Facebook phone is going to be sold in Europe via Carphone Warehouse and other European carriers. It will be made by INQ, which is a relatively new handset maker that got its start making a Skype phone.
---