Tablets
Motorola Xoom & Android 3.0
The iPad isn't a big iPod touch—an iPod touch is a miniature iPad that restricts the full multitouch experience in exchange for offering greater portability. With the iPad, in contrast, you get multitouch the way it was meant to be done. That's one of our many take-aways after having submerged ourselves in iPad land since launch.
Ars Technica reviews the iPad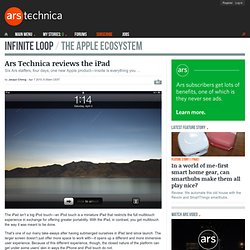 iPad Usability: First Findings From User Testing (Jakob Nielsen'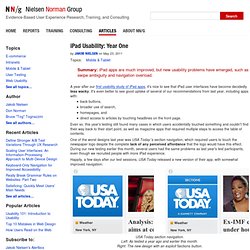 Summary: iPad apps are much improved, but new usability problems have emerged, such as swipe ambiguity and navigation overload. A year after our first usability study of iPad apps , it's nice to see that iPad user interfaces have become decidedly less wacky . It's even better to see good uptake of several of our recommendations from last year, including apps with: back buttons, broader use of search, homepages, and direct access to articles by touching headlines on the front page. Even so, this year's testing still found many cases in which users accidentally touched something and couldn't find their way back to their start point, as well as magazine apps that required multiple steps to access the table of contents. One of the worst designs last year was USA Today 's section navigation, which required users to touch the newspaper logo despite the complete lack of any perceived affordance that the logo would have this effect.
by Oliver Reichenstein Over the last two months we have been working on several iPad projects: two news applications, a social network, and a word processor. We worked on iPad projects without ever having touched an iPad. One client asked us to "start working on that tablet thing" even before we knew whether the iPad was real. The question Are we designing desktop programs, web sites, or something entirely new? has been torturing us until that express package from New York finally arrived.