Research & Innovation
Research in the Wild: Making Research Work in Industry. By Greg Linden August 12, 2010 Comments (3) How to do research in academia is well established.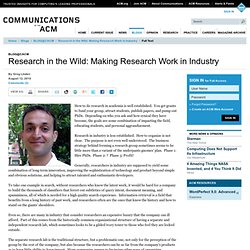 You get grants to fund your group, attract students, publish papers, and pump out PhDs. Managing Research as an Investment Portfolio: Lessons from PARC. Lawrence Lee2/16/11 As part of its transformation from an internal research center to a commercial business, PARC has needed to innovate its business practices, as well as its research and technology.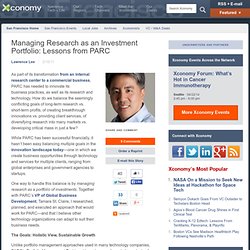 How do we balance the seemingly conflicting goals of long-term research vs. short-term profits, of creating breakthrough innovations vs. providing client services, of diversifying research into many markets vs. developing critical mass in just a few? Microsoft, Nokia, and RIM's wasted R&D billions. High performance access to file storage Open...and Shut Over the past few decades, governments have decreased their investments in original research, with corporations taking on a greater role.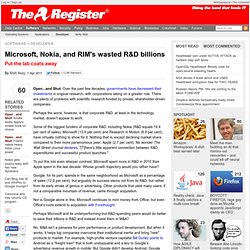 There are plenty of problems with scientific research funded by private, shareholder-driven companies. Perhaps the worst, however, is that corporate R&D, at least in the technology market, doesn't appear to work. The death of Intel Labs and what it means for industrial research. Intel recently announced that it is closing down its three "lablets" in Berkeley, Seattle, and Pittsburgh.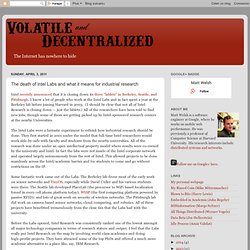 I know a lot of people who work at the Intel Labs and in fact spent a year at the Berkeley lab before joining Harvard in 2003. (I should be clear that not all of Intel Research is closing down -- just the lablets.) All of the researchers have been told to find new jobs, though some of them are getting picked up by Intel-sponsored research centers at the nearby Universities. The Intel Labs were a fantastic experiment to rethink how industrial research should be done. They first started in 2001 under the model that full-time Intel researchers would work side-by-side with faculty and students from the nearby universities.