Research & Innovation
By Greg Linden August 12, 2010 Comments (3) What is the best way to organize researchers into a company? An independent research lab?
Research in the Wild: Making Research Work in Industry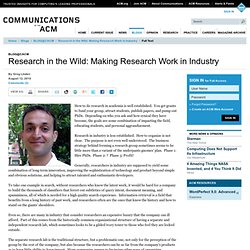 Managing Research as an Investment Portfolio: Lessons from PARC
Lawrence Lee 2/16/11 As part of its transformation from an internal research center to a commercial business , PARC has needed to innovate its business practices, as well as its research and technology. How do we balance the seemingly conflicting goals of long-term research vs. short-term profits, of creating breakthrough innovations vs. providing client services, of diversifying research into many markets vs. developing critical mass in just a few?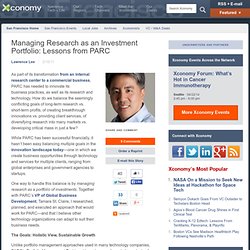 Open...and Shut Over the past few decades, governments have decreased their investments in original research, with corporations taking on a greater role. There are plenty of problems with scientific research funded by private, shareholder-driven companies. Perhaps the worst, however, is that corporate R&D, at least in the technology market, doesn't appear to work. Some of the biggest funders of corporate R&D, including Nokia (R&D equals 14.4 per cent of sales), Microsoft (13.9 per cent) and Research in Motion (6.8 per cent), have virtually nothing to show for it.
Microsoft, Nokia, and RIM's wasted R&D billions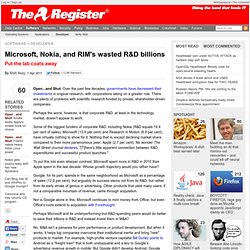 Intel recently announced that it is closing down its three "lablets" in Berkeley, Seattle, and Pittsburgh . I know a lot of people who work at the Intel Labs and in fact spent a year at the Berkeley lab before joining Harvard in 2003. (I should be clear that not all of Intel Research is closing down -- just the lablets.) All of the researchers have been told to find new jobs, though some of them are getting picked up by Intel-sponsored research centers at the nearby Universities. The Intel Labs were a fantastic experiment to rethink how industrial research should be done. They first started in 2001 under the model that full-time Intel researchers would work side-by-side with faculty and students from the nearby universities.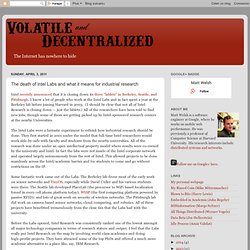 The death of Intel Labs and what it means for industrial research