Productivity
Notability - Unleash Your Note Taking Ability. Storing your Notability iPad Documents on Google Docs with SMEStorage. Notability is a great way to take handwritten notes on your iPad, but it's connection options are limited.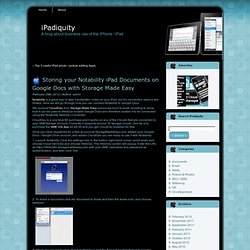 Here we will go through how you can connect Notability to Google Docs. We covered CloudDav from Storage Made Easy previously but it is worth revisiting to show how it can be used to WebDav enable Google Docs and therefore enable it to be connected using the Notability WebDav Connector. Top iPhone Productivity Apps – October 2009 « User Interface Exp. If you're like me then you lead a very, very busy life.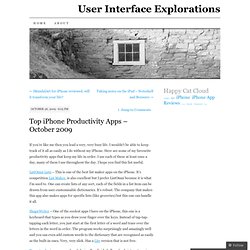 I wouldn't be able to keep track of it all as easily as I do without my iPhone. Here are some of my favourite productivity apps that keep my life in order. iComptaMobile : Logiciel de comptabilité personnelle pour iPhone. Quickoffice » Quickoffice for iPhone. ReaddleDocs by Readdle. JotNot Turns Your iPhone's Camera Into A Document Scanner. We've all tried to use our camera phones to capture whiteboard notes, doodles, and other documents, but oftentimes poor image quality and odd perspectives can make them illegible.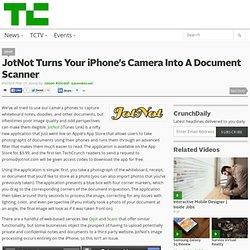 JotNot (iTunes Link) is a nifty new application that just went live on Apple's App Store that allows users to take photographs of documents using their phones and runs them through an advanced filter that makes them much easier to read. The application is available on the App Store for $3.99, and the first ten TechCrunch readers to send a request to promo@jotnot.com will be given access codes to download the app for free.
Using the application is simple: first, you take a photograph of the whiteboard, receipt, or document that you'd like to store as a photo (you can also import photos that you've previously taken). The application presents a blue box with four corner markers, which you drag to the corresponding corners of the document in question. OCRTOOL. International:[Japanese page] [ Version 2.3 feature ] - For iOS 4, The recognition process can be in back ground.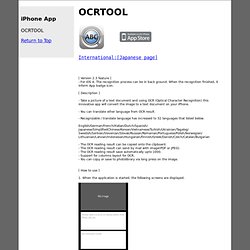 When the recognition finished, it inform App badge icon. Projects for iPhone. You can easily share a Project with colleagues.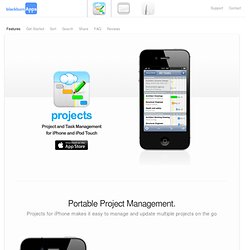 You can send a project as an email attachment using the native Projects format PJ1. This can be opened from the Email App and imported into Projects. (Note: Importing PJ1 from an email attachment requires iOS 4.0 or higher) Several other file formats are supported for export when you need to send data to computers or other applications. iPhone Mindmapping with iThoughts. The Omni Group - OmniFocus. OmniFocus for Mac Version 1.10.6 Requires Mac OS X v10.6.8+ Languages: German, English, Spanish, French, Japanese, Dutch, Italian, Russian, Simplified Chinese OmniFocus for iPad Version 1.6.5 Requires iOS 6.1+ Languages: German, English, Spanish, French, Japanese, Dutch, Italian, Russian, Simplified Chinese OmniFocus for iPhone Version 2.1.1 Requires iOS 7.0+ Languages: German, English, Spanish, French, Japanese, Dutch, Italian, Russian, Simplified Chinese.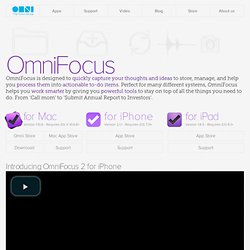 Minimizing OmniFocus for iPhone's startup & sync time. The single biggest thing that folks can do to speed up their syncs is make sure that all of their devices are syncing regularly - like once a week or so.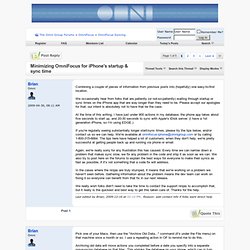 On one of your Macs, open up OmniFocus's sync preferences and press the "Show Clients" button. OmniFocus has kept all the individual changes you've made to your database since the oldest date you see in the "Latest Sync" column.
---