Photo / Video
ReelDirector is the 1st and the most feature rich, powerful video editor for iPhone, iPad and iPod Touch. ✩ APPLE's Rewind 2010 - Hot Trends in Apps ✩ APPLE's Rewind 2009 - BEST APP If you really dig video editing and want to take full control, you should get ReelDirector: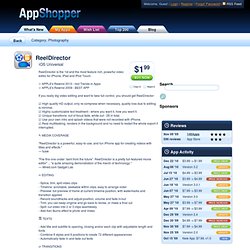 ReelDirector
Review: iPhoto for iOS out-does Adobe for mobile image editing
Apple released the final piece of its iLife suite for iOS on March 7, delivering a universal version of iPhoto for iPad and iPhone (sorry, iPod touch users). We spent some quality time with the app using an iPad 2 and iPhone 4, and came away impressed with the unique user interface design, general intuitiveness, and overall power Apple managed to pack into the app. The app has a lot more photo tweaking capability than you might expect from first blush, including fully non-destructive editing that can be selectively undone. It also improves a bit on the standard Photos app's organization, and greatly enhances sharing options. More importantly, for $4.99 you get a photo editing tool that can, in many ways, out-Photoshop Adobe's own Photoshop Touch . As we mentioned, iPhoto is a universal app, so you can use it on iPads as well as iPhones.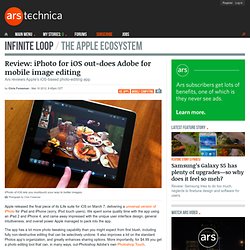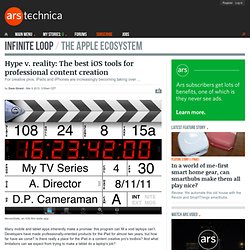 Hype v. reality: The best iOS tools for professional content creation
Many mobile and tablet apps inherently make a promise: this program can fill a void laptops can't. Developers have made professionally-oriented products for the iPad for almost two years, but how far have we come? Is there really a place for the iPad in a content creative pro's toolbox?
XProcess (pronounced Cross Process) is an app that simulates a cross processing effect and makes your photos strange and beautiful. Cross processing simply refers to the process of developing one kind of film with the chemicals meant for another type of film. Doing so produces some wild, usually unpredictable results that can give you photographs with vivid saturated colors and higher levels of contrast. With XProcess, You do not need any difficult setting. All you need is just take photo or choose from the photo library. XProcess automatically adds effect.
XProcess - mudaimemo iPhone Apps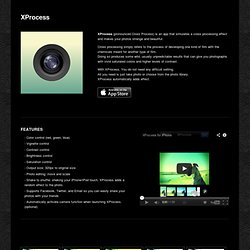 Monochromia - Black & White Photography - mudaimemo iPhone Apps
Monochromia lets you turn your photos on iPhone/iPod touch into impressive monochrome ones. You do not need any difficult setting, all you need is just take photo or choose from the photo library. Monochromia automatically adds effect. It's also easy to create grainy and high contrast photos by controlling a few parameters.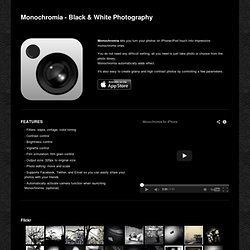 SkipBleach is an app that allows you to add "Skip Bleach" effect to your iPhone/iPhone touch photos. Skip Bleach, a.k.a. Bleach Bypass, Bleach Reduction, ENR, ACE, Sliver Retention or Silver Tint, is the process that result in a distinctive high contrast, harsh, faded look. You do not need any difficult setting, all you need is just take photo or choose from the photo library. SkipBleach automatically adds effect. The technique is often used extensively in motion pictures, such as "Saving Private Ryan", "Mnority Report" and "Fight Club".
SkipBleach - mudaimemo iPhone Apps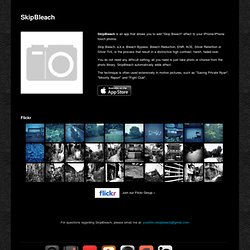 Photogene
PhotoForge
Outils de retouche photo pour iPhone - Articles et dossiers - Qu
AutoStitch iPhone
AutoStitch Panorama is a fully automatic image stitcher for iOS devices. This application unleashes the power of your device's camera to create wide-angle views and panoramas with any arrangment of photos. AutoStitch uses the most advanced stitching technology available today, but it's very simple to use. You just snap some overlapping images and tap "Stitch."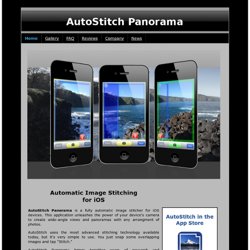 You Gotta See This! Create unique, artistically inspired, spacial collages of images that you take by slowly moving the camera around in 3D space. The resulting pictures are somewhat similar to what is called "panography" or "Hockneyesque" (after the artist David Hockney ).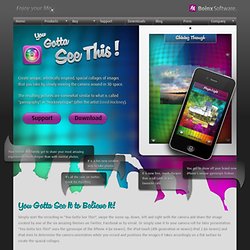 Software - You Gotta See This!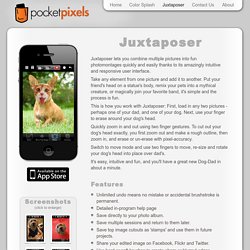 Juxtaposer lets you combine multiple pictures into fun photomontages quickly and easily thanks to its amazingly intuitive and responsive user interface. Take any element from one picture and add it to another. Put your friend's head on a statue's body, remix your pets into a mythical creature, or magically join your favorite band, it's simple and the process is fun.
Juxtaposer - Fun and Intuitive Photo Compositing App for your iP
Pro HDR for iPhone 3GS
TiltShift Generator for iPhone - Art&Mobile
3D Camera Create your own 3D photos and easily share them with friends on Facebook and Twitter . First, take left and right photos with the built-in camera or choose two images from your iPhone or iPod touch photo album. Then, view your 3D photo as a grey or color anaglyph (using common red/cyan 3D glasses), a stereogram (no glasses required), or as a " wigglegram " for a simulated 3D effect. Finally, send your 3D photo to your friends on Facebook and Twitter. It's as simple as that!
Juicy Bits |  3D Camera
Description from the AppStore: First app to let you take your own picture or with a friend automatically, with voice guided prompts to help position the camera to best fit yourself inside a configurable view frame, and then lets you get ready with the perfect smile to get that PERFECT photo. Concentrate on that perfect pose instead of getting yourself in the frame. No more ugly close-ups, surprised expressions, half faces, face stuck in a corner or fuzzy because of a shake. Let "Camera ClickMe" take your photo for you and get a perfect photo every time!! Unlike other apps using face detection technology, which just take a photo without any feedback, this one is unique in:
ClickMe
Photo/FX Digital Optical Filters - Tiffen.Com
Hipstamatic iPhone App - Digital Photography Never Looked So Ana
markbrucephotography
mark bruce photography The Hipstamatic Combination Chart by Mark Bruce As a heavy user of Hipstamatic I wanted to make a chart compiling all the different combinations available to use. The images were shot on Monday 16th May 2011 and were taken with the most up-to-date version of the app at that time Hipstamatic 210 which included the free Buckhorst H1 Lens and the Bondi HipstaPak.
Main Page - Hipstamatic Field Guide
Explore film and lens combinations for Hipstamatic
=TOP= of Hipstamatic Tips
BigComparison.jpg (3844×13495)
Q&A: Hipstamatic: The Story Behind the Plastic App with the Gold
UPDATED 02.08.10: Now with a link to our follow-up story, "Wausau City Pages uncovers the real Hipstamatic backstory?" The case can be made that the hottest camera app in the App Store right now was created in 1982. Hipstamatic
Red Giant Software: Plastic Bullet
Plastic Bullet 2.0 puts the fun, spontaneity and surprise of plastic-fantastic toy cameras on your favorite Apple device. Just tap to turn your photo into a gloriously unpredictable work of art, then tap again to change the look, with quality unmatched by other phone apps. Its beautiful results include organic colors, vignettes, blurs, glows and light leaks. Plastic Bullet takes a photo you like and turns it into one you love. New universal release supports iPad, iPhone and iPod Touch; gives direct upload to Flickr, Facebook, Tumblr and Twitter; and high-output resolution up to 3000x3000 pixels. Main Features
Andigraf - Digital Multishot Camera
PictureShow 2.0
iTimeLapse Pro
StopMotion Recorder
iPhone Apps from nexvio | CinemaFX for Video
Video FX Bundle
stabilize.it
Mobile Fotos • Flickr browser/uploader app for iPhone + iPod tou
sunrise
iPhone Photography - iPhoneography, just another iPhone photogra
あずきとぎやしょか:ソフトウエアOX Camera
TouchRetouch
PhotoWizard
Life in LoFi: iPhoneography « Camera+ with VolumeSnap rejected. Here's the workaround.
Face Cam for iPhone, iPod touch, and iPad on the iTunes App Store
TiltShift Video for iPhone 3GS, iPhone 4, iPod touch (3rd generation), and iPod touch (4th generation) on the iTunes App Store
gps4cam | An app4cam product.
iPhone Photography - iPhoneography, just another iPhone photography blog. Now including iPod Touch photography. - iPhone Journal - Video App: SteadyLens
FiLMiC Pro Brings Pro Video Features to the iPhone « Life in LoFi: iPhoneography