Odd and remarkable
The New York Times > Arts > Art & Design > Rock, Paper, Payoff: Child's Play Wins Auction House an Art Sale. Published: April 29, 2005 t may have been the most expensive game of rock, paper, scissors ever played.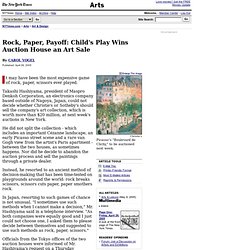 Takashi Hashiyama, president of Maspro Denkoh Corporation, an electronics company based outside of Nagoya, Japan, could not decide whether Christie's or Sotheby's should sell the company's art collection, which is worth more than $20 million, at next week's auctions in New York. He did not split the collection - which includes an important Cézanne landscape, an early Picasso street scene and a rare van Gogh view from the artist's Paris apartment - between the two houses, as sometimes happens.
The Sublime Sci-Fi Buildings That Communism Built. The House of Soviets in Kaliningrad.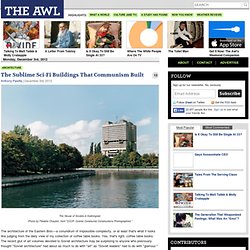 Photo by Frédéric Chaubin, from "CCCP: Cosmic Communist Constructions Photographed. " The architecture of the Eastern Bloc—a conundrum of impossible complexity, or at least that's what it looks like judging from the daily view of my collection of coffee table books. Yes, that's right, coffee table books. The Most Isolated People in the World. The part of the Indian Ocean encapsulated by the eastern shore of India and the shores of Bangladesh and Myanmar (Burma) is called the Bay of Bengal (map).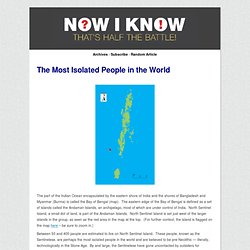 The eastern edge of the Bay of Bengal is defined as a set of islands called the Andaman Islands, an archipelago, most of which are under control of India. North Sentinel Island, a small dot of land, is part of the Andaman Islands. Dating AKB48: the J-pop cult banned from falling in love. 2inShare Jump To Close A Japanese pop idol, hair freshly shaved to the skin, takes to YouTube and bursts into tears as she begs for mercy over her transgression.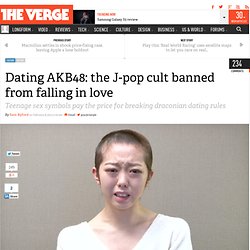 "My name is Minami Minegishi of AKB48 Team B," she says, referring to the hugely successful group she became a founding member of seven years ago. For 40 Years, This Russian Family Was Cut Off From All Human Contact, Unaware of World War II. Siberian summers do not last long.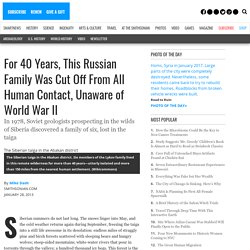 The snows linger into May, and the cold weather returns again during September, freezing the taiga into a still life awesome in its desolation: endless miles of straggly pine and birch forests scattered with sleeping bears and hungry wolves; steep-sided mountains; white-water rivers that pour in torrents through the valleys; a hundred thousand icy bogs. This forest is the last and greatest of Earth's wildernesses. It stretches from the furthest tip of Russia's arctic regions as far south as Mongolia, and east from the Urals to the Pacific: five million square miles of nothingness, with a population, outside a handful of towns, that amounts to only a few thousand people.
When the warm days do arrive, though, the taiga blooms, and for a few short months it can seem almost welcoming. It is then that man can see most clearly into this hidden world–not on land, for the taiga can swallow whole armies of explorers, but from the air. The World's Smallest Book - a large print edition by Robert Chaplin. GREAT WORK EVERYONE!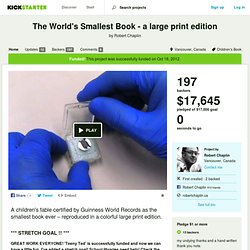 'Teeny Ted' is successfully funded and now we can have a little fun. I've added a stretch goal! School libraries need help! Russia declassifies deposit of impact diamonds. NOVOSIBIRSK, September 16 (Itar-Tass) — Russia has declassified a large deposit of super hard diamonds which are twice harder than usual ones.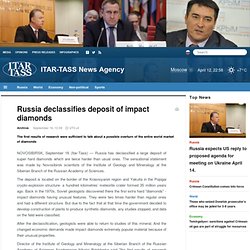 The sensational statement was made by Novosibirsk scientists of the Institute of Geology and Mineralogy at the Siberian Branch of the Russian Academy of Sciences. The deposit is located on the border of the Krasnoyarsk region and Yakutia in the Popigai crypto-explosion structure- a hundred kilometres' meteorite crater formed 35 million years ago. Back in the 1970s, Soviet geologists discovered there the first extra hard "diamonds" - impact diamonds having unusual features. World's first colour film footage viewed for first time. 12 September 2012Last updated at 13:20 ET The world's first colour moving pictures dating from 1902 have been found by the National Media Museum in Bradford after lying forgotten in a tin for 110 years "It's very significant indeed, it's the world's first natural colour film and the fact that it's a Brit who invented it is fantastic.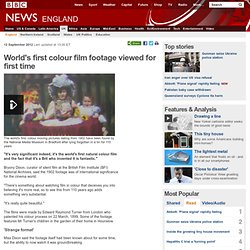 " Termites explode to defend their colonies. R.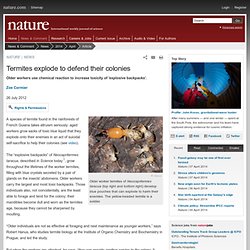 Hanus Older worker termites of Neocapritermes taracua (top right and bottom right) develop blue pouches that can explode to harm their enemies. The yellow-headed termite is a soldier. Abraham Lincoln Filed a Patent For Facebook First. UPDATE: Many folks soon started to call out St.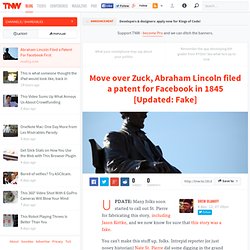 Pierre for fabricating this story, including Jason Kottke, and we now know for sure that this story was a fake. You can't make this stuff up, folks. Intrepid reporter (or just nosey historian) Nate St. Ian Usher, The Man Who Sold His Life On eBay After A Divorce, Finds Love And Buys A Caribbean Island. In 2008, after his marriage fell apart, a heartbroken Ian Usher auctioned off his whole life on eBay. For $305,000, he sold his car, his motorbike and his house -- with everything in it. "I have had enough of my life! I don't want it anymore," Usher, who was living in Perth, Australia at the time, wrote in the auction description. Packing up a few possessions, Usher -- who is originally from Darlington, England -- decided he would make a fresh start, traveling the world armed with nothing but his passport and a bucket list of 100 goals, WA Today reports.
Four years on, Usher has much to smile about. This Bird can copy the sound of everybody including Human - LyreBird. Mapping the Republic of Letters. About the Project Before email, faculty meetings, international colloquia, and professional associations, the world of scholarship relied on its own networks: networks of correspondence that stretched across countries and continents; the social networks created by scientific academies; and the physical networks brought about by travel. These networks were the lifelines of learning, from the age of Erasmus to the age of Franklin. They facilitated the dissemination&emdash;and the criticism&emdash;of ideas, the spread of political news, as well as the circulation of people and objects.
Paris 26 Gigapixels - Visite virtuelle interactive des plus beau. Nature by Numbers. Mandelbulb: The Unravelling of the Real 3D Mandelbrot Fractal. Opening Pandora's Box For the Second Time ur story starts with a guy named Rudy Rucker, an American mathematician, computer scientist and science fiction author (and in fact one of the founders of the cyberpunk science-fiction movement). Around 20 years ago, along with other approaches, he first imagined the concept behind the potential 3D Mandelbulb (barring a small mistake in the formula, which nevertheless still can produce very interesting results - see later), and also wrote a short story about the 3D Mandelbrot in 1987 entitled "As Above, So Below" (also see his blog entry and notebook). Mansion unlocked after 100 years.
---