News
YouTube Flags Democrats' Convention Video on Copyright Grounds | Threat Level. While First Lady Michelle Obama's speech won rave reviews on Twitter Tuesday night, those who got inspired to try to watch the livestream of the convention on BarackObama.com or YouTube found the video flagged by copyright claims shortly after it finished.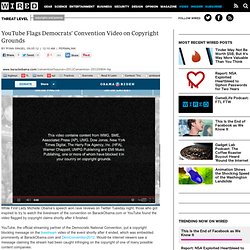 YouTube, the official streaming partner of the Democratic National Convention, put a copyright blocking message on the livestream video of the event shortly after it ended, which was embedded prominently at BarackObama.com and DemConvention2012. Would-be internet viewers saw a message claiming the stream had been caught infringing on the copyright of one of many possible content companies: This video contains content from WMG, SME, Associated Press (AP), UMG, Dow Jones, New York Times Digital, The Harry Fox Agency, Inc.
(HFA), Warner Chappell, UMPG Publishing and EMI Music Publishing, one or more of whom have blocked it in your country on copyright grounds. Ustream apologizes for killing Hugo Awards webcast. Writer Neil Gaiman was accepting a Hugo Award Sunday when copyright software shut down the live stream.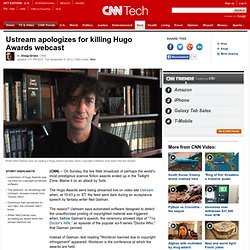 Livestream of Hugo Awards was cut short by copyright-protection softwareThe webcast, on streaming-site Ustream, showed scenes from "Doctor Who"Ceremony had permission to use clips, but Ustream didn't knowWriter Neil Gaiman was accepting an award when the stream blacked out (CNN) -- On Sunday, the live Web broadcast of perhaps the world's most prestigious science fiction awards ended up in the Twilight Zone. AntiSec Leaks 1m Apple UDIDs Allegedly Obtained from FBI Breach. The AntiSec hacking group claims to have released a set of more than 1 million Apple Unique Device Identifiers (UDIDs) obtained from breaching the FBI.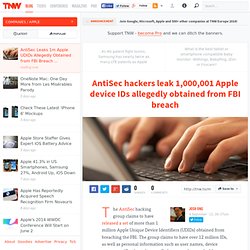 The group claims to have over 12 million IDs, as well as personal information such as user names, device names, notification tokens, cell phone numbers and addresses. (Updated with link below to check whether your device's UDID was leaked) The hackers issued a statement with the following description on how the data was obtained: During the second week of March 2012, a Dell Vostro notebook, used by Supervisor Special Agent Christopher K. EU launches preliminary antitrust probe against Google -- Engadg. Now that Microsoft's browser selection story is all but settled, it looks like the European Union is gearing up for a new antitrust probe, with its crosshairs aimed generally in Google's direction.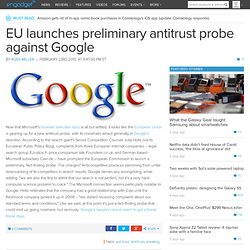 According to the search giant's Senior Competition Counsel Julia Holtz (via its European Public Policy Blog), complaints from three European internet companies -- legal search group EJustice.fr, price comparison site Foundem.co.uk, and German-based Microsoft subsidiary Ciao.de -- have prompted the European Commission to launch a preliminary, fact-finding probe. The charges? Anticompetitive practices stemming from unfair downranking of its competitors in search results. Google denies any wrongdoing, while adding ,"we are also the first to admit that our search is not perfect, but it's a very hard computer science problem to crack. " Seesmic + Plugins: The Possibilities Are Endless. A new Seesmic app is coming and this could potentially distance the company from the likes of Tweetdeck.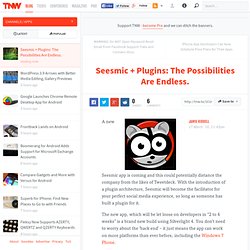 With the introduction of a plugin architecture, Seesmic will become the facilitator for your perfect social media experience, so long as someone has built a plugin for it. The new app, which will be let loose on developers in "2 to 4 weeks" is a brand new build using Silverlight 4. You don't need to worry about the 'back end' – it just means the app can work on more platforms than ever before, including the Windows 7 Phone.
The plugins and the plugin directory are where Seesmic starts to innovate away from other social media apps.. Not content with adding in other social networks to their existing apps, this new release will allow every user to individually tailor their social media experiences by adding and removing the elements they like and dislike. WWDC June 7-11: heavy on iPhone/iPad, light on Mac. Apple has, at least a month later than usual, announced the dates for its annual Worldwide Developers Conference.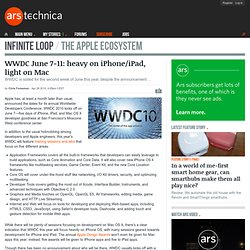 WWDC 2010 kicks off on June 7—five days of iPhone, iPad, and Mac OS X developer goodness at San Francisco's Moscone West conference center. In addition to the usual hobnobbing among developers and Apple engineers, this year's WWDC will feature training sessions and labs that focus on five different areas: Application Frameworks covers all the built-in frameworks that developers can easily leverage to build applications, such as Core Animation and Core Data. Google's "Royalty-Free" WebM Video in Doubt | John Paczkowski | The announcement of Google's new WebM video format and release of the VP8 video codec as an open standard have been hailed by some as the move that will free the Web from the proprietary H.264 codec widely used for online video today and favored by Apple (AAPL) and Microsoft (MSFT).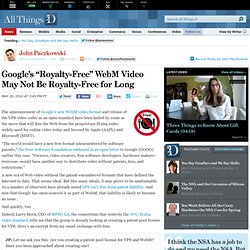 "The world would have a new free format unencumbered by software patents," the Free Software Foundation enthused in an open letter to Google (GOOG) earlier this year. "Viewers, video creators, free software developers, hardware makers–everyone–would have another way to distribute video without patents, fees, and restrictions." A new era of Web video without the patent-encumbered formats that have defined the Internet to date. HTML5. Launches Subscriptions on the App Store. A simple way for publishers to manage access to digital content. (Cross-posted on the Google News Blog) At Humboldt University in Berlin today, Eric Schmidt announced Google One Pass, a service that lets publishers set their own prices and terms for their digital content.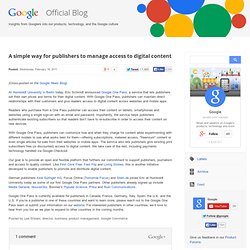 With Google One Pass, publishers can maintain direct relationships with their customers and give readers access to digital content across websites and mobile apps. Readers who purchase from a One Pass publisher can access their content on tablets, smartphones and websites using a single sign-on with an email and password. Importantly, the service helps publishers authenticate existing subscribers so that readers don't have to re-subscribe in order to access their content on new devices. With Google One Pass, publishers can customize how and when they charge for content while experimenting with different models to see what works best for them—offering subscriptions, metered access, "freemium" content or even single articles for sale from their websites or mobile apps.
---