News Reading
Ping.it: Not a Google Reader replacement, but a tool to discover emerging viral content. Want to know which YouTube videos were most popular on Reddit?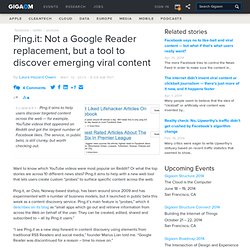 Or what the top stories are across 10 different news sites? Ping.it aims to help with a new web tool that lets users create custom "probes" to surface specific content across the web. Flipboard is a giant iceberg lurking in the path of the media. When Flipboard recently announced it was opening up its platform to enable users to create their own magazines, I was surprised by the low-key reaction by the publishing industry.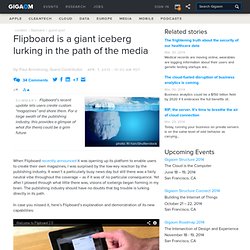 It wasn't a particularly busy news day but still there was a fairly neutral vibe throughout the coverage – as if it was of no particular consequence. Yet after I plowed through what little there was, visions of icebergs began forming in my brain. The publishing industry should have no doubts that big trouble is lurking directly in its path. In case you missed it, here's Flipboard's explanation and demonstration of its new capabilities:
Pulse continues its social push with Highlights, a selective feed of news stories from Facebook. Pulse has rolled out a new feature today for its digital news aggregation app called Highlights, which pulls in a selective feed of news stories shared by your friends and family on Facebook.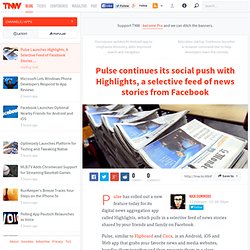 Pulse, similar to Flipboard and Circa, is an Android, iOS and Web app that grabs your favorite news and media websites, bundles them together and then presents them in a clear, readable format. As a news consumption service it works very well, but it's always been a solitary affair relying mostly on Pulse's own opinion of what's worth reading. Earlier this month, however, the company added social integration with Instagram, Flickr, YouTube, Tumblr and Facebook accounts, reeling in uploaded content shared by friends or followers. Silobreaker. Clipped's Natural Language Processing Helps Service Take On Flipboard. Finding ways to keep track of what's happening in the world and in various markets can be pretty difficult, especially on mobile devices.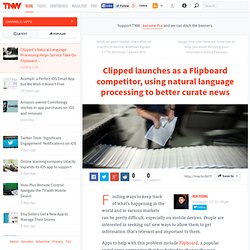 People are interested in seeking out new ways to allow them to get information that's relevant and important to them. Apps to help with this problem include Flipboard, a popular social news aggregator that has helped to change the way people consume content, Zite, Cir.ca, and Summly. Now, Clipped is seeking to take its place as one of those services and has launched its iOS and Android apps to help optimize the way people consume the news on their mobile devices.
How Do Millennials Like to Read the News? Very Much Like Their Grandparents - Derek Thompson. Attention publishers: For all the attention given to "bold rich multi-media experiences," young mobile news readers still prefer stories the way their great-great-grandparents did: In columns of text.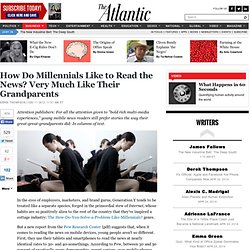 Reuters In the eyes of employers, marketers, and brand gurus, Generation Y tends to be treated like a separate species, forged in the primordial stew of Internet, whose habits are so positively alien to the rest of the country that they've inspired a cottage industry: The How-Do-You-Solve-a-Problem-Like-Millennials? Genre. But a new report from the Pew Research Center (pdf) suggests that, when it comes to reading the news on mobile devices, young people aren't so different. First, they use their tablets and smartphones to read the news at nearly identical rates to 30- and 40-somethings. Blogging with Medium, the odd new product from Twitter's founders. Blogging was once heralded as a great equalizer, seizing power from big media gatekeepers and redistributing it to the common internet user.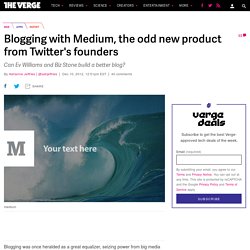 But these days, super-posters are sucking up much of the oxygen — look at tastemaker Jason Kottke, snarky culture writer Carles of Hipster Runoff, and marketer Seth Godin, who shows up on the first page of a Google search for "blog. " It's an intimidating scene for a newbie blogger. Medium, the new self-publishing platform from two of Twitter's co-founders, Evan Williams and Biz Stone, promises to eliminate the need for bloggers to also be marketers. "We want to help the best ideas and stories have the biggest possible impact," Williams said in an email. Big-name investors throw $15M at news aggregation startup Prismatic.
Ever heard of Prismatic?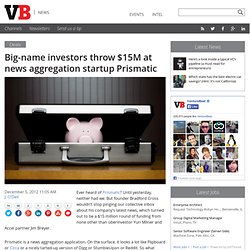 Until yesterday, neither had we. But founder Bradford Cross wouldn't stop pinging our collective inbox about his company's latest news, which turned out to be a $15 million round of funding from none other than überinvestor Yuri Milner and Accel partner Jim Breyer. Prismatic is a news aggregation application. On the surface, it looks a lot like Flipboard or Circa or a nicely tarted-up version of Digg or StumbleUpon or Reddit. So what makes it special enough for such a giant first round of institutional funding? Twitter is pivoting. Peter Chernin had this to say during his days as President of News Corp, owners of MySpace, in 2006: If you look at virtually any Web 2.0 application, whether its YouTube, whether it's Flickr, whether it's Photobucket or any of the next-generation Web applications, almost all of them are really driven off the back of MySpace… Given that most of their traffic comes from us, if we build adequate if not superior competitors, I think we ought to be able to match them if not exceed them.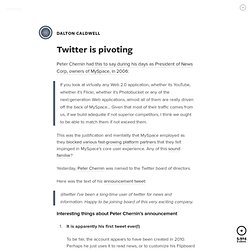 This was the justification and mentality that MySpace employed as they blocked various fast-growing platform partners that they felt impinged in MySpace's core user experience. Any of this sound familiar? Yesterday, Peter Chernin was named to the Twitter board of directors. Summly wants to make news summaries cool. Remember Nick D'Aloisio, the Internet wunderkind I met last year in Berlin?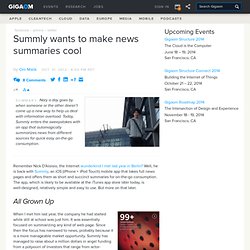 Well, he is back with Summly, an iOS (iPhone + iPod Touch) mobile app that takes full news pages and offers them as short and succinct summaries for on-the-go consumption. The app, which is likely to be available at the iTunes app store later today, is well-designed, relatively simple and easy to use. But more on that later. Undrip Takes All The Nonsense Out Of Your Social Feeds. If you're reading this article, chances are you're pretty well connected, at least in terms of your various social networks.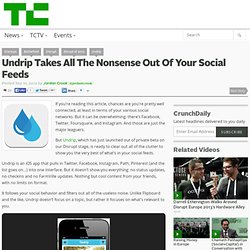 But it can be overwhelming: there's Facebook, Twitter, Foursquare, and Instagram. And those are just the major leaguers. But Undrip, which has just launched out of private beta on our Disrupt stage, is ready to clear out all of the clutter to show you the very best of what's in your social feeds. Why Circa Is Hoping It Can Inspire Change In The Way We Consume News. The way people are consuming news has been changing with the introduction of newer technology like the iPhone, iPad, and other smart devices.
No longer are people needing to go to their familiar news stand to pick up the latest edition of the Washington Post, New York Times, or Financial Times. Instead, we're turning to more portable devices that will display the news to us in real-time and more frequently than what we'd get through traditional means. A recent Pew Internet study affirms this theory that the news landscape is indeed changing. Circa's New iOS App Will Change The Way You Consume News. The way that we consume information on the Internet has changed dramatically over the years.
The main reason is because there is simply more content available to us than we could ever consume during our time on Earth. Back in the day, our only options for news were newspapers and then eventually the local TV or radio station telling us what's happening in our immediate area. Circa has launched its iOS app today, and it aims to change the way that we consume and retain information. Bing Now Handpicks News Writers For Its Social Sidebar. Bing is dipping its toes into a form of what Google calls "authorship" with today's announcement that news writers are now being featured in Bing's Social Sidebar. U.S. -based searchers can now see journalists appearing in the "People Who Know" section of the Bing sidebar. These authors are often mixed in with those who appeared in "People Who Know" before — people who've answered questions on Quora or who tweet regularly about the search topic. Future of Mobile News. The era of mobile digital technology has crossed a new threshold.
Half of all U.S. adults now have a mobile connection to the web through either a smartphone or tablet, significantly more than a year ago, and this has major implications for how news will be consumed and paid for, according to a detailed new survey of news use on mobile devices by the Pew Research Center's Project for Excellence in Journalism (PEJ) in collaboration with The Economist Group. At the center of the recent growth in mobile is the rapid embrace by Americans of the tablet computer. Nearly a quarter of U.S. adults, 22%, now own a tablet device-double the number from a year earlier. Another 3% of adults regularly use a tablet owned by someone else in their home. And nearly a quarter of those who don't have a tablet, 23%, plan to get one in the next six months. In Changing News Landscape, Even Television is Vulnerable. Trends in News Consumption: 1991-2012 Overview The transformation of the nation's news landscape has already taken a heavy toll on print news sources, particularly print newspapers.
But there are now signs that television news – which so far has held onto its audience through the rise of the internet – also is increasingly vulnerable, as it may be losing its hold on the next generation of news consumers. Twitter Not Yet A Mainstream Technology. It's official: News consumption is all about social and mobile. How Journalists Are Using Pinterest. Marco.org. News App News360 Announces Publisher Program With The Atlantic, Chicago Tribune, And Others.
Taptu's Acqusition By MediaFed Hints At Smart Move To Put The Heat On Flipboard And The Rest. Friendster Founder Jonathan Abrams Launches Nuzzel: A Fast, Simple, Social News Reader. Here's How I Tracked News About Andy Murray Today. Why I have a love-hate relationship with Twitter. News360 For iPad Deserves A Spot In Your News Reading Habit [iOS Tips.
First Look: State, A Streams App Of The Future. How Online Reading Is Changing - And How to Cope! Never Lose Another Link: The Uber-Geek's Guide to Reading Online. The ins and outs of Instapaper. Prismatic Architecture - Using Machine Learning on Social Networks to Figure Out What You Should Read on the Web. We're entering a golden age of news geekery. Google I/O Fireside Chat: How Google is Pulling an Apple with Google+ RWW Recommends: The Best Mobile RSS Reader. How To Track Topics On The Web. Bookmark and Read Later Apps Compared: Read It Later vs. Instapaper vs. Readability. If you have news, it will be aggregated and/or curated. Comment nous arrive l'information ? Prendre la mesure des liens faibles. The 50+ Best Ways to Curate and Share Your Favorite Social Media and News Content.
Hands-on: News.me's iPhone app filters your friends' timelines for news. News.me Is Building A News Social Network Within Its New iPhone App. Can News.me become the Instagram for news? News.me for iPhone Makes Friends the Editors of Twitter & Facebook.
---