MacOS Lion
Binary Bakery - We make pretty awesome Mac apps.
Bartender | Mac Menu Bar Item Control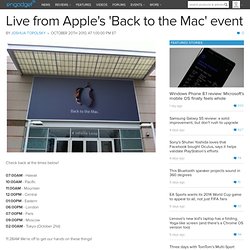 Live from Apple's 'Back to the Mac' event
Check back at the times below!
SExpand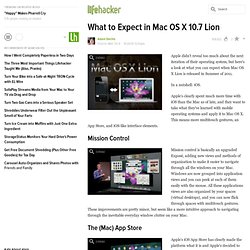 What to Expect in Mac OS X 10.7 Lion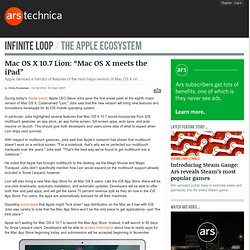 Mac OS X 10.7 Lion: "Mac OS X meets the iPad"
During today's media event, Apple CEO Steve Jobs gave the first sneak peek at the eighth major version of Mac OS X.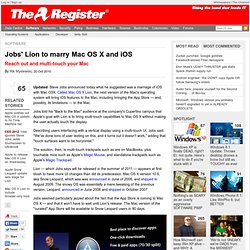 5 DNS security risks that keep you up at night
Jobs' Lion to marry Mac OS X and iOS
Say Hello To The Mac App Store: Like The iOS App Store, But For Your Mac
There will be a Mac App Store in Mac OS X Lion.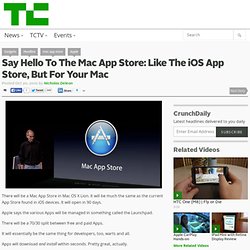 70/30: Apple's Magic Moneymaking Machine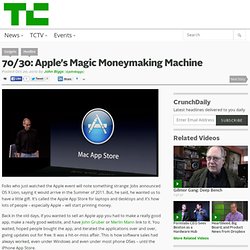 Folks who just watched the Apple event will note something strange: Jobs announced OS X Lion, saying it would arrive in the Summer of 2011.
As we noted earlier this morning, Apple's Mac Store guidelines have been revealed, including the long list of apps Apple plans to reject. While some developers will jump at the chance for exposure a Mac App Store provides, not everyone in the industry is happy about the news - least of all, Mozilla Firefox chief Mike Beltzner. For him, Apple's version of a desktop-based Mac App Store is especially disturbing. In fact, Beltzner accused Apple as attempting to "bypass the Web" altogether. After hearing Steve Jobs speak at the press conference, Beltzner tweeted, "I wonder when Apple will stop shipping Safari. It's obvious already from today's keynote that they're looking to bypass the web."
Mozilla Director Says Apple Trying to "Bypass the Web"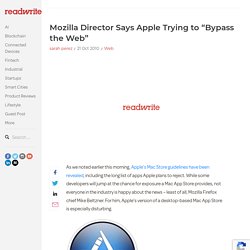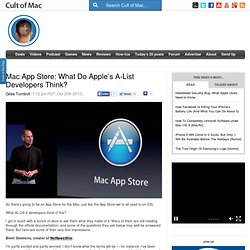 So there's going to be an App Store for the Mac, just like the App Store we're all used to on iOS.
Mac App Store: What Do Apple's A-List Developers Think?
Yesterday we posted some first impressions of the Mac App Store by a list of some of the finest software developers around. Overnight we've had more responses from more superb developers, so here for your reading pleasure are their initial thoughts about the Store and what it means for their business. Overall the mood is positive, but uncertain.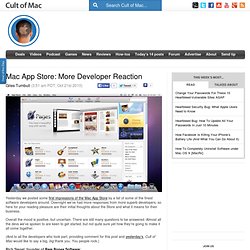 Mac App Store: More Developer Reaction
Is there really any doubt the Mac App Store will be anything other than a huge hit when it debuts in 90 days?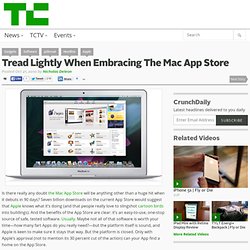 Tread Lightly When Embracing The Mac App Store
Under The Microscope » Blog Archive » Quick Thoughts on the Mac App Store
After more than two years of the App Store on iOS, Apple has finally decided to bring an App Store to the Mac as well. It's certainly not unexpected, but for many developers, it's an idea which has sparked feelings of both excitement and dread. The App Store on iOS has been phenomenally successful for Apple, for users, and for some developers.
From The Hip — The Times They Are a-Changin'
Will the Mac App Store have enough to sell? Originally published in the gdgt...
This weekend, Ryan Block put up an interesting post on gdgt entitled: Will the Mac App Store have enough to sell? He raises a number of good points for why Apple may not be able to replicate their current App Store success with this new desktop store. But I'm left wondering if the store won't lead to a new class of app: a sort of micro-app for the desktop.
Might The Mac App Store Lead To A New Class Of Micro-Apps?
It feels like we're on the verge of something — "feel" being the keyword. Personal computing has more or less been the same for a few decades now. It's the mouse, the keyboard, the monitor, and the machine.
With OS X Lion, It's No Longer Point & Click, It's Flick & Swipe
MacBook Air (11.6-inch) first hands-on!
MacBook Air (13-inch) first hands-on!
We just spent some quality time with the new 13-inch MacBook Air, and it certainly seems like a worthy upgrade. It definitely feels significantly bigger than the 11-incher, and we noticed the function keys are standard MacBook size, as opposed to the shrunken ones on the 11.
Hands on with the new 11.6-inch MacBook Air