Jailbreak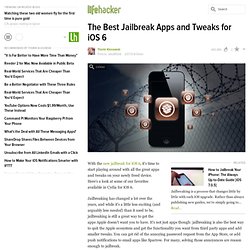 With the new jailbreak for iOS 6 , it's time to start playing around with all the great apps and tweaks on your newly freed device. Here's a look at some of our favorites available in Cydia for iOS 6. Jailbreaking has changed a lot over the years, and while it's a little less exciting (and arguably less needed ) than it used to be, jailbreaking is still a great way to get the apps Apple doesn't want you to have. It's not just apps though: jailbreaking is also the best way to quit the Apple ecosystem and get the functionality you want from third party apps and add smaller tweaks. You can get rid of the annoying password request from the App Store, or add push notifications to email apps like Sparrow. For many, solving those annoyances are reason enough to jailbreak.
The Best Jailbreak Apps and Tweaks for iOS 6
BattSaver Wants To Maximize Your iPhone's Battery Life, But Is It Right For You? [Jailbreak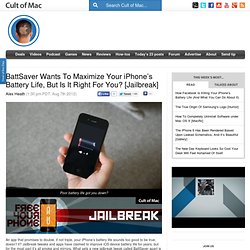 <img class="size-full wp-image-153210" title="iPhone-battery-low" src="http://www.cultofmac.com/wp-content/uploads/2012/03/Screen-Shot-2012-03-14-at-16.50.08-2.jpg" alt="BattSaver Wants To Maximize Your iPhone&#8217;s Battery Life, But Is It Right For You?
Forget Siri. Talking to your iPhone is cool, but you still have to tell it what to do.
How to Make Your iPhone Read Your Mind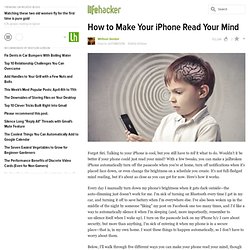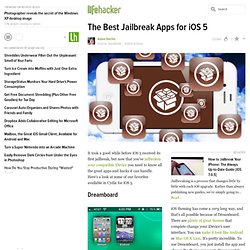 It took a good while before iOS 5 received its first jailbreak, but now that you've jailbroken your compatible iDevice you need to know all the great apps and hacks it can handle.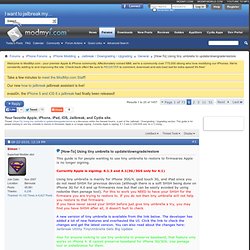 [How-To] Using tiny umbrella to update/downgrade/restore
This guide is for people wanting to use tiny umbrella to restore to firmwares Apple is no longer signing. Currently Apple is signing: 6.1.3 and 4.1(3G/3GS only for 4.1) Using tiny umbrella is mainly for iPhone 3GS/4, ipod touch 3G, and iPad since you do not need SHSH for previous devices (although there is a soft SHSH being done on iPhone 3G for 4.0 and up firmwares now but that can be easily avoided by using redsn0w then pwnage tool).
We see quite a few questions in our Jailbreak Forums about jailbreak basics.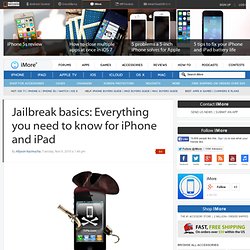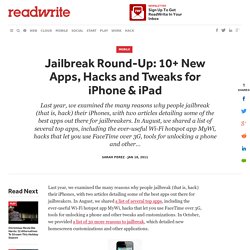 Last year, we examined the many reasons why people jailbreak (that is, hack) their iPhones, with two articles detailing some of the best apps out there for jailbreakers. In August, we shared a list of several top apps , including the ever-useful Wi-Fi hotspot app MyWi, hacks that let you use FaceTime over 3G, tools for unlocking a phone and other tweaks and customizations. In October, we provided a list of 30 more reasons to jailbreak , which detailed new homescreen customizations and other applications.
Jailbreak Round-Up: 10+ New Apps, Hacks and Tweaks for iPhone & iPad
Top 6 Winterboard Themes For Jailbroken iPhone
Themes are a great way to personalize your cell phone, add color to it, show off your personality and perceptions, your taste and everything. This holds even better in the case of the iPhone, since the device itself claims majesty. The themes that we bring to you in this roundup will magically transform your iPhone or iPod Touch far beyond the average interface, and offer new looks with newer icon sets.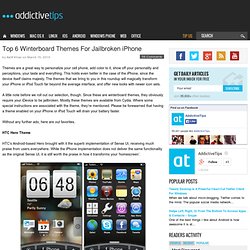 Forum / [theme] Glasklart Classic 4.0 - 6600+ icons! (5 icon requests/post)
iphonebrowser - Project Hosting on Google Code
Wiki Pages - mobileterminal - Project Hosting on Google Code
1. Tap on the active packages to view the list of packages to backup. 2.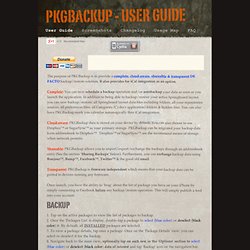 PKGBACKUP - User Guide
Multifl0w update brings Cards/Pages-style multitasking to iPhone [Jailbreak] | TiPb
Jailbreak tip: How to use Mobile Terminal to change the default SSH password [Jailbreak] | TiPb
iPhone, iPad, iPod Forums at TiPb.com
Apple's new AirPlay video streaming functionality is great... unless you want to use it in a non-Apple app.
AirVideoEnabler hack brings AirPlay video to the rest of your apps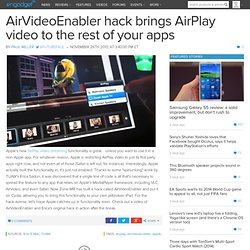 PdaNet -- Use your iPhone as a Wireless Router for your PC/Mac
Forum / [Theme] Black'UPS Darkness HD for iPhone 4
How to back up application data is a question I get asked almost on a daily basis. This question seems to get asked even more frequently every time a new jailbreak is released. I never recommend restoring from a jailbroken backup, ever.
How to save your application data using appbackup [jailbreak] | TiPb
How to jailbreak iOS 4.3.1 via redsn0w 0.9.6rc9 (untethered) | TiPb
Forum iPhone 4, iPad, iPad 2 & iPod Touch - iPhon.fr - VIPad.fr / Sortie aujourd'hui du JailBreak Untethered sous l'iOS 4.3.1
State of the iOS 4.3.2/iOS 4.2.7 Jailbreak | TiPb
How to jailbreak iOS 4.3.2 via redsn0w 0.9.6rc16 (untethered) | TiPb
Tic tac toe...
… three in a row!
WIN 7 CPU AFFINITY = 1

right click on redsn0w.exe and run as admin......(no need for xp compatability mode)

start redsn0w.exe. do nothing else for now.

then hit alt+ctrl+del to bring up task manager

choose the Processes tab

locate Redsn0w.exe and right click

in the drop down menu go to

set affinity

check box next to CPU1 only uncheck all other boxes

use redsn0w as usual :) by davidb May 6
How to jailbreak iOS 4.3.3 via redsn0w 0.9.6rc15 (untethered) | TiPb
Complete guide to Jailbreaking iPhone, iPod touch, and original iPad running iOS 4.3.3 with redsn0w The iOS 4.3.3 untethered Jailbreak for iPhone, iPod touch, and original iPad has just gone live ... and once again it's the same exploit and the same process as iOS 4.3.1 and iOS 4.3.2.
Cydia Search | Comprehensive Package Database
Although packages are easily navigated from any jailbroken iOS device through the Cydia application itself, Cydia Search is a browser-based search engine offering a quick and reliable alternative for finding packages currently available in Cydia. Cydia Search checks all included repositories for new and updated packages once per hour.
Daily Tip: How to manage multiple iPhone email signatures with Mail Enhancer [jailbreak] | TiPb
Have multiple email accounts on your iPhone and wondering how to get custom signatures for all of them? There's little app in Cydia called Mail Enhancer that allows just that.
Theme it, the missing theme store for iDevices by FIF7Y - COMING SOON