Jailbreak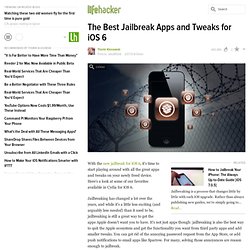 Springtomize, NCSettings, and Activator mostly. I want my phone to toggle bluetooth when I plug/unplug my phone and I want 5 icons on the dock. That's pretty much it these days. Most of the other things I've wanted have been rolled into iOS 6. BiteSMS, hands down. Apple needs to integrate features like the Quick Reply/Quick Compose into stock iOS.
The Best Jailbreak Apps and Tweaks for iOS 6
BattSaver Wants To Maximize Your iPhone's Battery Life, But Is It Right For You? [Jailbreak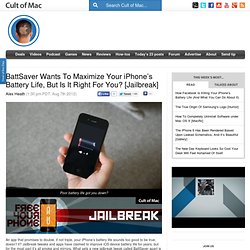 Poor battery life got you down? An app that promises to double, if not triple, your iPhone's battery life sounds too good to be true, doesn't it? Jailbreak tweaks and apps have claimed to improve iOS device battery life for years, but for the most part it's all smoke and mirrors. What sets a new jailbreak tweak called BattSaver apart is that there's no magical software voodoo or cheap tricks.
We already did, and I linked to it in this post. [lifehacker.com]+automated-superphone Yeah... all you need is Tasker on Android. Then you can do all this and WAY WAY more. For simple stuff, though, I find widgets are nice. I keep these two on my main screen for easy access.
How to Make Your iPhone Read Your Mind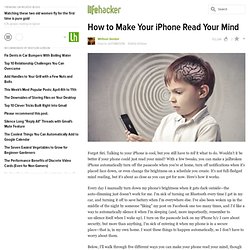 The Best Jailbreak Apps for iOS 5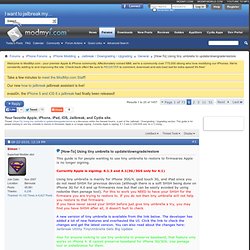 [How-To] Using tiny umbrella to update/downgrade/restore
This guide is for people wanting to use tiny umbrella to restore to firmwares Apple is no longer signing. Currently Apple is signing: 6.1.3 and 4.1(3G/3GS only for 4.1)Using tiny umbrella is mainly for iPhone 3GS/4, ipod touch 3G, and iPad since you do not need SHSH for previous devices (although there is a soft SHSH being done on iPhone 3G for 4.0 and up firmwares now but that can be easily avoided by using redsn0w then pwnage tool). For this to work you NEED to have your SHSH for the firmware you are trying to restore to. If you do not then tiny umbrella will not help you restore to that firmware. If you have never saved your SHSH before just give tiny umbrella a try, you may find you have SHSH after all, it doesn't hurt to checkA new version of tiny umbrella is available from the link below. The developer has added a lot of new features and overhauled the UI.
We see quite a few questions in our Jailbreak Forums about jailbreak basics. So, we've decided to compile a master list of some basic jailbreak magic right here in one place. Hopefully this will help a lot of you beginner jailbreakers learn the ropes (and maybe even help some of you decide whether the leap to the jailbreak world has its advantages for you). We've included common jailbreak lingo, popular jailbreak apps and tools, and videos highlighting some awesome jailbreak utilities!
Jailbreak basics: Everything you need to know for iPhone and iPad | TiPb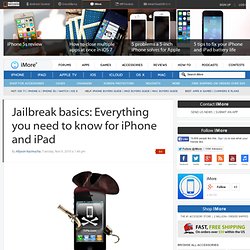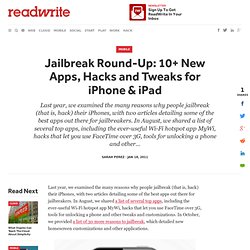 Last year, we examined the many reasons why people jailbreak (that is, hack) their iPhones, with two articles detailing some of the best apps out there for jailbreakers. In August, we shared a list of several top apps, including the ever-useful Wi-Fi hotspot app MyWi, hacks that let you use FaceTime over 3G, tools for unlocking a phone and other tweaks and customizations. In October, we provided a list of 30 more reasons to jailbreak, which detailed new homescreen customizations and other applications.
Jailbreak Round-Up: 10+ New Apps, Hacks and Tweaks for iPhone & iPad
Top 6 Winterboard Themes For Jailbroken iPhone
Themes are a great way to personalize your cell phone, add color to it, show off your personality and perceptions, your taste and everything. This holds even better in the case of the iPhone, since the device itself claims majesty. The themes that we bring to you in this roundup will magically transform your iPhone or iPod Touch far beyond the average interface, and offer new looks with newer icon sets.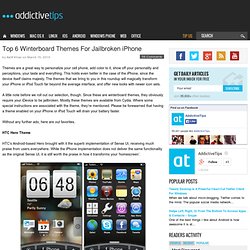 Forum / [theme] Glasklart Classic 4.0 - 6600+ icons! (5 icon requests/post)
iphonebrowser - Project Hosting on Google Code
Wiki Pages - mobileterminal - Project Hosting on Google Code
i-FunBox | File Manager, Browser, Explorer, Transfer Tool for iPhone, iPad & iPod Touch via USB
1. Tap on the active packages to view the list of packages to backup. 2.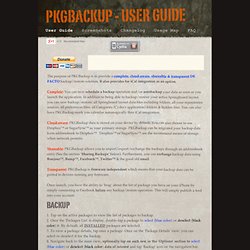 PKGBACKUP - User Guide
Multifl0w update brings Cards/Pages-style multitasking to iPhone [Jailbreak] | TiPb
Jailbreak tip: How to use Mobile Terminal to change the default SSH password [Jailbreak] | TiPb
iClarified - Apple News and Tutorials
iPhone, iPad, iPod Forums at TiPb.com
Dev-Team Blog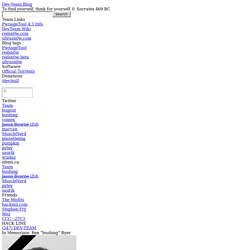 Today we're pleased to release redsn0w version 0.9.15b1, with significant new features supporting restoring to older firmware no longer being signed by Apple. For brevity, we'll list most of the new features in bullet form. For more details, please feel free to drop by our comments section, or check out any upcoming guides on tutorial sites like http://iclarified.com First, the high-level new feature list:
Apple's new AirPlay video streaming functionality is great... unless you want to use it in a non-Apple app. For whatever reason, Apple is restricting AirPlay video to just its first party apps right now, and not even all of those (Safari is left out, for instance). Interestingly, Apple actually built the functionality in, it's just not enabled. Thanks to some "spelunking" work by TUAW's Erica Sadun, it was discovered that a single line of code is all that's necessary to spread the feature to any app that relies on Apple's MediaPlayer framework, including VLC, AirVideo, and even Safari.
AirVideoEnabler hack brings AirPlay video to the rest of your apps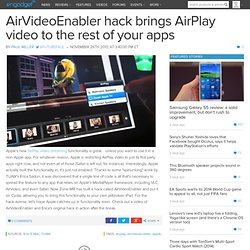 PdaNet -- Use your iPhone as a Wireless Router for your PC/Mac
has been the best tethering software for Windows Mobile phones and Palm OS phones. It is now ported to iPhone and Android! The latest version turns your iPhone (any version) into a true WiFi HotSpot so that you can connect from your computer (MAC or PC) or iPads. This allows your laptop to go online wirelessly through the 2G/3G/4G network on the iPhone. It also supports USB tethering for both Mac and Windows users.
Forum / [Theme] Black'UPS Darkness HD for iPhone 4
How to back up application data is a question I get asked almost on a daily basis. This question seems to get asked even more frequently every time a new jailbreak is released. I never recommend restoring from a jailbroken backup, ever.
How to save your application data using appbackup [jailbreak] | TiPb
How to jailbreak iOS 4.3.1 via redsn0w 0.9.6rc9 (untethered) | TiPb
Forum iPhone 4, iPad, iPad 2 & iPod Touch - iPhon.fr - VIPad.fr / Sortie aujourd'hui du JailBreak Untethered sous l'iOS 4.3.1
State of the iOS 4.3.2/iOS 4.2.7 Jailbreak | TiPb
How to jailbreak iOS 4.3.2 via redsn0w 0.9.6rc16 (untethered) | TiPb
Tic tac toe...
How to jailbreak iOS 4.3.3 via redsn0w 0.9.6rc15 (untethered) | TiPb
Cydia Search | Comprehensive Package Database
Daily Tip: How to manage multiple iPhone email signatures with Mail Enhancer [jailbreak] | TiPb
Theme it, the missing theme store for iDevices by FIF7Y - COMING SOON