iPhone stuff
Are those iOS backups taking up too much space on your boot drive? While there's no built-in function in the iTunes preferences menu for moving the archive folder, it's a simple procedure on most platforms. While others have mentioned this in the past, I haven't come across a single page with instructions for all major operating systems. For reference, the instructions are below: Mac OS X Close iTunes Move the existing ~/Library/Application Support/MobileSync/Backup/ folder to the destination drive (for example, named BigExternalDrive) Open a command prompt by launching Terminal and create a symbolic link using a command similar to the one below, replacing /Volumes/BigExternalDrive/Backup with the path to your destination:
Change the Location of Your iPhone Backup | Oliver Aaltonen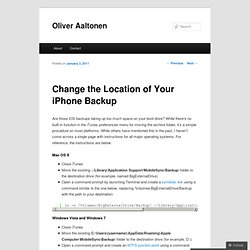 iMessage is awesome, right? Since iOS 5 came out I've been telling all my friends and family (who, ironically, aren't what you'd call tech savvy) to update and start sending messages for free. It's super fast, I tell them, and your messages will be blue! Thrilling, to say the least. There's just one problem:
iMessage Bug Traps Android Converters' Personal Conversations… But There's A Fix!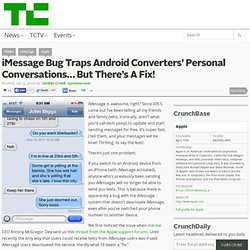 L'un des aspects intéressants d'iTunes Match est sa capacité à redonner du lustre à des morceaux de musique qui avaient été encodés en basse qualité . C'est cette faculté qui a valu à ce nouveau service d' Apple le qualificatif de "lessiveuse" ou de "blanchisseuse". Un "vieux" MP3 peut être en effet se métamorphoser en un AAC flambant neuf et de bien meilleure qualité sonore. Le tout en deux temps trois mouvements et avec la bénédiction conjointe d'Apple et des labels.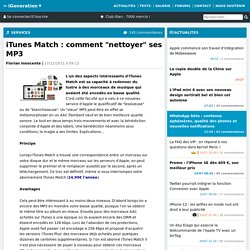 iTunes Match : comment "nettoyer" ses MP3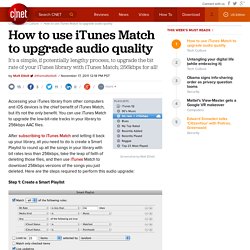 (Credit: Screenshot by Matt Elliott) Accessing your iTunes library from other computers and iOS devices is the chief benefit of iTunes Match, but it's not the only benefit. You can use iTunes Match to upgrade the low-bit-rate tracks in your library to 256kbps AAC files. After subscribing to iTunes Match and letting it back up your library, all you need to do is create a Smart Playlist to round up all the songs in your library with bit rates less than 256kbps, take the leap of faith of deleting those files, and then use iTunes Match to download 256kbps versions of the songs you just deleted. Here are the steps required to perform this audio upgrade:
How to use iTunes Match to upgrade audio quality
Viewing photographs on the iPhone 4′s 326dpi "Retina" display is absolutely incredible.
Onsight — digital photography workshops, color and workflow consulting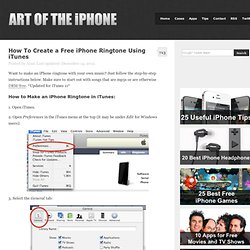 Want to make an iPhone ringtone with your own music?
ICF-CL75iP (ICFCL75iP) : Lecteurs mp3 et audio portable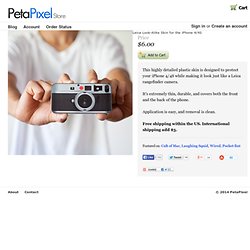 Leica Look-Alike Skin for the iPhone 4 - PetaPixel Store
Cart Leica Look-Alike Skin for the iPhone 4/4S Price This highly detailed plastic skin is designed to protect your iPhone 4/4S while making it look just like a Leica rangefinder camera. It's extremely thin, durable, and covers both the front and the back of the phone.
(Or, How to sync an iPhone with one computer and manually manage music and videos on another). Note: This tutorial allows you to add music/videos/podcasts from multiple machines. If you just want to sync PIM (Contacts/Calenders etc) on one machine and media on another there's a simpler way.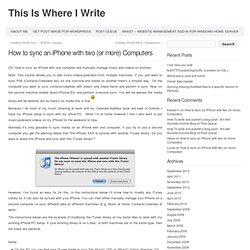 The new Publish option in Lightroom 3 Beta allows you a handy way to control what photos are on your iPhone without iPhoto. Fortunately iTunes allows you to select a folder that will sync to the iPhone instead. First up, create a folder called iPhone on your hard drive. Next, in Lightroom 3 Beta's Library Module, go to the Publish Services section on the bottom of the left panel.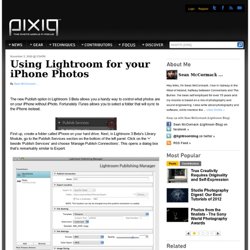 Using Lightroom for your iPhone Photos
iPhone - How to Put an iPhone Into DFU Mode
DFU means Device Firmware Update. If a restore using Recovery Mode doesn't work you will want to use DFU Mode as a last resort. When placing your iPhone into DFU Mode it does not load the OS before attempting the restore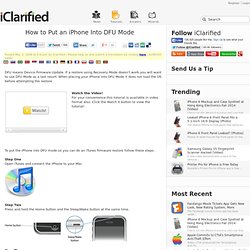 WakeMate
Créer un compte iTunes App Store sans carte bancaire
Réduire toutes les sections | Développer toutes les sections
For most users, iTunes does a great job of handling all of the details of managing your media library for you, allowing you to manage your content through iTunes itself and not having to worry too much about the underlying files and folders that make up your iTunes library.
The iTunes App Store has been around for eight months and now lists more than 25,000 apps. If you're like me, you've probably purchased a dozen or more of these apps and hopefully, you're backing up your computer regularly to protect your purchases. But backups only work if you know how to use them to restore lost data. Frequently, the iPhone and iPod Touch require complicated restores and multiple layers of backup; this how-to will show you how to conquer the restore beast. Step 1: Reinstall your apps in iTunes
Leather Cases by Beyza Cases | Apple iPhone Cases, Apple iPod Ca
Case Closed: iPhone 4
Yourecycle : Recyclez votre gsm - Recycleer uw gsm
Vendre son telephone portable APPLE et recycler son telephone portable APPLE: Fonebak, site de rachat et recyclage de telephone portable APPLE
RueDuCommerce
How to opt out of interest-based ads from the iAd network
SOLUTION to pathetic Ping junk
Coque arrière biseautée métallique pour Apple iPhone 4 -noire/argentée métallique - - Cellular
iXstreamer
How to Install AirPrint to Enable Wireless Printing on Windows? | Jaxov
petewarden/iPhoneTracker @ GitHub
DropDAV - access your Dropbox via the WebDAV standard
CloudDav: WebDav over any Cloud
Ultra Slim Genuine Leather Case for Apple iPad JX2 en vente sur eBay.fr (fin le 06-mars-11 23:38:33 Paris)