SMART Technologies
ReacTickles 2 | Sherston America. Developed as part of a research project at the University of Wales Institute Cardiff, ReacTickles provides an engaging and accessible computer environment for spontaneous imaginative play and learning.
ReacTickles provides a series of interactive "Tickles" through which young children, those pupils on the autistic spectrum and other learning disabilities are encouraged to use technology. Pupils can develop mouse, keyboard, whiteboard, switch and screen skills whilst being encouraged to communicate, to use fine motor skills and to work together. The software also works well within mainstream early years settings enabling very young children to interact and learn to communicate as individuals and within small groups. ReacTickles 2 runs on interactive whiteboards, touch screens or any desktop or laptop and is accessible with input from a microphone, switch, keyboard, mouse or other adaptive devices. SMART CoreFocus Content Solutions for Education. SMART LightRaise 40wi interactive projector. SMART product warranty information - SMART support. Training and professional development. Lesson Activity Toolkit.
SMART Notebook 10.7 software and SMART Product Drivers 10.7 SP1 with Math Tools for Windows Complete installation with SMART Notebook software and SMART Product Drivers Click the Download button to download the software on your computer.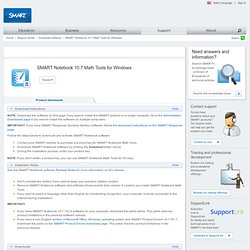 Follow the on-screen instructions. Download details. Lesson plans and resources for your SMART Board - SMART Exchange. Teacher's Perspective: Training for the Future of Learning. It doesn't matter if it's an accounting application, a claymation program or assessment software –if it's being used in Hillsborough County Public Schools, David Lopez and his colleagues in the professional development department can provide training on it.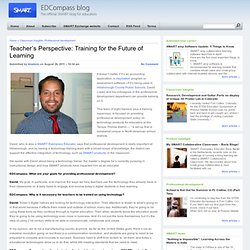 This team of eight trainers, plus a training supervisor, is focused on providing professional development solely on technology products for educators at this Tampa, Florida district — " a set-up that is somewhat unique in North American school districts. David, who is also a SMART Exemplary Educator, says that professional development is really important at Hillsborough, and by having a technology training team with a broad scope of knowledge, the district can support the effective integration of technology, such as SMART products, in the classroom.
We spoke with David about being a technology trainer, the master's degree he's currently pursuing in instructional design and how SMART products have impacted him as an educator. Translating math problems into the real world (video) | Cutting Edge.
---