Education
Welcome to Chic Afrique Herbals Online
Blackboard Reports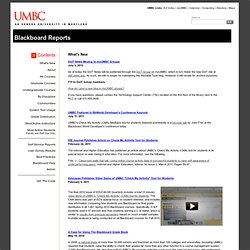 What's New DoIT News Moving to myUMBC GroupsJuly 3, 2012 As of today, the DoIT News will be published through the DoIT Group on myUMBC, which in turn feeds the new DoIT site at doit.umbc.edu. As such, we will no longer be maintaining this Movable Type blog. However, it will remain for archive purposes. FYI to DoIT Group members:
© 2007 John P. Campbell, Peter B. DeBlois, and Diana G. Oblinger EDUCAUSE Review, vol. 42, no. 4 (July/August 2007): 40–57
Academic Analytics: A New Tool for a New Era | EDUCAUSE CONNECT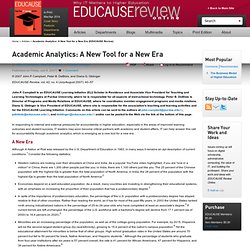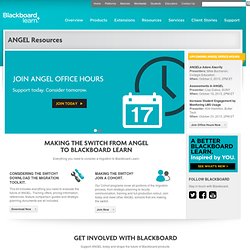 Support ANGEL today and shape the future of Blackboard products. Have an idea for your ANGEL LMS, or boarder Blackboard? Join the Blackboard Idea Exchange (BIE) and help determine the future direction of our products. Join Now
ANGEL Learning -- Learning Management Suite for K-12 and Higher
Disclaimer: The information presented on the DSIRE web site provides an unofficial overview of financial incentives and other policies. It does not constitute professional tax advice or other professional financial guidance, and it should not be used as the only source of information when making purchasing decisions, investment decisions or tax decisions, or when executing other binding agreements. Please refer to the individual contact provided below each summary to verify that a specific financial incentive or other policy applies to your project.