Win 7 stuff
Windows 7 from xp with my docs on seperate hard drive - Google S. Explore the features: Windows Easy Transfer. Fresh install of Win 7 from XP. Mydocs are on 2nd hard drive do. I have a 2 hard drive system.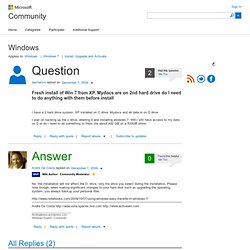 XP installed on C drive. Mydocs and all data is on D drive. The installation will not affect the D: drive, but on the rare occasion something can go wrong. If it's a separate physical hard drive I would disconnect it during the installation then reconnect it when done. Transferring files and settings: frequently asked questions. Windows 7 Upgrade Advisor - Download. Transferring your iTunes Library. For most users, iTunes does a great job of handling all of the details of managing your media library for you, allowing you to manage your content through iTunes itself and not having to worry too much about the underlying files and folders that make up your iTunes library.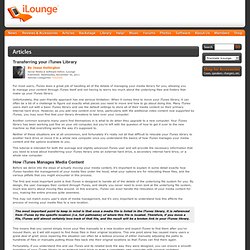 Unfortunately, this user-friendly approach has one serious limitation: When it comes time to move your iTunes library, it can often be a bit of a challenge to figure out exactly what pieces you need to move and how to go about doing this. Many iTunes users start out with a basic iTunes library and use the default settings to store all of their media content on their primary internal hard drive.
However, as you add new content over time, particularly with the additional video content now supported by iTunes, you may soon find that your library threatens to take over your computer. Another common scenario many users find themselves in is what to do when they upgrade to a new computer. I want to relocate my iTunes from one hard drive to another. Wha.
The assumption is that you want to "backup" your music library to another hard drive?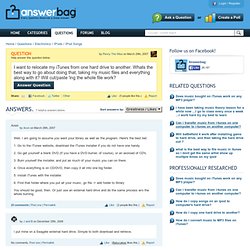 If this is the case, the easiest way to do it is by going into Windows "My Computer" opening up your "C" drive and then go the sub directory, "My Music", highlight the sub-folder, I-Tunes and then using your mouse, hit the right side your mouse, another menu will pop up, select "SEND TO" which will then display all the drives connected to your computer. If your separate hard drive is connected to your computer, it will show it ---- select send to it and bingo it will copy your files to the separate hard drive.
How to Move an iTunes Music Library to a Different Hard Drive on.
---