Cloud Computing
Dropbox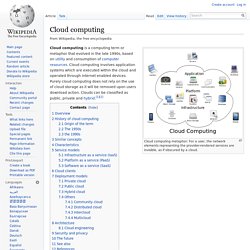 Cloud computing is a phrase used to describe a variety of computing concepts that involve a large number of computers connected through a real-time communication network such as the Internet.[1] In science, cloud computing is a synonym for distributed computing over a network, and means the ability to run a program or application on many connected computers at the same time. The phrase also more commonly refers to network-based services, which appear to be provided by real server hardware, and are in fact served up by virtual hardware, simulated by software running on one or more real machines. Such virtual servers do not physically exist and can therefore be moved around and scaled up (or down) on the fly without affecting the end user - arguably, rather like a cloud.
Cloud computing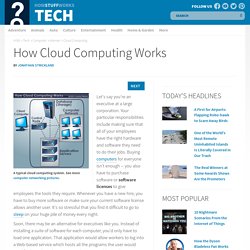 How Cloud Computing Works"
­Let's say you're an executive at a large corporation. Your particular responsibilities include making sure that all of your employees have the right hardware and software they need to do their jobs. Buying computers for everyone isn't enough -- you also have to purchase software or software licenses to give employees the tools they require. Whenever you have a new hire, you have to buy more software or make sure your current software license allows another user. It's so stressful that you find it difficult to go to sleep on your huge pile of money every night. Soon, there may be an alternative for executives like you.
ThinkFree Office Online
Online Storage & Online Backup | Livedrive
4share.html - 4shared.com - online file sharing and storage - download
SugarSync
Online File Storage & Backup from humyo.com
Mougg - Your Music in the Cloud
Mashup Media, Inc. ("MASHUP") makes reasonable efforts to protect the privacy of your personal information. This privacy policy was created to demonstrate our commitment to fair information practices. This policy covers MASHUP's use of personal information that MASHUP collects when you use the website at www.mashup.com (the "Site"). MASHUP complies with the U.S.
Jolicloud