Cloud Computing
Dropbox. Cloud computing. In common usage, the term "the cloud" is essentially a metaphor for the Internet.[1] Marketers have further popularized the phrase "in the cloud" to refer to software, platforms and infrastructure that are sold "as a service", i.e. remotely through the Internet.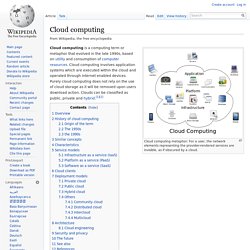 Typically, the seller has actual energy-consuming servers which host products and services from a remote location, so end-users don't have to; they can simply log on to the network without installing anything. The major models of cloud computing service are known as software as a service, platform as a service, and infrastructure as a service. How Cloud Computing Works". ­Let's say you're an executive at a large corporation.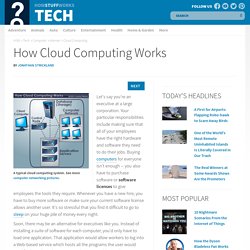 Your particular responsibilities include making sure that all of your employees have the right hardware and software they need to do their jobs. Buying computers for everyone isn't enough -- you also have to purchase software or software licenses to give employees the tools they require. Whenever you have a new hire, you have to buy more software or make sure your current software license allows another user. It's so stressful that you find it difficult to go to sleep on your huge pile of money every night.
Soon, there may be an alternative for executives like you. ThinkFree Office Online. Online Storage & Online Backup | Livedrive. 4share.html - 4shared.com - online file sharing and storage - download. SugarSync. Online File Storage & Backup from humyo.com. Mougg - Your Music in the Cloud. Jolicloud.
---