Davenjilli
Jill
I am a homesteading homeschooling mom who loves to write about things of interest to me and meet new people.
(1) SunCoast MLM Skills & Network Marketing.
Clothes
Get Facebook fans. My daily blogs. Family. Monday Morning Mastermind. In the news. Goats Milk Soap, recipes and tools. Amazing Recipes. Make money online blogging, from 0 to 60K/year in 90 days withou. Weightloss Tips. Movies I love. Call to action.
Social bookmark tools
Words Have Power Change Your Words Change Your Life | Justjillin. Let's face it everyone who is blogging or marketing online needs marketing strategies and tactics to get eye balls on what ever it is they are trying to share.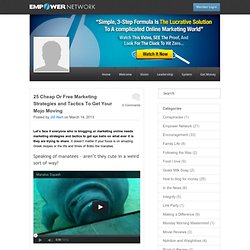 It doesn't matter if your focus is on amazing Greek recipes or the life and times of Bobo the manatee. Speaking of manatees – aren't they cute in a weird sort of way? Justjillin Empower Network. Prophecy Related. Writing. 23 Reasons Your Blog Isn't Making Any Money (And What To Do About It!) How to Write Magnetic Headlines.
People who inspire me. Seven Self-Help Techniques | Awesome Life With Janny. It is a skill you can learn if you aim for happiness.
Here are seven self-help techniques that you can use and practice daily to help you achieve your goals and overcome your obstacles. 1. Choose a time and place to sit and relax yourself. 2. Think of a dream you want so much to realize or a project you want to finish. Spring Hat Party Favor. By admin on Sunday, April 15th, 2012 | 3 Comments Look at this adorable Spring Hat Party Favor.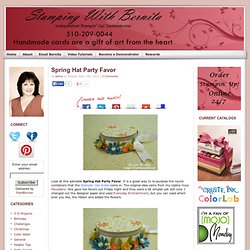 It is a great way to re-purpose the round containers that the Stampin' Up! Kentucky Derby Contenders...Dullahan VS Hansen | Quater Horses. Now… What???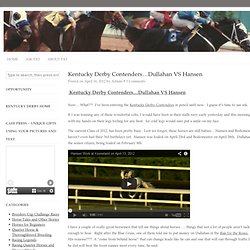 I've been entering the Kentucky Derby Contenders in pencil until now. I guess it's time to use ink. If I was training any of these wonderful colts, I would have been in their stalls very early yesterday and this morning with my hands on their legs feeling for any heat. Ice cold legs would sure put a smile on my face. Quotes about writing. Detail makes the difference between boring and terrific writing.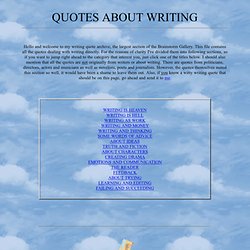 It's the difference between a pencil sketch and a lush oil painting. As a writer, words are your paint. Use all the colors. Rhys Alexander.
Travel. Nutrition Programs Online. Food. Trucking Stuff. Online Marketing. Focus & Action. Easy Step to Create an Opt In Gift Your Readers Will Love ~ Focus and Action for Online Entrepreneurs. Nesting for Baby The Mad Dash Before Baby Comes. Nesting for baby is the feeling we all get a few weeks before our bodies need to focus on the coming labor and delivery.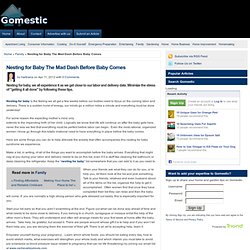 There is a sudden burst of energy, our minds go a million miles a minute and everything must be done yesterday! For some reason the expecting mother's mind only extends to the impending birth of her child. Logically we know that life will continue on after the baby gets here, never the less we feel that everything must be perfect before labor can begin. Even the most rational, organized women I know go through this totally irrational need to have everything in place before the baby comes.
Here are some things you can do to help alleviate the anxiety that often accompanies this nesting for baby syndrome we experience. Resources: Tools to Build Your Online Business ~ Focus and Action for Online Entrepreneurs. Blog Post Ideas ~ Where to find them when you're stuck ~ Focus and Action for Online Entrepreneurs. Pet Hacks- From Console to Dog House. By dawn, on April 10th, 2012 Copyright © 2012 afFURmation Pet Hacks is a new feature on afFURmation.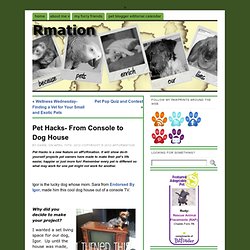 It will show do-it-yourself projects pet owners have made to make their pet's life easier, happier or just more fun! Remember every pet is different so what may work for one pet might not work for another. Gardening :: Affiliate Program Directory. Jumping In The Icy Waters | Justjillin.
---