Recipies
Food Comparison | TwoFoods. Greek Lemon Meatballs. Roasted Red Pepper Hummus Recipe - How to Make Roasted Red Pepper Hummus. When you want hummus with a little "kick", you should make roasted red pepper hummus.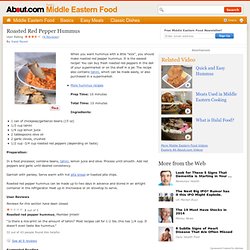 It is the easiest recipe! You can buy fresh roasted red peppers in the deli of your supermarket or on the shelf in a jar. The recipe also contains tahini, which can be made easily, or also purchased in a supermarket.More hummus recipes. Roasted Red Pepper Hummus Recipe. My sister is a huge fan of roasted red pepper hummus so she was one inspiration behind me creating my own version at home.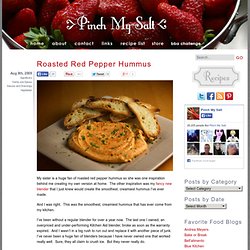 The other inspiration was my fancy new blender that I just knew would create the smoothest, creamiest hummus I've ever made. And I was right. Meatball Soup Recipe - Food.com - 3511. German Meatballs With Spaetzle Recipe - Food.com - 135335. Easy Stroganoff Meatballs (using frozen meatballs) 1 1/4 cups beef broth2 tablespoons flour2 teaspoons Worcestershire sauce16 frozen cooked meatballs (about 1 1/2 inches in diameter)1 (4 1/2 ounce) jar sliced mushrooms, drained1/2 cup sour cream1 tablespoon chopped fresh parsley Beat broth, flour and Worcestershire sauce in small bowl with wire whisk.
Place frozen meatballs, mushrooms and broth mixture in 10-inch skillet. Bruschetta with Roasted Sweet Red Peppers Recipe. Recipe: Roasted Red Pepper Chicken. WARNING: This recipe is NOT low-fat.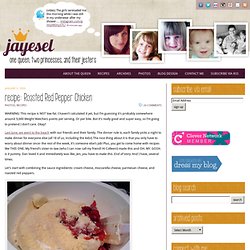 I haven't calculated it yet, but I'm guessing it's probably somewhere around 9,000 Weight Watchers points per serving. Or per bite. But it's really good and super easy, so I'm going to pretend I don't care. Dump It All In Meatball Soup Recipe - Food.com - 109318. Chile Verde Meatballs Recipe - Food.com - 110680.
---