Education
Get flash to fully experience Pearltrees
The internet is an invaluable resource to self-educated learners. Below is a list of some of the most helpful sites out there including opencourseware materials, free libraries, learning communities, educational tools, and more. Including links to individual classes would make this list too long. So, I've added umbrella links that will help you find the material you need with just a little searching. For example, instead of listing individual classes, I've provided links to college opencourseware websites and course directories. From there, you'll be able to find the individual subjects you're interested in.
Simply start by clicking on the Play button on the left. Reading is that one activity that we do every day but we don't really practice. Most people learn the basics of reading in kindergarten and never graduate to the next levels. You are probably using the same basic rudimental tools and techniques that you learned when you were 6. The average American person reads at an average speed of 180 to 240 words per minute and has done so since he was 16 years old. Does it make sense that we hit our best performance at age 16 and that we don't improve much after that?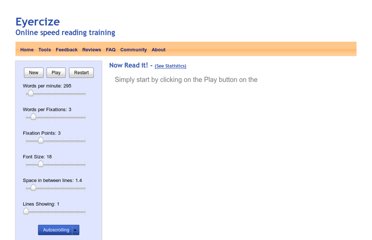 post written by: Marc Email All education is self-education.
I can't remember where I got it from, I think it was someone else on here by dave07879 Sep 17