PDO Possible Themes
Theme Demo
TheSource Theme | the origin of news
Malleable: Just another Develop Daly weblog
Happy Holidays Everyone December is the best time of the year.
Padd Solutions Maimpok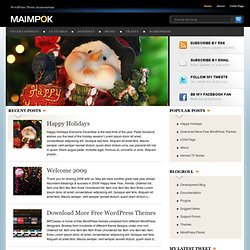 The Columnist | The Columnist
Written by Benji May 8th, 2010 The Columnist is a grid based wordpress theme. It features a newspaper column layout, neat typographic heirarchy, a tidy grid system and some css3 & jQuery greatness.
Argentpress | Just another awesome wordpress theme
Aparatus Theme v2