User experience - UX ([1])
Designing For Your Mom.
Ressources ([2] UX[1]) 15 Free Ebooks about User Experience and Interface Design » paul olyslager. I have collected 15 free ebooks about UX and interface design, including some best selling books which are definitely worth reading.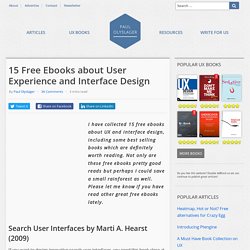 Not only are these free ebooks pretty good reads but perhaps I could save a small rainforest as well. Please let me know if you have read other great free ebooks lately. Search User Interfaces by Marti A. Hearst (2009) A Must Have Book Collection on UX. I present to you the cornerstone of my book collection on UX: 17 highly recommended books on User Experience by UX professionals.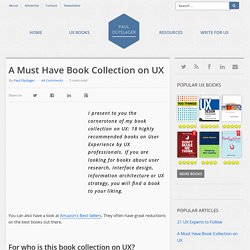 If you are looking for books about user research, interface design, information architecture or UX strategy, you will find a book to your liking. I've been reading loads of books on UX but not every book made it to this list. I think this book collection on UX is suitable for both the aspiring UXers as the UX professionals. However, if you're a seasoned UX professional, chances are you've read most of these books but I hope I've included some of which you haven't heard of. popular. User Experience Best Practices. User experience. UX Design. 10 Most Common Misconceptions About User Experience Design. Whitney Hess is an independent user experience designer, writer and consultant based in New York City.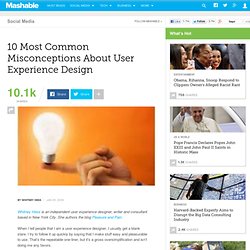 She authors the blog Pleasure and Pain. When I tell people that I am a user experience designer, I usually get a blank stare. I try to follow it up quickly by saying that I make stuff easy and pleasurable to use. Case Study: Lean UX at work. This article is a guest post by Jeff Gothelf, Director of User Experience at TheLadders in New York City.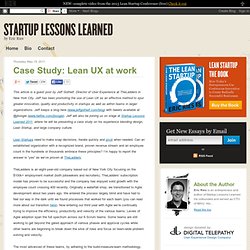 Jeff has been promoting the use of Lean UX as an effective method to spur greater innovation, quality and productivity in startups as well as within teams in larger organizations. Jeff keeps a blog here (www.jeffgothelf.com/blog) with tweets available at @jboogie (www.twitter.com/jboogie). Usability & User Experience. This overview features a hand-picked and organized selection of the most useful and popular Smashing Magazine's articles related to Usability and User Experience and published here over all the years.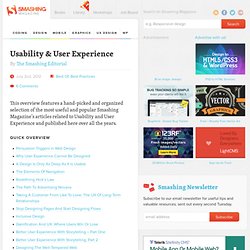 Persuasion Triggers in Web Design How do you make decisions? If you're like most people, you'll probably answer that you pride yourself on weighing the pros and cons of a situation carefully and then make a decision based on logic. You know that other people have weak personalities and are easily swayed by their emotions, but this rarely happens to you. Smashing UX Design — Usability, Psychology and Information Architecture.
Category: UX Design This category features quality articles on usability, information architecture, interaction design and other user experience (UX) related topics – for digital (Web, mobile, applications, software) and physical products.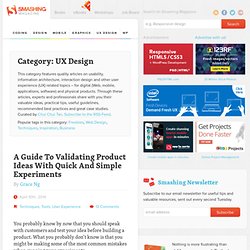 Through these articles, experts and professionals share with you their valuable ideas, practical tips, useful guidelines, recommended best practices and great case studies. Curated by Chui Chui Tan. . Popular tags in this category: Freebies, Web Design, Techniques, Inspiration, Business. Lean UX: Getting Out Of The Deliverables Business - Smashing Magazine. Advertisement User experience design for the Web (and its siblings, interaction design, UI design, et al) has traditionally been a deliverables-based practice.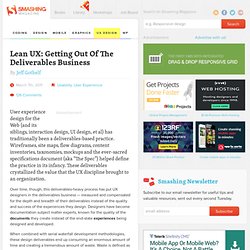 Wireframes, site maps, flow diagrams, content inventories, taxonomies, mockups and the ever-sacred specifications document (aka "The Spec") helped define the practice in its infancy. Essential E-Commerce Website Features: Tips and Examples. There are many different approaches you can take when designing an e-store.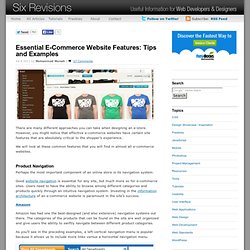 However, you might notice that effective e-commerce websites have certain site features that are absolutely critical to the shopper's experience. We will look at these common features that you will find in almost all e-commerce websites. Top 10 Things Customers Expect from Your Online Store. Oneupweb has recently put out some interesting research which includes the top 10 consumer expectations that influence purchase decisions.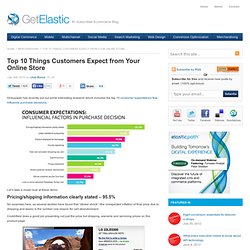 Let's take a closer look at these items: Pricing/shipping information clearly stated – 95.5% No surprises here, as several studies have found that "sticker shock" (the unexpected inflation of final price due to shipping and taxes) is the number one reason for cart abandonment. Crutchfield does a good job presenting not just the price but shipping, warranty and servicing prices on this product page:
---