Autres
Beneton Movie GIF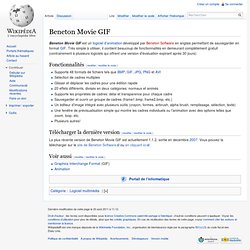 Un article de Wikipédia, l'encyclopédie libre. Beneton Movie GIF est un logiciel d'animation développé par Beneton Software en anglais permettant de sauvegarder en format GIF. Très simple à utiliser, il contient beaucoup de fonctionnalités en demeurant complètement gratuit (contrairement à plusieurs logiciels qui offrent une version d'évaluation expirant après 30 jours). Fonctionnalités[modifier | modifier le code]
Animation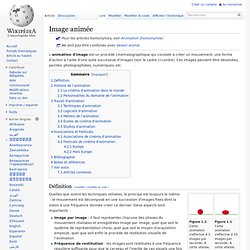 Un article de Wikipédia, l'encyclopédie libre. L'animation d'image est un procédé cinématographique qui consiste à créer un mouvement, une forme d'action à l'aide d'une suite successive d'images (voir le cadre ci-contre). Ces images peuvent être dessinées, peintes, photographiées, numériques, etc. Définition[modifier | modifier le code] Figure 1.1 Cette animation s'effectue à 10 images par seconde.
This example shows how to create GIF image in php gd. <?php function LoadGif($imgname)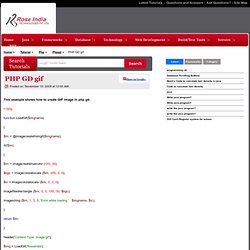 PHP GD gif
Table of Contents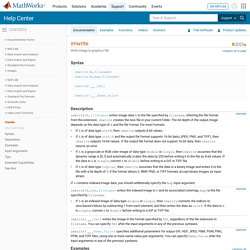 Write image to graphics file - MATLAB
Write image to graphics file Syntax Description example imwrite(A,filename) writes image data A to the file specified by filename, inferring the file format from the extension. imwrite creates the new file in your current folder. The bit depth of the output image depends on the data type of A and the file format.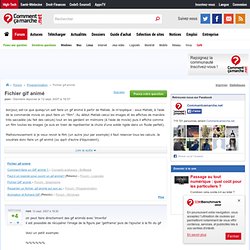 on peut faire directement des gif animés avec 'imwrite' il est posssible de récupérer l'image de la figure par 'getframe' puis de l'ajouter à la fin du gif Voici un petit exemple: isfirst=true; for ...
Fichier gif animé
Télécharger Java pour Windows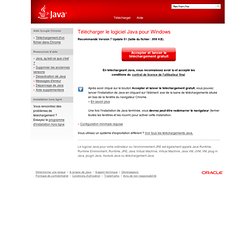 Recommandé Version 7 Update 51 (taille du fichier : 899 KB) Après avoir cliqué sur le bouton Accepter et lancer le téléchargement gratuit, vous pouvez lancer l'installation de Java en cliquant sur l'élément .exe de la barre de téléchargements située en bas de la fenêtre du navigateur Chrome. » En savoir plus Une fois l'installation de Java terminée, vous devrez peut-être redémarrer le navigateur (fermer toutes les fenêtres et les rouvrir) pour activer cette installation. »Configuration minimale requise Vous utilisez un système d'exploitation différent ? Voir tous les téléchargements Java.
The following Java source code for animated GIF processing may be freely used for any purpose. Unisys patent restrictions may apply to the LZW portions. Tom Thompson's J2ME port of the GifDecoder class is described in an article in Dr. Dobb's Journal. The source code is available in the Feb. 2006 DDJ archive .
Java Sources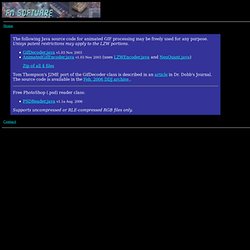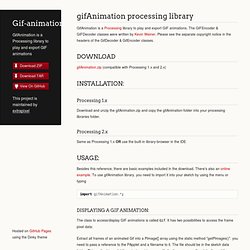 gifAnimation processing library
GifAnimation is a Processing library to play and export GIF animations. The GIFEncoder & GIFDecoder classes were written by Kevin Weiner. Please see the separate copyright notice in the headers of the GifDecoder & GifEncoder classes. gifAnimation.zip (compatible with Processing 1.x and 2.x) Processing 1.x