Tools (Html)
How to Build Cross-Browser HTML5 Forms. In this tutorial, we're going to take a look at how to serve HTML5 forms to modern browsers, while compensating for older browsers by using a mix of Webforms2, Modernizr, jQuery UI and assorted jQuery Plugins.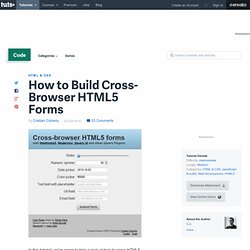 Introduction HTML5 powered forms provide a great deal of semantic markup, and remove the need for a lot of JavaScript. One of the first efforts toward HTML5 was WHATWG's Web Forms 2.0, originally called XForms Basic. The spec introduced new form controls and validation, among other things. Later, it got incorporated into HTML5, and was subsequently stripped of the repetition model, resulting in what we know today as HTML5 Forms. Amaya Home Page. Translations: be, da, de, es, fr, hi, hr, is, ja, kr, pl, ru, sr-latin, sr-cyrillic, th, uk, vn, zh-hans, zh-hant W3C's Editor Amaya is a Web editor, i.e. a tool used to create and update documents directly on the Web.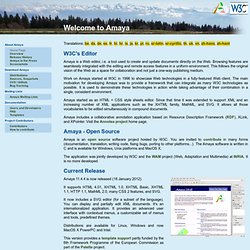 Browsing features are seamlessly integrated with the editing and remote access features in a uniform environment. This follows the original vision of the Web as a space for collaboration and not just a one-way publishing medium. Work on Amaya started at W3C in 1996 to showcase Web technologies in a fully-featured Web client. The HTML5 test - How well does your browser support HTML5?
HTML5 tools, Animation tools - Adobe Edge Preview | Adobe Labs. Adobe lance Edge, un outil d'animation HTML5. J'en parlais la semaine dernière et c'est maintenant chose faite : Adobe vient de lancer la Preview Release de Edge, son outil d'animations et d'interactions HTML5.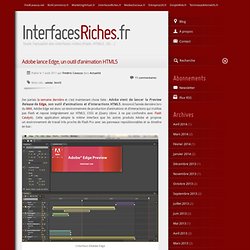 Annoncé l'année dernière lors du MAX, Adobe Edge est donc un environnement de production d'animations et d'interactions qui n'utilise pas Flash et repose intégralement sur HTML5, CSS3 et jQuery (donc à ne pas confondre avec Flash Catalyst). Cette application adopte la même interface que les autres produits Adobe et propose un environnement de travail très proche de Flash Pro avec ses panneaux repositionnables et sa timeline en bas : Social Network Icon Pack.
No frilly styles, gradients or lighting effects — just the basics.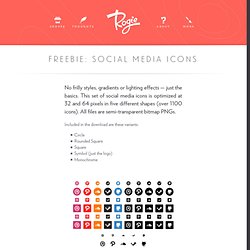 This set of social media icons is optimized at 32 and 64 pixels in five different shapes (over 1100 icons). All files are semi-transparent bitmap PNGs. Included in the download are these variants: CircleRounded SquareSquareSymbol (just the logo) Monochrome Simple & Styleable. oCanvas - Object-based canvas drawing. Générateur de favicon.
---