Tools ([3] drupal[2])
When, in Drupal 7, the password for user 1 (the administrator) is lost and the email notification or drush methods don't work, it is possible to set the password via a database query. But first, you have to generate a password hash that is valid for your site.
Forgotten your Drupal 7 account password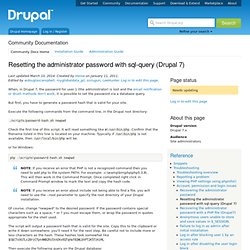 Core templates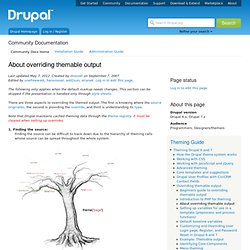 About overriding themable output
Last updated May 7, 2012. Created by dvessel on September 7, 2007.Edited by onefreewalk, hansrossel, add1sun, arianek.
Theme Test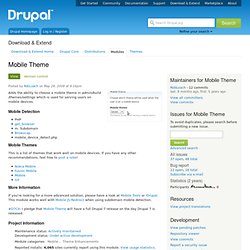 Adds the ability to choose a mobile theme in admin/build/themes/settings which is used for serving users on mobile devices. Mobile Detection
Mobile Theme
Color Theme
When the Color module is enabled, the Color Theme module changes the current theme on the theme settings pages to the theme whose settings are being configured. For example, visiting admin/appearance/settings/stark will cause the Stark theme to become the theme, and visiting admin/appearance/settings/garland will cause Garland to become the current theme. It also excludes the theme settings pages from being displayed in the Overlay. The helps tremendously for theme developers integrating with Color module.
A suite of modules containing fun for module developers and themers ... Devel