Texteditor
NOTEPAD++ - Edition de fichiers avec Notepad++ Par Martin Comme tout développeur vous avez besoin d'éditer souvent et rapidement des fichiers de code.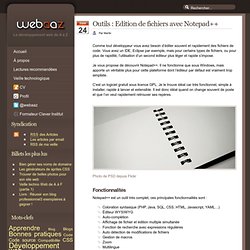 Vous avez un IDE, Eclipse par exemple, mais pour certains types de fichiers, ou pour plus de rapidité, l'utilisation d'un second éditeur plus léger et rapide s'impose. Je vous propose de découvrir Notepad++. Il ne fonctionne que sous Windows, mais apporte un véritable plus pour cette plateforme dont l'éditeur par défaut est vraiment trop simpliste.
C'est un logiciel gratuit sous licence GPL. The 15 Most Popular Text Editors for Developers. For many developers, a trusty text editor is all you need for even the most complex web applications.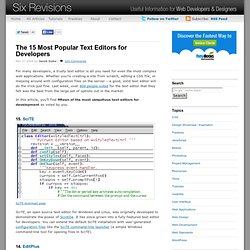 Whether you're creating a site from scratch, editing a CSS file, or messing around with configuration files on the server – a good, solid text editor will do the trick just fine. Last week, over 600 people voted for the text editor that they felt was the best from the large set of options out in the market. In this article, you'll find fifteen of the most ubiquitous text editors for development as voted by you. 15. IBGS - Tools - Html - E - TextEditor | The power of TextMate on Windows. | 5.8. Homepage of Crimson Editor - Free Text Editor, Html Editor, Programmers Editor for Windows. Editor PSPad - freeware HTML editor, PHP editor, XHTML, JavaScript, ASP, Perl, C, HEX editor. KompoZer - Easy web authoring. TextWrangler. TextWrangler TextWrangler is the "little brother" to BBEdit, our leading professional HTML and text editor for the Macintosh.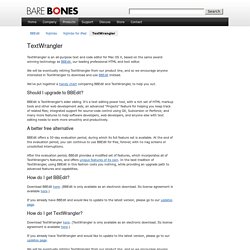 TextWrangler vs. jEdit - Programmer's Text Editor - overview.
---