Plugin ([3] jquery[2])
Demo Gallery
Events on mutation (Plug-in - jQuery) Autres
Watch (Plug-in - jQuery) by Darcy Clarke
Mobile web development (Plug-in jQuery)
Finally by popular demand we have a list of the best plugins in each category. Great news for plugin hunters as there is no need to look through 100′s of jQuery plugins anymore to find the best one! Simply look at the best of the best for each category below!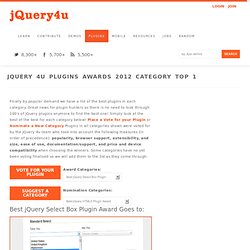 jQuery 4u Plugins Awards 2012
jquery.easing-1.3.min.js - blogger-hacks-all - jquery.easing-1.3.min.js - blogger-hacks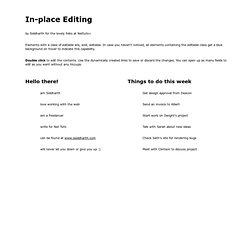 In-place editing system - by Siddharth for NetTuts
by Siddharth for the lovely folks at Nettuts+ Elements with a class of editable are, well, editable. In case you haven't noticed, all elements containing the editable class get a blue background on hover to indicate this capability.
sausage.js - examples - The Core API
This chapter explores the CouchDB in minute detail. It shows all the nitty-gritty and clever bits.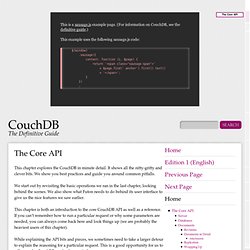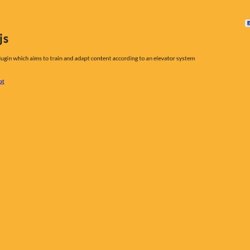 Jquery.ascensor.js
First, choose the ascensor name (default :'ascensor') AscensorName : 'myAscensor' Choose name for each floor
Pietimer jQuery Plugin
Superfish - Suckerfish on 'roids
jsTree (demo)
jQuery.qrcode.js, créez vos QR Codes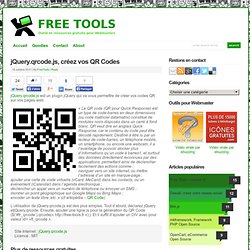 jQuery.qrcode.js est un plugin jQuery qui va vous permettre de créer vos codes QR sur vos pages web.
Advertisement Recently we've been receiving more requests for carefully selected, useful round-ups. We try to avoid round-ups on Smashing Magazine, but sometimes the format is useful and — if the resources are relevant — can be extremely helpful. Besides, we are glad to drive traffic to some obscure, yet useful resources and thus support the developers of these resources. In this round-up, you'll find some of the useful JavaScript and jQuery tools, libraries and plugins that we have stumbled upon recently. Hopefully, you'll find them valuable for your upcoming projects.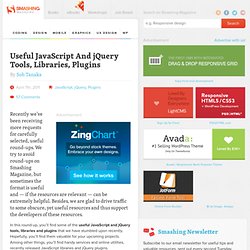 Divers plugins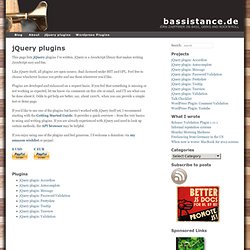 This page lists jQuery plugins I've written. jQuery is a JavaScript library that makes writing JavaScript easy and fun. Like jQuery itself, all plugins are open-source, dual-licensed under MIT and GPL. Feel free to choose whichever license you prefer and use them whereever you'd like. Plugins are developed and enhanced on a request basis. If you feel that something is missing or not working as expected, let me know via comments on this site or email, and I'll see what can be done about it. Odds to get help are better, say, about 1200%, when you can provide a simple test or demo page.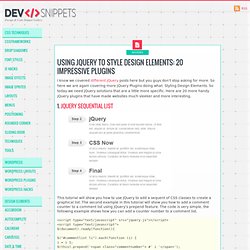 I know we covered different jQuery posts here but you guys don't stop asking for more. So here we are again covering more jQuery Plugins doing what: Styling Design Elements. So today we need jQuery solutions that are a little more specific.
Using jQuery to Style Design Elements: 20 Impressive Plugins