Normes (Html)
HTML5 Showcase for Web Developers: The Wow and the How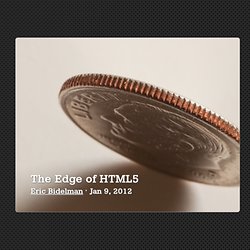 The Edge of HTML5
The Edge of HTML5 Eric Bidelman ·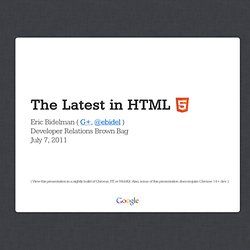 The Latest in HTML5
Eric Bidelman ( G+ , @ebidel ) Developer Relations Brown Bag ( View this presentation in a nightly build of Chrome, FF, or WebKit. Also, some of this presentation does require Chrome 14+ dev. ) There's a lot this presentation doesn't cover! CSS3 / WebGL / Canvas HTML5 Forms Device Orientation API FileSystem API IndexedDB History API Websockets, Server-Sent Events XHR2 ...
HTML Standard
A vocabulary and associated APIs for HTML and XHTML Editor's Draft 1 April 2013 Latest Published Version: http://www.w3.org/TR/html51/ Latest Editor's Draft: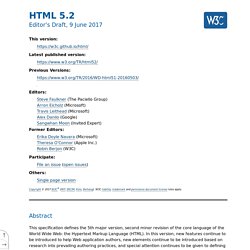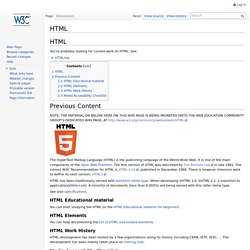 From W3C Wiki You're probably looking for current work on HTML. See: NOTE: THE MATERIAL ON BELOW HERE ON THIS WIKI PAGE IS BEING MIGRATED ONTO THE WEB EDUCATION COMMUNITY GROUP'S DEDICATED WIKI PAGE, AT http://www.w3.org/community/webed/wiki/HTML . The HyperText Markup Language (HTML) is the publishing language of the World Wide Web. It is one of the main components of the Open Web Platform .
HTML - W3C Wiki
Paul Irish on HTML5 Boilerplate