Normes (Html)
HTML5 Showcase for Web Developers: The Wow and the How. The Edge of HTML5. The Edge of HTML5 Eric Bidelman · Legend: Not quite ready.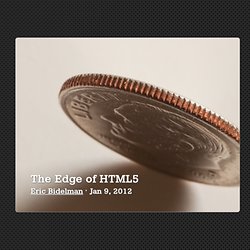 Keep it on your radar. The Latest in HTML5. Eric Bidelman ( G+, @ebidel ) Developer Relations Brown Bag ( View this presentation in a nightly build of Chrome, FF, or WebKit.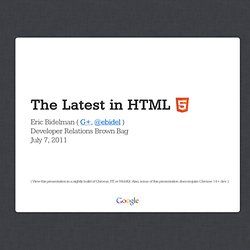 Also, some of this presentation does require Chrome 14+ dev. ) There's a lot this presentation doesn't cover! CSS3 / WebGL / Canvas HTML5 Forms Device Orientation API FileSystem API IndexedDB History API Websockets, Server-Sent Events XHR2 ... HTML5 — Edition for Web Developers. Www.nihilogic.dk/labs/canvas_sheet/HTML5_Canvas_Cheat_Sheet.pdf.
HTML Standard. HTML5. Latest Published Version: Latest Editor's Draft: Previous Versions: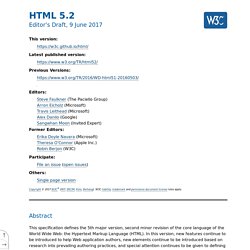 HTML - W3C Wiki. You're probably looking for current work on HTML.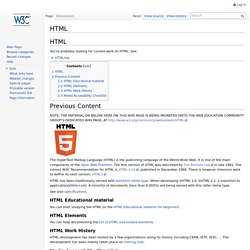 See: HTML/wg NOTE: THE MATERIAL ON BELOW HERE ON THIS WIKI PAGE IS BEING MIGRATED ONTO THE WEB EDUCATION COMMUNITY GROUP'S DEDICATED WIKI PAGE, AT The HyperText Markup Language (HTML) is the publishing language of the World Wide Web. It is one of the main components of the Open Web Platform. Paul Irish on HTML5 Boilerplate. HTML5 Boilerplate - A rock-solid default template for HTML5 awesome.
Meta
---