Norme (drupal[2])
Documentation. API reference. Core. Skip to main content Skip to search Drupal Search form Download & Extend Primary tabs Posted by Drupal on.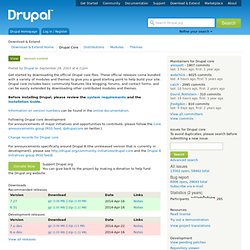 French overview | localize.drupal.org. Core translation downloads | localize.drupal.org. Skip to main content Skip to search ◄ Go to Drupal.org Translations Drupal core translation downloads.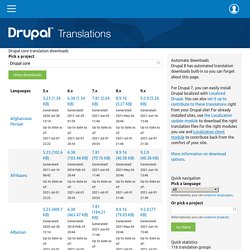 7.0. Theming Guide. Last updated April 3, 2014.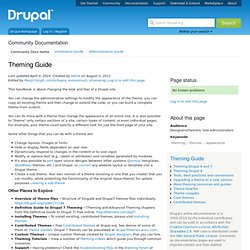 Created by Heine on August 2, 2012.Edited by Manjit.Singh, nitishchopra, moonstruck, silverwing. Log in to edit this page. Drupal. Un article de Wikipédia, l'encyclopédie libre.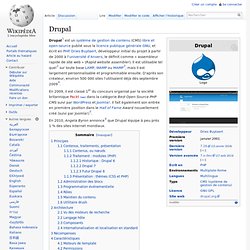 Drupal[1] est un système de gestion de contenu (CMS) libre et open-source publié sous la licence publique générale GNU, et écrit en PHP. Dries Buytaert, développeur initial du projet à partir de 2000 à l'université d'Anvers, le définit comme « assembleur rapide de site web » (Rapid website assembler). Concepts. Last updated September 27, 2013.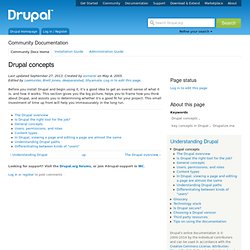 Created by esmerel on May 4, 2005.Edited by LeeHunter, Brett Jones, deeparandad, Shyamala. Log in to edit this page. Before you install Drupal and begin using it, it's a good idea to get an overall sense of what it is, and how it works. This section gives you the big picture, helps you to frame how you think about Drupal, and assists you in determining whether it's a good fit for your project. This small investment of time up front will help you immeasurably in the long run.
---