Norme (cms[1])
These are the possible causes: There may be a syntax error in the application's code. Please check for such errors and fix them. A required library may not installed. Please install all libraries that this application requires.
Quel CMS pour votre entreprise ? » Benchmarkr.com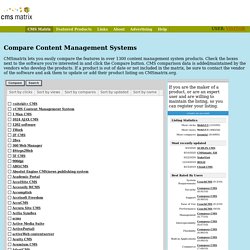 CMSmatrix lets you easily compare the features in over 1200 content management system products. Check the boxes next to the software you're interested in and click the Compare button. CMS comparison data is added/maintained by the vendors who develop the products.