Norme ([5]javascript[3])
JSON : les bonnes pratiques indispensables
The Exceptional Performance team has identified a number of best practices for making web pages fast. The list includes 35 best practices divided into 7 categories. Minimize HTTP Requests tag: content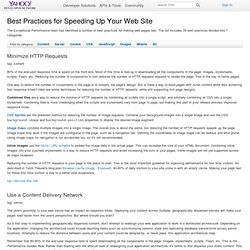 Best Practices for Speeding Up Your Web Site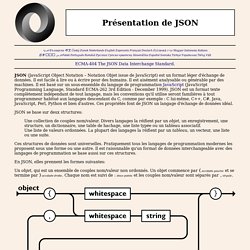 JSON
object {} { members } members pair pair , members pair string : value
Référence sur drupal.org : 26 Avril 2009 – 23h50 - http://drupal.org/node/172169 Indentation Utilisez une indentation de 2 espaces, pas de tabulations.
Normes de programmation JavaScript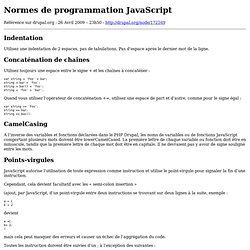 Standard ECMA-262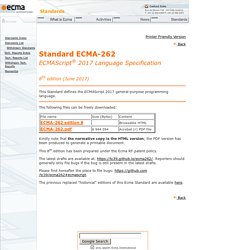 Standard ECMA-262 ECMAScript® Language Specification Edition 5.1 (June 2011) This Standard defines the ECMAScript scripting language.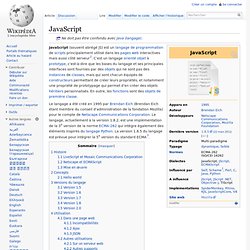 Un article de Wikipédia, l'encyclopédie libre. Le langage a été créé en 1995 par Brendan Eich (Brendan Eich étant membre du conseil d'administration de la fondation Mozilla) pour le compte de Netscape Communications Corporation. Le langage, actuellement à la version 1.8.2, est une implémentation de la 3e version de la norme ECMA-262 qui intègre également des éléments inspirés du langage Python. La version 1.8.5 du langage est prévue pour intégrer la 5e version du standard ECMA[3]. Histoire[modifier | modifier le code] LiveScript et Mosaic Communications Corporation[modifier | modifier le code]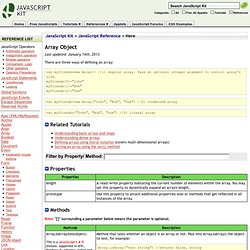 JavaScript Kit- Array Object
By default sorts an array alphabetically and ascending. By passing in an optional SortFunction, you can sort numerically and by other criteria as well. If SortFunction is defined, the array elements are sorted based on the relationship between each pair of elements within the array, "a" and "b", and your function's return value. The three possible return numbers are: <0 (less than 0), 0, or >0 (greater than 0): Less than 0: Sort "a" to be a lower index than "b" Zero: "a" and "b" should be considered equal, and no sorting performed.
JavaScript is a cross-platform, object-based scripting language. This guide explains everything you need to know about using JavaScript. New features in JavaScript versions What you should already know ?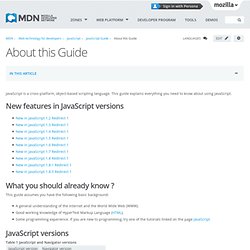 About this Guide - MDC Doc Center
Référence book (pdf) par dannyg