New (feed[1])
Best of CatsWhoCode (2008 – 2012) Fresh and Useful jQuery Plugins That Enhance Usability. jQuery plugins can enhance usability for users of all demographics, and there are plugins that you can use to target usability enhancements for a given area.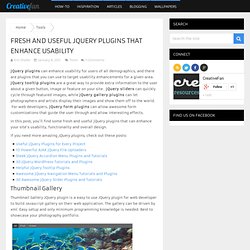 jQuery tooltip plugins are a great way to provide extra information to the user about a given button, image or feature on your site. jQuery sliders can quickly cycle through featured images, while jQuery gallery plugins can let photographers and artists display their images and show them off to the world. For web developers, jQuery form plugins can allow awesome form customizations that guide the user through and allow interesting effects. In this post, you'll find some fresh and useful jQuery plugins that can enhance your site's usability, functionality and overall design.
If you need more amazing jQuery plugins, check out these posts: Thumbnail Gallery. OpenFaces.
Feed (news[1]) To see. Tool (news[1]) Dsi (news[1]) Normes ([1])
---