Librairie (ressources mobiles)
Different ways to trigger touchcancel in mobile browsers - MiniApps Blog. The touchcancel event is often neglected when building touch–interfaces using JavaScript.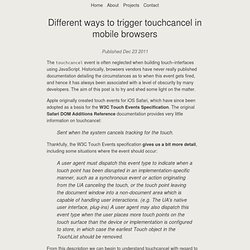 Historically, browsers vendors have never really published documentation detailing the circumstances as to when this event gets fired, and hence it has always been associated with a level of obscurity by many developers. The aim of this post is to try and shed some light on the matter. Apple originally created touch events for iOS Safari, which have since been adopted as a basis for the W3C Touch Events Specification. The original Safari DOM Additions Reference documentation provides very little information on touchcancel: Sent when the system cancels tracking for the touch. Pocket-Sized Design: Taking Your Website to the Small Screen. Among the many websites that are out there, few are standards-compliant.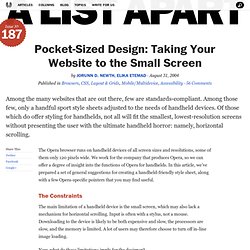 Among those few, only a handful sport style sheets adjusted to the needs of handheld devices. Of those which do offer styling for handhelds, not all will fit the smallest, lowest-resolution screens without presenting the user with the ultimate handheld horror: namely, horizontal scrolling. The Opera browser runs on handheld devices of all screen sizes and resolutions, some of them only 120 pixels wide. We work for the company that produces Opera, so we can offer a degree of insight into the functions of Opera for handhelds. Retailers need to optimise mobile sites or risk losing customers. A new report from dotCommerce confirms what many might suspect about mobile users; they are impatient and have short attention spans.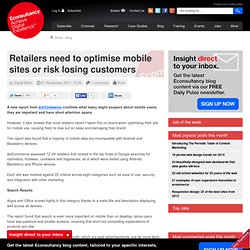 However, it also reveals that most retailers haven't taken this on board when optimising their site for mobile use, causing them to lose out on sales and damaging their brand. The report also found that a majority of mobile sites are incompatible with Android and Blackberry devices. Développer pour le Web mobile : bonnes feuilles - Journal du Net Développeurs. Quels sont les standards pour le développement mobile ?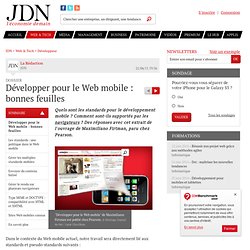 Comment sont-ils supportés par les navigateurs ? Des réponses avec cet extrait de l'ouvrage de Maximiliano Firtman, paru chez Pearson. Dans le contexte du Web mobile actuel, notre travail sera directement lié aux standards et pseudo-standards suivants : XHTML Mobile Profile 1.0, 1.1 et 1.2 ; XHTML Basic 1.0 et 1.1 ; XHTML 1.0 et 1.1 ; HTML 3.2 et 4.0 ; brouillon de HTML 5.0 ; extensions de facto de (X)HTML ; WAP CSS ; CSS Mobile Profile ; CSS 2.1 ; CSS 3.0 ; extensions spécifiques de CSS.
Mobile Web App Framework pour développer du HTML sur votre mobile / tablette. ChocolateChip-UI est un framework HTML pour faciliter le développement HTML sur mobile et tablette.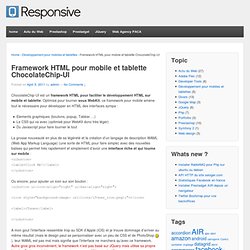 Optimisé pour tourner sous WebKit, ce framework pour mobile amène tout le nécessaire pour développer en HTML des interfaces sympa : Elements graphiques (boutons, popup, Tabbar …)Le CSS qui va avec (optimisé pour WebKit donc très léger)Du Javascript pour faire tourner le tout La grosse nouveauté en plus de sa légèreté et la création d'un langage de description WAML (Web App Markup Language) (une sorte de HTML pour faire simple) avec des nouvelles balises qui permet très rapidement et simplement d'avoir une interface riche et qui tourne sur mobile :<uibutton> <lable>Click Me! </label> </uibutton> Ou encore, pour ajouter un icon sur son bouton :<uibutton ui-icon-align="right" ui-bar-align="right"> <label>iTunes</label> iPhone Microsites - Tutorials. How to build a website for the iphone with orientation detection | Engage Interactive Blog | Web design Harrogate.
Well, we did promise we'd get around to a tutorial eventually, so here you have it!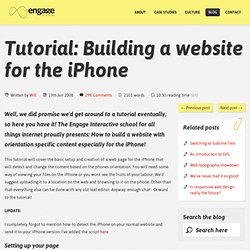 The Engage Interactive school for all things internet proudly presents: How to build a website with orientation specific content especially for the iPhone! This tutorial will cover the basic setup and creation of a web page for the iPhone that will detect and change the content based on the phones orientation. You will need some way of viewing your files on the iPhone or you wont see the fruits of your labour. Hardboiled CSS3 Media Queries | Stuff and Nonsense. This is the new '320 and Up' A lot's changed since I wrote the original '320 and Up', my 'tiny screen first' responsive web design boilerplate.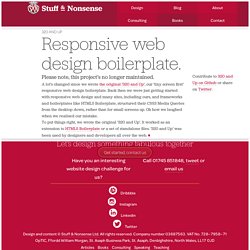 Back then we were just getting started with responsive web design and many sites, including mine, and frameworks and boilerplates like HTML5 Boilerplate, structured their CSS3 Media Queries from the desktop down, rather than for small screens up. (Oh how we laughed when we realised our mistake.) To put things right, I wrote '320 and Up'. Créez gratuitement la version mobile de votre site Web. 10 Great Tools to Create a Mobile Version of Your Site. 84% of Americans currently own a mobile phone. Sadly, there are no figures showing how many of these devices are ageing bricks without internet capabilities, but you can bet that, within a few years, the majority of mobile phone users will be able to browse the internet, wherever they are. Right now, most websites are completely unsuitable for mobile viewing, taking 60 or more seconds to load and looking jumbled and confused as they're squashed onto smaller screens. Every day, however, thousands of people are releasing mobile versions of their websites and seeing greatly increased levels of traffic as a result. Unless you optimize your website for mobile phone users soon, you could be left behind by the competition. Creating a mobile-friendly version of your site sounds like a daunting task, but it couldn't be easier to do.
---