Inspiration univers (fashion photo)
70 Years Series.
Années 50
A story of fairies. Steampunk. A steampunk-themed photo "Maison tournante aérienne" (aerial rotating house) by Albert Robida for his book Le Vingtième Siècle, a 19th-century conception of life in the 20th century Steampunk also refers to any of the artistic styles, clothing fashions, or subcultures, that have developed from the aesthetics of steampunk fiction, Victorian-era fiction, art nouveau design, and films from the mid-20th century.[2] Various modern utilitarian objects have been modded by individual artisans into a pseudo-Victorian mechanical "steampunk" style, and a number of visual and musical artists have been described as steampunk.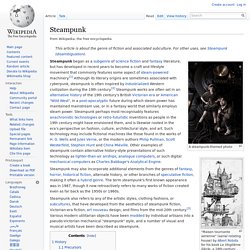 History[edit] Precursors[edit] PICTO - Orchard Represents. Desiree Dolron.
---